40th Anniversary of Glen Campbell's Rhinestone Cowboy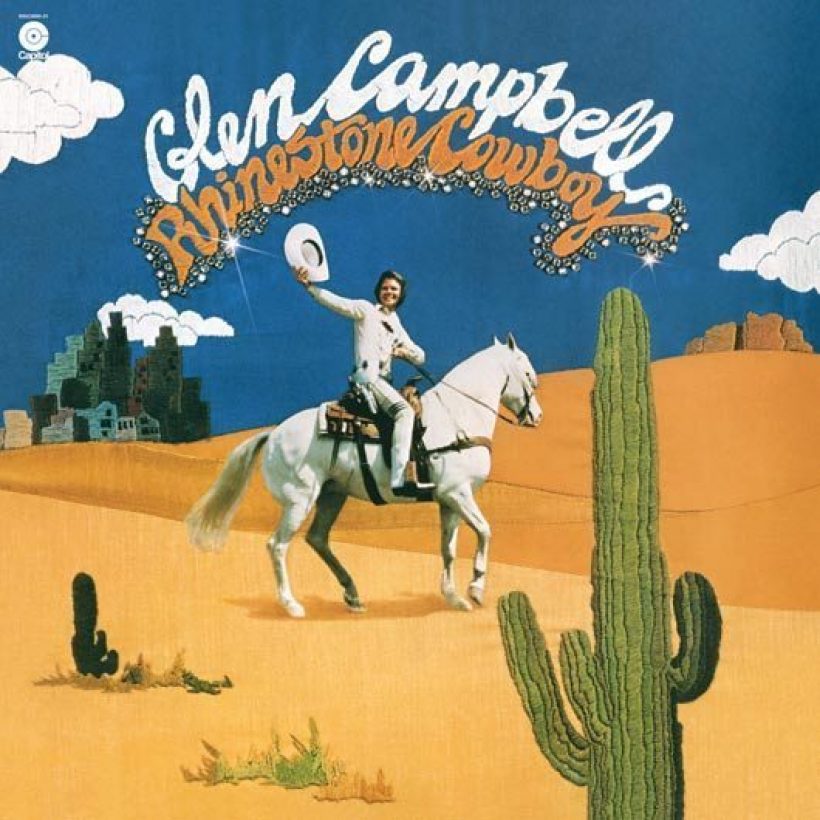 There was a lot happening in music in 1975; from Barry Manilow achieving gold status with his major hit 'Mandy', to Stevie Wonder signing a 13 million pound contract with Motown Records. It was also the year that Glen Campbell released his 30th studio album, Rhinestone Cowboy.
Lyrically the album reflected Campbell's life at the time, both personally and professionally.  It was the album's title track and its second single, 'Country Boy (You Got Your Feet In L.A.)'  that spoke of the singer's sacrifices and the concession required to maintain a career in entertainment's fast lane – a career that had taken him from Arkansas to Los Angeles in the 1960s.
Rhinestone Cowboy spent 30 weeks in the top 20 on the US Billboard charts, and went on to win numerous awards as well as becoming No.1 in America.
Though it was title track, 'Rhinestone Cowboy' which became immensely popular throughout 1975, and saw the country star build a bridge to pop audiences, allowing him to sell over 2 million copies. This resulted in the track spending three non-consecutive weeks at No.1 on the Billboard country chart, as well as two weeks on top of the Hot 100.
Earlier this month Campbell won a Grammy for "I'm Not Gonna Miss You," – the theme song to his upcoming documentary about his life, career and battle with Alzheimer's disease.  It was also nominated for an Oscar for Best Original Song.
Ahead of Campbell's 79th birthday Universal are to release an expanded 40th anniversary edition of Rhinestone Cowboy with the CD & Digital versions featuring an additional 5 rare and previously unreleased recordings to the remastered original album.
The full tracklisting is as follows:
1.  Country Boy (You Got Your Feet in L.A.)
2.  Comeback
3.  Count on Me
4.  I Miss You Tonight
5.  My Girl
6.  Rhinestone Cowboy
7.  I'd Build a Bridge
8.  Pencils For Sale
9.  Marie
10. We're Over
Bonus Tracks (CD & Digital Only):
11. Record Collector's Dream ["Rhinestone Cowboy" single B-side; North American CD and digital debut]
12. Coming Home [studio version, previously released only in Japan as a 1975 single; CD and digital debut]
13. Quits [previously unreleased track from the 'Rhinestone Cowboy' album sessions]
14. Country Boy (You Got Your Feet In L.A.) (Remix) [Previously released on 'Greatest Hits' collection]
15. Rhinestone Cowboy (Remix) [previously released on 'Greatest Hits' collection]
Pre-order the 40th Anniversary edition of Rhinestone Cowboy on vinyl from the uDiscover store here
Pre-order the remastered 40th Anniversary edition of Rhinestone Cowboy on CD or digital from Amazon, iTunes or Google Play
Visit our dedicated Glen Campbell artist page here
Format:
UK English