A Highway Marker For Hank Williams
A highway marker near the spot where country legend Hank Williams was found dead on New Year's Day, 1953 was dedicated yesterday (Thursday) in Oak Hill, West Virginia.
The Register Herald of Beckley, West Virginia reports that more than 100 officials and local residents attended the dedication, in front of the Lively Family Amphitheatre. The location is close to the spot where 18-year-old taxi driver Charles Carr, whom Williams had hired to drive him to a scheduled concert in Charleston on New Year's Eve, stopped at the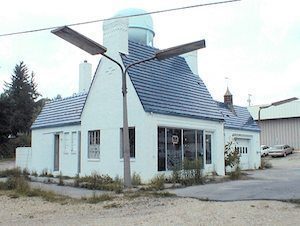 Pure Oil Gas Station in Oak Hill and realised that the singer was dead.
The road marker, on Main Street, is a gift from the City of Montgomery and the State of Alabama to the city of Oak Hill. "The Hank Williams legend is a part of our folklore around here," Fayette Commission President Matt Wender told the newspaper. "We are happy to celebrate any part of his life, it just so happens that this is the little piece of his legacy that we get."
Williams' daughter Jett, who was born a few days after his death, said: "He passed on in Oak Hill, but because of your elected officials and citizens carrying on the memories of the man and the legend, he lives on."
Joe Tyree, director of the Tyree Funeral Home, is also quoted in the Register Herald report, remembering how he was called to the local hospital to care for Williams' remains. Initially, he didn't realise who ihe was attending. "We have a lot of Williamses around here," he says. "It wasn't until they told me he was a country singer from Alabama that I knew any different."
Mayor Fred Dickinson added: "It's a living history for those of us who still remember it. I was young at the time, but I remember hearing about it. He was a legend, but what would have been a better legend was if he'd lived longer."
Format:
UK English