Watch The Video For Airbourne's New Single, 'Backseat Boogie'
The action-packed clip was shot at the band's sold-out Copenhagen show at Amager Bio just last month.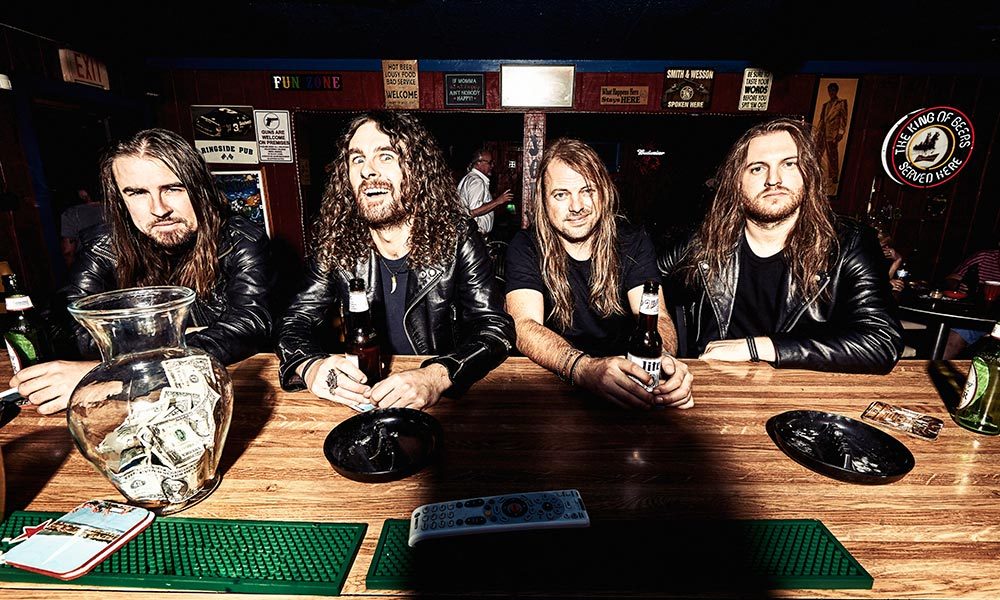 Airbourne have unleashed an official music video for their current single, 'Backseat Boogie'; shot at their sold-out Copenhagen show at Amager Bio just last month. This latest clip captures fans rocking out to new songs from recently released studio album, Boneshaker, for the very first time and you can check it out below.
Airbourne - Backseat Boogie
"Half filmed at a soundcheck last Tuesday and half filmed at a crazy sold out Danish club show – here's the 'Backseat Boogie' video to whet your appetite for a mega 2020 and the start of a two year Boneshaker World Tour," states frontman Joel O'Keeffe.
Airbourne frontman, Joel O'Keeffe, divulges, "The riff from 'Backseat Boogie', this is one of those ones where Cobb [producer] walked out and said 'What are you playing there?' and I was 'ah, I'm just playing this riff – it's this riff I had in Australia, it's got a bit of a vibe, I'm not sure.' He goes, 'Aw man, we gotta do that one' and he got behind the drums and picked up Ryan's drumsticks and said 'oh man, how does he play with these things, these things are baseball bats,' and it was just really funny, and Ryan jumped on the kit, and we tracked it right then and there. "
Boneshaker, the band's fifth studio album to date, was released just last week via Spinefarm Records. In support, the Aussie rockers will be on the road. They are crisscrossing all over the planet, in true Airbourne fashion, until 2022.
Airbourne play the following dates in 2019:
31.10 – Komplex – Zurich CH
01.11 – Haus Auensee – Leipzig DE
02.11 – Orpheum – Graz AT [SOLD OUT]
03.11 – Tonhalle – Munich DE [SOLD OUT]
05.11 – Barba Negra – Budapest HU
06.11 – Arena – Vienna AT [SOLD OUT]
07.11 – Columbiahalle – Berlin DE
09.11 – Schlachthof – Wiesbaden DE [SOLD OUT]
10.11 – E-Werk – Cologne DE [SOLD OUT]
13.11 – UEA – Norwich UK
14.11 – Rock City – Nottingham UK
16.11 – Academy – Manchester UK
17.11 – O2 Academy – Newcastle UK
18.11 – Beach Ballroom – Aberdeen UK
20.11 – Ironworks – Inverness UK
21.11 – Barrowlands – Glasgow UK
22.11 – O2 Academy – Liverpool UK
24.11 – Cardiff University – Cardiff UK
25.11 – O2 Academy – Bristol UK
26.11 – O2 Forum – London UK
28.11 – O2 Academy – Sheffield UK
29.11 – O2 Guildhall – Southampton UK
30.11 – O2 Academy – Oxford UK.
Boneshaker is out now and can be bought here.
Format:
UK English