Special Collectible Edition Of Lady Gaga's 'The Fame' Set For December Release
The new edition comes as a limited-edition character USB, packaged in a custom display box, containing the original album and a host of extras.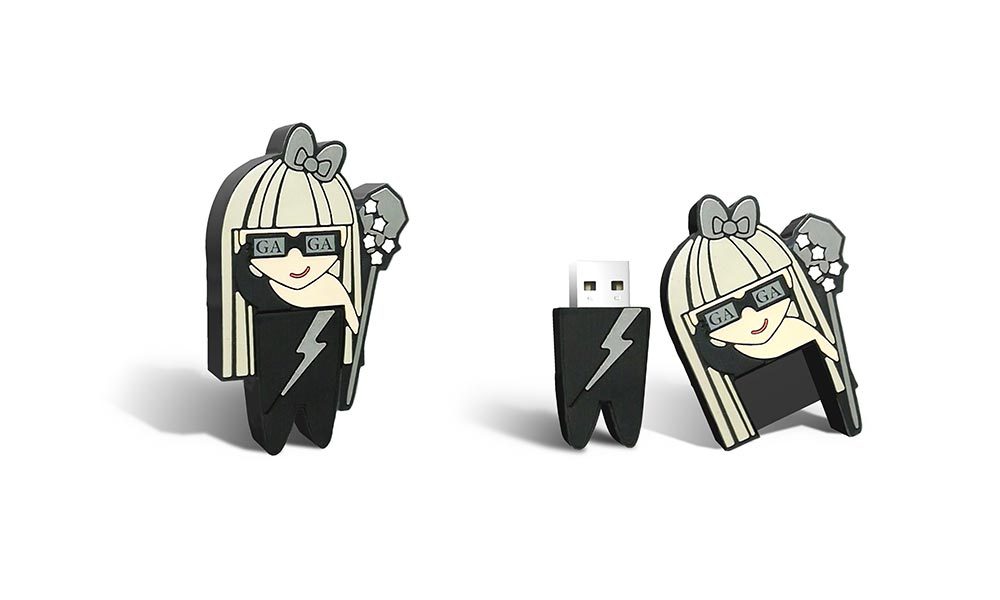 In celebration of the ten year anniversary of Lady Gaga's explosive 2008 debut album, The Fame, a special collectible edition of the landmark record is being released through Interscope/UMe on 14 December.
This limited-edition character USB, packaged in a custom display box, contains the original album, The Fame, along with three bonus tracks, The Fame Monster original album, both digital booklets, eight music videos, and an early EPK, filmed at the start of Lady Gaga's rapid ascent to stardom.
Lady Gaga's much-anticipated debut studio album, The Fame was first released on 19 August 2008, by Interscope Records. After joining Kon Live Distribution and Cherrytree Records in 2008, Gaga began working on the album with different producers, primarily RedOne, Martin Kierszenbaum and Rob Fusari. Musically, the album takes in electro-pop, synth-pop, and dance-pop album that displays influences from music from the 1980s. Lyrically, Gaga addresses the nature of fame in general while also dealing with subjects such as love, sex, money, drugs and sexual identity. The record was primarily promoted through The Fame Ball Tour and multiple television appearances. The album was reissued as a deluxe edition with The Fame Monster on November 18, 2009.
Lady Gaga - Poker Face (Official Music Video)
Five hit singles were selected from the album, 'Just Dance', 'Poker Face', 'Eh Eh (Nothing Else Can I Say)', 'Lovegame' and 'Paparazzi'. 'Just Dance' and 'Poker Face' were both transatlantic chart-toppers, while 'Poker Face' became the record's biggest hit, especially in the UK and across continental Europe, where it became the biggest-selling song of the year. Gaga also hit her visual stride with 'Poker Face' – the video by Hollywood star Alexander Skarsgård showcased the track's edgy sexual tension that was suggestive without ever seeming seedy.
A multi-platinum success,  The Fame has won multiple awards since its release. In the United States, the album was nominated for a total of five Grammy Awards at the 52nd Grammy Awards, including the Grammy Award for Album of the Year. It won the Grammy Award for Best Electronic/Dance Album and the Grammy Award for Best Dance Recording for the single 'Poker Face'. It also won Best International Album at the 2010 BRIT Awards in the United Kingdom.
The Fame is out on 14 December. Scroll down to read the full tracklist and buy it here.
The Fame:
'Just Dance' (Feat. Colby O'Donis)
'LoveGame'
'Paparazzi'
'Poker Face'
'Eh Eh (Nothing Else I Can Say)'
'Beautiful, Dirty, Rich'
'The Fame'
'Money Honey'
'Starstruck' (Feat. Space Cowboy & Flo Rida)
'Boys Boys Boys'
'Paper Gangsta'
'Brown Eyes'
'I Like It Rough'
'Summerboy'
Bonus Tracks:
'Disco Heaven'
'Again Again'
'Retro Dance Freak'
+The Fame (Digital Booklet)
The Fame Monster:
'Bad Romance'
'Alejandro'
'Monster'
'Speechless'
'Dance In The Dark'
'Telephone' (Feat. Beyoncé)
'So Happy I Could Die'
'Teeth'
+The Fame Monster (Digital Booklet)
Music Videos:
'Just Dance'
'Poker Face'
'LoveGame'
'Eh Eh (Nothing Else I Can Say)'
'Beautiful, Dirty, Rich'
'Bad Romance'
'Alejandro'
'Telephone' (Feat. Beyoncé)
Bonus Feature:
'The Fame' EPK (2008)
Format:
UK English