Deluxe Ryan Adams Will Break Hearts Once More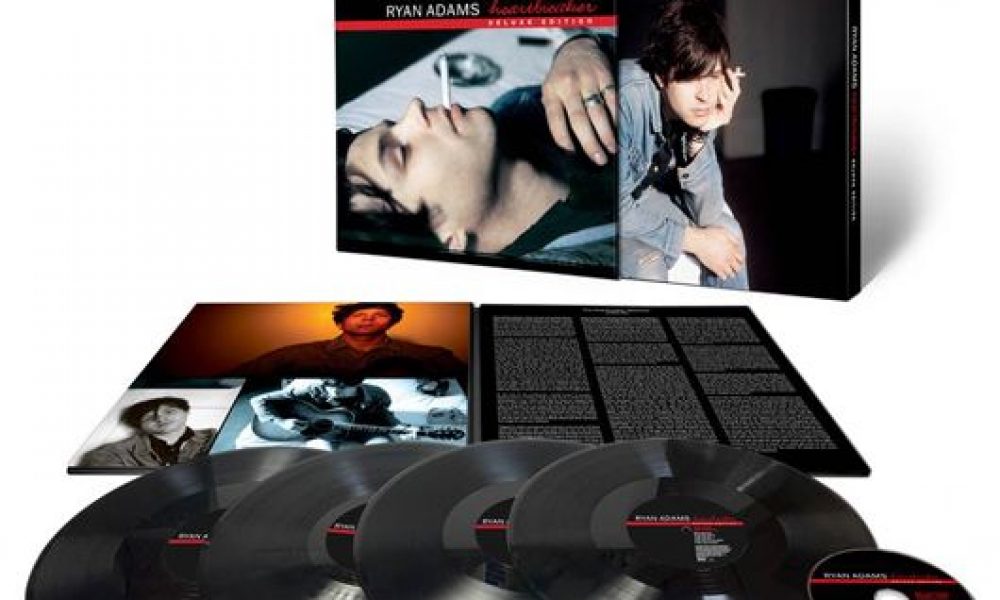 The long-awaited deluxe reissue of Ryan Adams' superlative debut album, Heartbreaker, had been confirmed for release on 6 May. Coming in 2CD+DVD and 4LP+DVD editions, as well as digitally, it offers an unparalleled look at the making of one of Adams' most important albums and comes with a wealth of unreleased outtakes and demos from the phenomenally prolific songwriter.
Originally released in September 2000, Heartbreaker was recorded with perfectly pitched contributions from Ethan Johns (son of legendary rock producer Glyn), who both produced the album and performed bass and drums duties; beloved country duo Gillian Welch and Dave Rawlings; and keyboardist Pat Sansone. Recording the album in a mere 14 days in Nashville's Woodland Studios, they captured lightning in a bottle and bequeathed the world one of the finest releases from the rising crop of young talent that was tagged "alt.country". Now fully remastered by Ethan Johns, the album has lost none of its potency in the 26 years since it was originally released.
Expanded to include 20 bonus tracks – half of which have never been released before – the deluxe reissue of Heartbreaker reveals just how much material Adams produced during the sessions. With alternate versions of the likes of 'Come Pick Me Up' tracing how the album's classic songs took their shape throughout the sessions, and previously unreleased recordings such as 'War Horse' and 'Locked Away' nestling among an early version of 'Don't Fail Me Now' (appearing here under its working title of 'When The Rope Gets Tight'), it's like manna from heaven for Adams' fervent fanbase. A bonus DVD features Adams' full performance at New York City's Mercury Lounge on 20 October 2000, and captures all the intimacy of his early solo shows.
Scroll down to view the full tracklisting and a trailer for the release, and pre-order the Heartbreaker: Deluxe Edition box set here:
The Heartbreaker: Deluxe Edition tracklist is:
LP 1
Side A
'(Argument With David Rawlings Concerning Morrissey)'
'To Be Young (Is To Be Sad, Is To Be High)' (original album remastered)
'My Winding Wheel' (original album remastered)
'AMY' (original album remastered)
Side B
'Oh My Sweet Carolina' (original album remastered)
'Bartering Lines' (original album remastered)
'Call Me On Your Way Back Home' (original album remastered)
'Damn, Sam (I Love A Woman That Rains)' (original album remastered)
LP 2
Side A
'Come Pick Me Up' (original album remastered)
'To Be The One' (original album remastered)
'Why Do They Leave?' (original album remastered)
'Shakedown On 9th Street' (original album remastered)
Side B
'Don't Ask For The Water' (original album remastered)
'In My Time Of Need' (original album remastered)
'Sweet Lil' Gal (23rd/1st)' (original album remastered)
LP 3
Side A
'Hairdresser On Fire' (outtake from original album session – previously unreleased)
'To Be Young (Is To Be Sad, Is To Be High)' (outtake from original album session – previously unreleased)
'Petal In A Rainstorm' (outtake from original album session – previously unreleased)
'War Horse' (outtake from original album session – previously unreleased)
'Oh My Sweet Carolina' (outtake from original album session – previously unreleased)
Side B
'Come Pick Me Up' (outtake from original album session)
'Punk Jam' (outtake from original album session – previously unreleased)
'When The Rope Gets Tight' (alternate version) (outtake from original album session – previously unreleased)
'When The Rope Gets Tight' (outtake from original album session)
'Goodbye Honey' (bonus track from original release)
'In My Time Of Need' (outtake from original album session – previously unreleased)
LP 4
Side A
'Bartering Lines' (demo)
'Come Pick Me Up' (demo)
'To Be The One' (demo)
'Don't Ask For The Water' (demo)
'In My Time Of Need' (demo)
Side B
'Goodbye Honey' (demo)
'Petal In A Rainstorm' (demo)
'War Horse' (demo)
'Locked Away' (outtake from original album session – previously unreleased)
DVD
Filmed live at The Mercury Lounge (New York, NY) on 20 October 2000 – all previously unreleased)
'Oh My Sweet Carolina'
'Gimme Sunshine'
'To Be Young (Is To Be Sad, Is To Be High)'
'AMY'
'Call Me On Your Way Back Home'
'Just Like A Whore'
'Wonderwall'
'Damn, Sam (I Love A Woman That Rains)'
'Sweet Lil' Gal (23rd/1st)'
'Come Pick Me Up'
'My Winding Wheel'
Format:
UK English