Dermot Kennedy Shares New Version Of 'Better Days' Ft. Earthgang
The dynamic collaboration finds Kennedy seamlessly marrying his love of hip-hop with his signature brand of authentic folk-laced pop.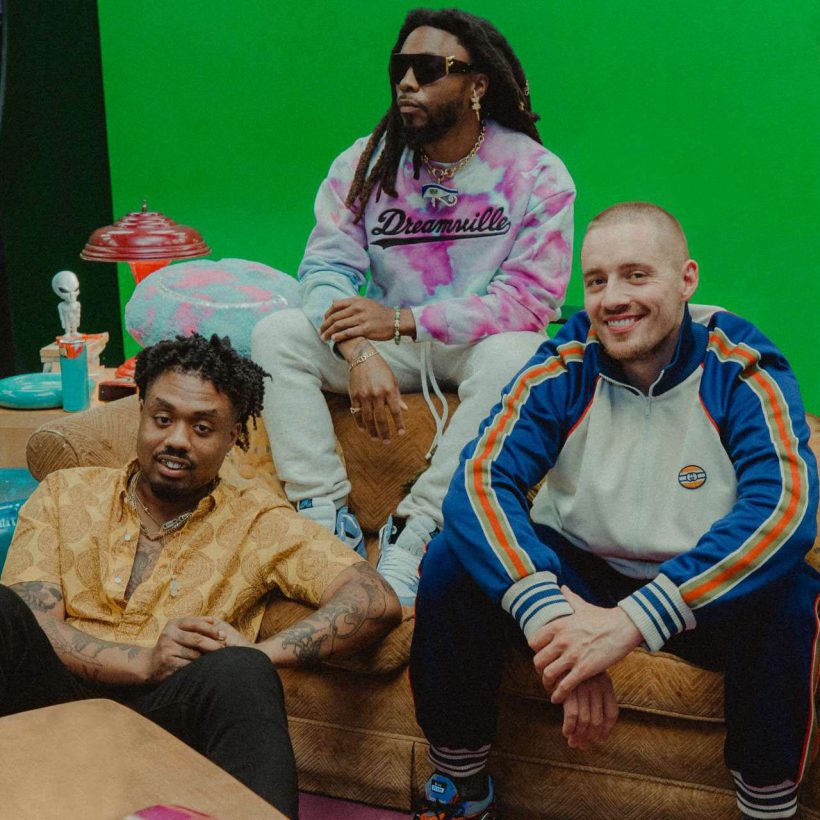 Dermot Kennedy has shared his galvanizing new version of his latest single, "Better Days" featuring Grammy-nominated duo EARTHGANG, out now on Island UK/Interscope Records.
The dynamic collaboration finds Kennedy seamlessly marrying his love of hip-hop with his signature brand of authentic folk-laced pop, resulting in a powerful and impactful listen. You can check the track out below.
"Better Days" featuring EARTHGANG elevates the song's infectious optimism to new heights. Its timely message brims with positivity and is a welcome anthem of universal hope. The song opens with Kennedy's stirring vocal and sparse piano, and steadily builds with beats and a rhythm section as he sings the poignant lyrics, "I know you've been hurting, waiting on a train that just won't come. The rain it ain't permanent, and soon, we'll be dancing in the sun."
EARTHGANG lend their insightful lyricism, rhyming, "things I'm facing now nobody can help, it's a crazy past but I grew right through it, like roses in the concrete so beautiful. Counted out faced with doubt, but my head never bowed. I'd never surrender, remain contender."
Dermot Kennedy – Better Days (feat. EARTHGANG) (Official Audio)
Dermot comments, "I'm so honored to have EARTHGANG feature on "Better Days." We met in LA a while back and started talking about doing something together, and when they sent me the first pass of their verse I immediately loved it. They brought a new energy to the song but kept the same message of battling through adversity. I'm so glad they're part of this song." EARTHGANG add, "Dermot is an amazing guy and this is a beautiful record. Music inspires hope, and people are in need of something to hope for these days.
Both Dermot and EARTHGANG will also be performing on "Truly Inspired Presents: Dua Lipa Live!" streaming on Truly's Twitter on February 2nd at 6pm PT/ 9pm ET. "Dua Lipa Live!" is a livestream concert in partnership with Truly Hard Seltzer. Curated by Dua, the show will feature performances by Lipa as well as the three artists she hand-picked as "truly inspirational" including Dermot, EARTHGANG, and Korean-American singer, DJ, and producer Yaeji.
An outspoken fan of hip-hop and its influence on him artistically throughout his career, Kennedy has subtly utilized elements of the genre to great effect. In 2015, he caught the attention of Kanye West producer Mike Dean, who he later teamed up with for 'Mike Dean Presents: Dermot Kennedy' –a five-song collection of tracks that included an arresting Frank Ocean cover and saw the songwriter experiment with more hip-hop-inspired sounds while never abandoning his acoustic roots.
"Better Days" viral trajectory began in 2021, trending on TikTok with over 250,000 creates on the platform. Co-written by Dermot and Grammy-nominated Scott Harris (Shawn Mendes), ROMANS (Lewis Capaldi, Khalid), Daniel Nigro (Olivia Rodrigo "drivers license") and previous collaborator Carey Willetts, it has amassed over 100 million streams, while the official music video directed by Paul Gore (Jennifer Lopez, Massive Attack) has over 8 million views.
Dermot Kennedy closed out 2021 with an impromptu performance on the streets of New York City and an arena in Ireland respectively in the same week fundraising for multiple important causes including MusiCares, Pieta and Focus Ireland, resulting in a near combined total of $300,000 donations. It was a fitting way for him to pay it forward, coming full circle from where he got his start busking on the streets of Dublin.
2022 promises to be equally significant. With more new music on the horizon, Dermot is confirmed to support Shawn Mendes on the first leg of his 2022 North American "Wonder The World Tour." Kicking off June 27 in Portland and continuing throughout the summer, tickets are on-sale now.
With 23 million Spotify listeners and 2.5 billion total streams, Dermot Kennedy has the best-selling debut album in his native Ireland of this millennium. Without Fear, Dermot's impassioned debut album has sold over 1.5 million copies worldwide, making him a platinum-selling artist in over 12 countries. Notably, both of his singles, "Outnumbered" and the Meduza collaboration "Paradise," were certified Gold in 2021, with "Paradise" streaming over 500 million times, while "Power Over Me" was also recently certified Gold.
Listen to the best of Dermot Kennedy on Apple Music and Spotify.