Eminem Announces Second Drop Of 'The Eminem Show' 20th Anniversary Edition
The new release includes merchandise, limited edition memorabilia, and more.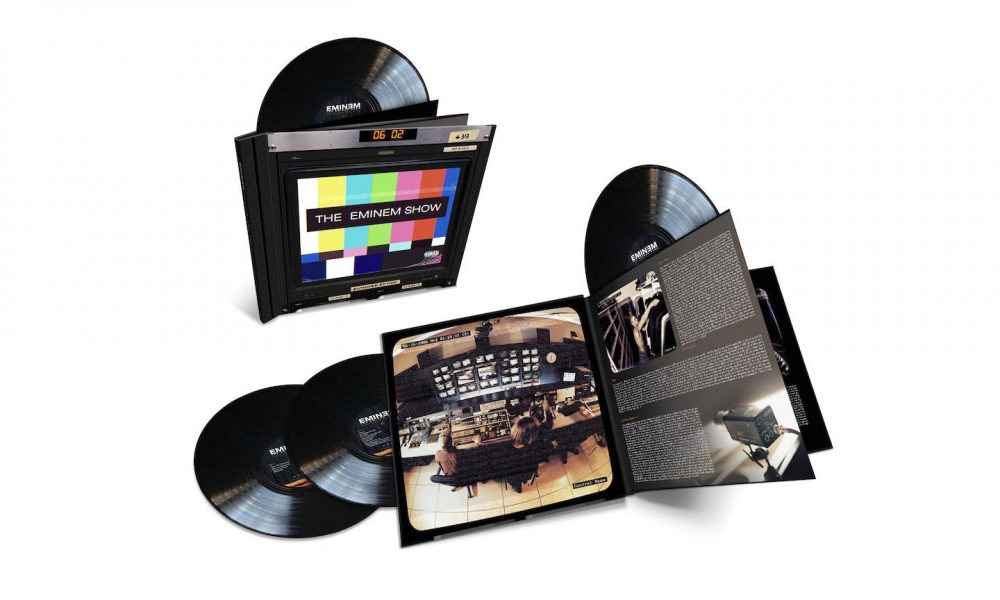 To celebrate the 20th anniversary of Eminem's The Eminem Show, the superstar MC has announced a deluxe box set reissue of the album along with an exclusive line of merchandise.
Alongside the album and merchandise, Eminem announced exclusive items for fans to purchase, like a framed and signed photo contact sheet, limited to 150, a Shady red tie framed and also limited to 150, and fine art prints.
The album will be released in an expanded edition as a 4LP, and merch items include t-shirts and sweatshirts in a variety of colors and styles.
On The Eminem Show, it's all about Marshall Mathers, whether he's exorcising his family demons on "Cleaning Out My Closet," speaking on fame in "Without Me," or reflecting on being a father on "Hailie's Song," he's one of the few rappers wholly capable of conveying regret, anger or even despair. "Cleanin' Out My Closet" would become one of the unexpected hits of Marshall's career, achieving the chart status that equally introspective songs "The Way I Am" and "Stan" only came close to.
Given the more mature and personal tone of the album, The Eminem Show also had Shady taking on a more active role in production. Shady produced 90 percent of the album, with Dr. Dre acting as the album's executive producer and helping with three of the record's B-sides, including "Business," "Say What You Say," and "My Dad's Gone Crazy."
The Eminem Show debuted at No.1 on the Billboard 200, when it was released in May of 2002. In 2011, the album was certified Diamond by the Recording Industry Association of America (RIAA) for shipping 10 million copies, making it Eminem's second album to receive a Diamond certification in the US.
Pre-order The Eminem Show (20th Anniversary Edition) and view the full tracklist below.
Side A
1. Curtains Up (Skit)
2. White America
3. Business
4. Cleanin' Out My Closet
5. Square Dance
Side B
6. The Kiss (Skit)
7. Soldier
8. Say Goodbye Hollywood
9. Drips
10. Without Me
Side C:
11. Paul Rosenberg (Skit)
12. Sing For The Moment
13. Superman
14. Hailie's Song
Side D:
15. Steve Berman (Skit)
16. When The Music Stops
17. Say What You Say
18. 'Till I Collapse
19. My Dad's Gone Crazy
20. Curtains Close
Side E:
1. Stimulate
2. The Conspiracy Freestyle
3. Bump Heads (Featuring 50 Cent, Tony Yayo, And Lloyd Banks)
4. Jimmy, Brian And Mike (Previously Unreleased)
5. Freestyle (#1) (Live At Tramps, New York, 1999)
6. Brain Damage (Live At Tramps, New York, 1999)
7. Freestyle (#2) (Live At Tramps, New York, 1999)
8. Just Don't Give A Fuck (Live At Tramps, New York, 1999)
Side F:
9. The Way I Am (Live At The Fuji Rock Festival, 2001) (Featuring Proof)
10. The Real Slim Shady (Live At The Fuji Rock Festival, 2001) (Featuring Proof)
11. Business (Instrumental)
12. Cleanin' Out My Closet (Instrumental)
Side G:
13. Square Dance (Instrumental)
14. Without Me (Instrumental)
15. Sing For The Moment (Instrumental)
Side H:
16. Superman (Instrumental)
17. Say What You Say (Instrumental)
18. 'Till I Collapse (Instrumental)