Eric Clapton Reveals Next Album Plans, Health Update & More
Eric Clapton has revealed to Rolling Stone details of his next studio album project, his health, how he feels about the forthcoming documentary Life In 12 Bars, which charts his often turbulent life — and the advice he gave Ed Sheeran.
Clapton says that he is currently making what will be the follow-up to 2016's I Still Do, but that it will be something of a sequel to The Breeze: An Appreciation of JJ Cale, the 2014 album he recorded in tribute to one of his great heroes and friends.
"I'm in the middle of it," he says in the interview with writer David Fricke, adding that the record is rooted in what was left over from the sessions for that tribute set. "I still have some JJ songs that we're playing with. Sometimes we mix them with dub, sometimes we take it back to pure country." The album will also include new material that he's writing with longtime studio collaborator and keyboard player Simon Climie, once of the 1980s hitmakers Climie Fisher.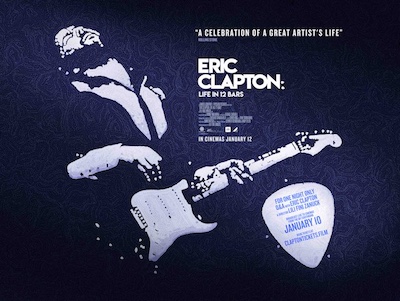 Watching Life In 12 Bars for the second time at a screening in New York recently was "not as bad as the first time I saw it," he notes. The film describes how music came to Clapton's rescue at every crisis point in his life. "Listening to music became just as important as being able to play. During all of those periods of my life, I found new or old music that helped me, that got me through even when I wasn't playing well or I wasn't playing at all."
The guitar hero also says Sheeran, who has cited Clapton as a major influence, asked him for advice on how to handle his spectacular worldwide success. "And what I've said to him is, 'Slow down. Don't burn it all up too fast.' But he seems to be committed to go as far as he can. He wants to conquer the globe. But what do you do then? Where do you go from there? It can't always be up – for anybody."
Clapton further reveals that he has largely recovered from the extensive skin inflammation he was suffering from. "I had eczema from head to foot," he says. "The palms of my hand were coming off, and I had just started making this record [I Still Do] with [producer] Glyn Johns. It was a catastrophe. I had to wear mittens with Band-Aids around the hands and played a lot of slide [guitar] as a result.|
Now, he says, "My hands are good. It hasn't gone completely, but I put ointment on. It's just getting old now. I'm as good now as I've been in the last two years."
Explore our Eric Clapton Artist Page.
Format:
UK English