'The Founder' Box Set Celebrates Jazz Pioneer Norman Granz
The set features music spanning Granz's unique career, with recordings by most of the distinguished musicians he recorded.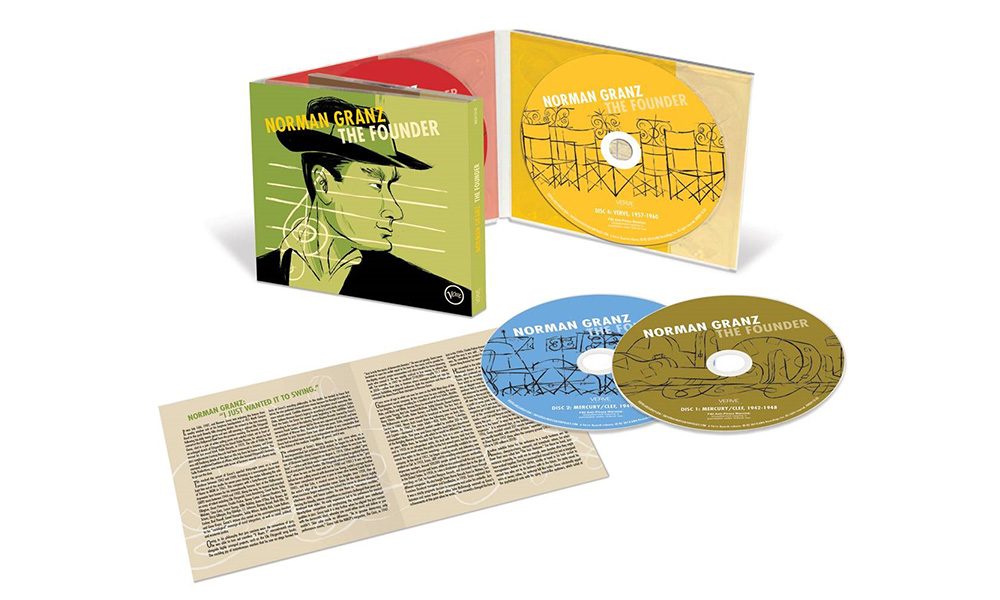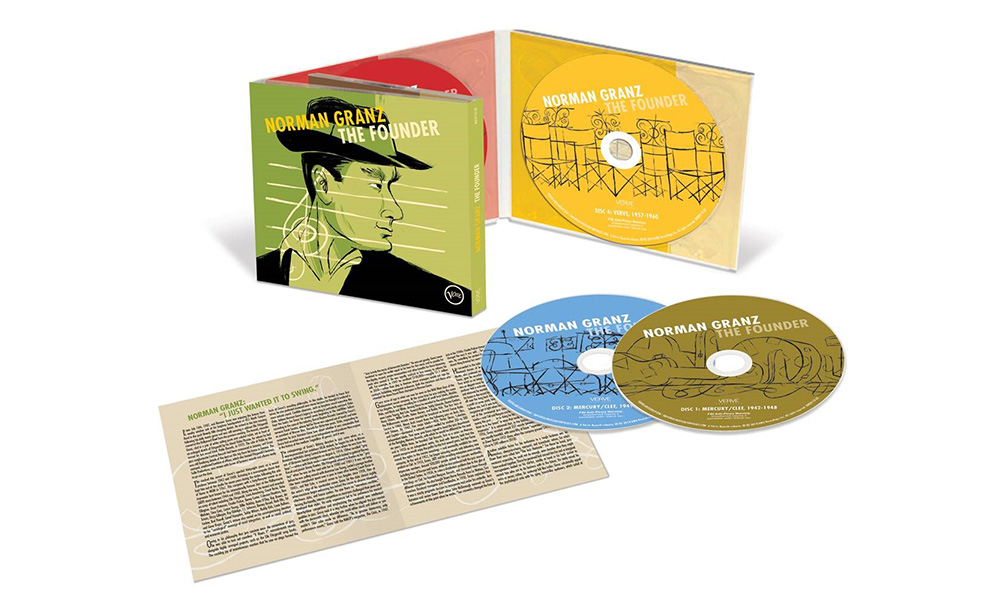 A four-CD/digital box set titled The Founder, honouring the unique career of jazz figurehead Norman Granz, will be released by Verve/UMe on 7 December. It features a 44-track, chronological collection of music spanning his unique career, with recordings by most of the distinguished musicians he recorded.
Granz, born in 1918, was as responsible as any one person for popularising jazz during the 20th century. During his 50-year career, he founded the Clef, Norgran and Verve labels and created the historic Jazz at the Philharmonic concert series. He also had a passion for social justice, and championed many African-American musicians at a time when they were widely exploited and disrespected.
The Founder box set also includes liner notes by jazz historian and Granz authority Tad Hershorn, the author of the biography Norman Granz: The Man Who Used Jazz for Justice. "The underpinnings of Granz's lifelong devotion to jazz came," writes Hershorn in the notes, "when, as a near-impoverished but ambitious UCLA student, he began his trek to African-American nightclubs along Central Avenue, not far from where he was born the son of Ukrainian Jewish immigrants.
"Granz hit the clubs almost nightly when musicians began welcoming him behind the scenes to observe rehearsals, after-hours clubs, and house parties. He saw them as 'marvelous crucibles,' hearing the friendly, intense competition as musicians challenged their peers and developed their styles.
"His early experiences," continues Hershorn, "led to his preference for musical blow-by-blow competition and emphasising the emotional over intellectual qualities in jazz. Granz took it a step further when he aligned the jam session with the democratic ideal, whereby you could either stand and deliver, or you couldn't. Skin colour made no difference. 'As in genuine democracy, only performance counts,' Granz told the NAACP's magazine, The Crisis, in 1947. 'Jazz is truly the music of democratic America.'"
Many of the Jazz at the Philharmonic concerts, which took the art form into respectable theatres and broke down many social barriers, are featured on The Founder. The set begins with Granz's founding of the Clef label in 1942 and culminates in his retirement and departure from Verve in 1960, four years after founding the company. The disc features Dexter Gordon, Coleman Hawkins, Charlie Parker, Lester Young and a young Nat "King" Cole, accompanied by Illinois Jacquet and Les Paul.
Disc 2, which spans 1949-1954, finds Granz well established and recording a wide assortment of leading jazz lights, including Oscar Peterson, Anita O'Day, Fred Astaire, Count Basie and Benny Carter. On disc 3, recorded between 1954 and 1957, the early years of the Norgran and Verve labels are highlighted, with performances by Billie Holiday, Ella Fitzgerald, Louis Armstrong, Bing Crosby, Lester Young and Lionel Hampton.
Disc 4, spanning 1957-1960, has Granz ending his career on a high note, with historic recording by Dizzy Gillespie, Blossom Dearie, Sonny Stitt, Sonny Rollins, Stan Getz, Gerry Mulligan, Ben Webster, Paul Desmond, Stuff Smith, Lee Konitz, Jimmy Giuffre and Mel Tormé.
The Founder is released on 7 December. Scroll down for the full tracklisting, and buy it here.
Disc 1: Mercury/Clef, 1942-1948
1. I Blowed and Gone – Dexter Gordon
2. Blues – Nat "King" Cole, Illinois Jacquet & Les Paul
3. I Got Rhythm – Coleman Hawkins, Charlie Parker & Lester Young
4. Picasso – Coleman Hawkins
5. Sono – Harry Carney
6. The Bloos – George Handy & His Orchestra
Disc 2: Mercury/Clef, 1949-1954
1. Tenderly – Oscar Peterson Duo with Ray Brown
2. Vignette at Verney's – Ralph Burns Orchestra with Lee Konitz
3. Lullaby of the Leaves – Anita O'Day
4. The New Basie Blues – Count Basie and His Orchestra
5. Con Poco Coco – Andre's All Stars
6. Castle Rock – Johnny Hodges
7. Jeep's Blues – Johnny Hodges
8. (Ad Lib) Slow Dance – Fred Astaire
9. No Strings (I'm Fancy Free) – Fred Astaire
10. Flamingo – Benny Carter and His Orchestra
11. With the Wind and the Rain in Your Hair – Tal Farlow
12. Easy Living – Buddy DeFranco & Oscar Peterson Quartet
13. Blues for the Count – Count Basie and His Orchestra
14. They Can't Take That Away from Me – Buddy DeFranco & Oscar Peterson
Disc 3: Norgran/Verve, 1954-1957
1. I Thought About You – Billie Holiday
2. I Thought About You – Ella Fitzgerald
3. Like Someone in Love – Bud Powell
4. Pig Ears and Rice – Lionel Hampton and His Orchestra
5. Can't We Be Friends – Ella Fitzgerald & Louis Armstrong
6. Blue Room – Bing Crosby & Buddy Bregman
7. Taking a Chance on Love – Lester Young & Teddy Wilson
8. What A Little Moonlight Can Do – Billie Holiday
9. Falling in Love with Love – Oscar Peterson Trio
10. Yellow Rose of Brooklyn – Harry "Sweets" Edison & Buddy Rich
11. Time After Time – Lawrence Brown
Disc 4: Verve, 1957-1960
1. Day By Day – Coleman Hawkins Newport All-Stars feat. Pete Brown
2. On the Sunny Side of the Street – Dizzy Gillespie, Sonny Stitt & Sonny Rollins
3. It Never Entered My Mind – Stan Getz
4. I Know That You Know – Stuff Smith
5. D and E Blues – The Modern Jazz Quartet
6. Budd Johnson – Ben Webster
7. If I Were a Bell – Blossom Dearie
8. Chelsea Bridge – Gerry Mulligan & Ben Webster
9. Line for Lyons – Gerry Mulligan & Paul Desmond
10. Somp'm Outa' Nothin' – Lee Konitz & Jimmy Giuffre
11. Thank You Charlie Christian – Herb Ellis
12. Lonely Town – Mel Tormé & Marty Paich Orchestra
13. Evil Eyes – Terry Gibbs Big Band
Format:
UK English