New Grand Ole Opry Satellite Venue Opening In New York City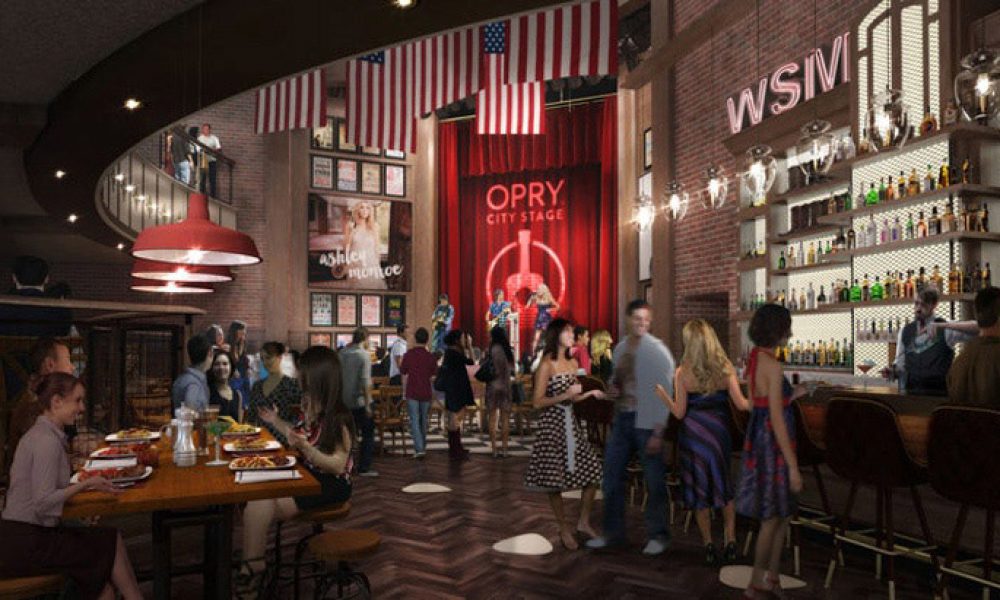 The Opry City Stage, a new Southern-themed restaurant and concert space is about to open in New York City. When it opens in Times Square on 1 December, it will mark the first-ever satellite venue by country music's most hallowed institution, the Grand Ole Opry.
Opry City Stage is a four-story facility, with a retail shop on the ground floor and restaurants (operated by the Bromberg Brothers, the culinary company behind Blue Ribbon Restaurants) facing performance spaces on the second and fourth floors.
Opry memorabilia — previously unseen photographs, cases displaying dresses worn by Dolly Parton and Taylor Swift, a backlit wall of the signatures of all Opry members — fills the venue, and live music is planned to go from 8 am to 1 am, with a focus on original material rather than cover bands. Dinner service will open to the public on Dec. 1, with late-night and daytime meals rolling out over the following weeks and music starting by mid-January.
The lower stage is modelled on the Ryman Auditorium in Nashville — also known as "the mother church of country music," from which the Opry broadcast from 1943 to 1974 — with an arched mezzanine and stained-glass windows. The upstairs "Studio" stage will feature shows with national acts, including an arrangement with the celebrated Bluebird Cafe in Nashville to showcase some of the genre's most beloved songwriters.
Talks about opening an extension of the Opry began about five years ago, according to Colin Reed, the chairman and chief executive of Ryman Hospitality Properties, out of a realization that the audience for country music was dramatically expanding. "There are about 110 million country lifestyle consumers in the U.S., and growing," Reed told the New York Times. "We own some of the most iconic assets in Nashville, and wanted to build venues that represent what goes on in the city in other key markets."
The Grand Ole Opry was founded in 1925 as a one-hour "barn dance" on the radio station WSM – it remains the longest-running radio broadcast in U.S. history. After three decades based at the Ryman, the program moved to the Grand Ole Opry House, part of the Opryland complex.
Membership in the Opry is considered country music's greatest honour. 215 artists have been inducted over the years, spanning from Ernest Tubb and Roy Acuff to the 65 living members, including Garth Brooks and Reba McEntire.
The centre of Manhattan might not seem the likeliest spot for an Opry outpost, but the genre's local audience has also seen a significant shift. "There's been an explosion of country music fans in New York," said Darius Rucker, who played a sold-out show at the Apollo Theater last month. "It's one of our biggest markets. And it's a migratory place, so people who grew up with country music are there now, when it's cool to like country music."
Vince Gill, an Opry member since 1991 (and someone Colin Reed consulted before doing the Opry City Stage deal), noted the changes in New York's country-focused venues. "In the '70s and '80s, New York was a huge audience for us, with a bunch of cool clubs we could play," he told the New York Times. "There's not so much of that anymore, so for years, the only reason to go to New York was media-related. Now, here's one more option."
Format:
UK English