Lynyrd Skynyrd's, 'Gimme Back My Bullets' And 'Street Survivors' Out Now On Coloured Vinyl
1976's 'Gimme Back My Bullets' and '77's 'Street Survivors' are among the Southern rock pioneers' most acclaimed releases.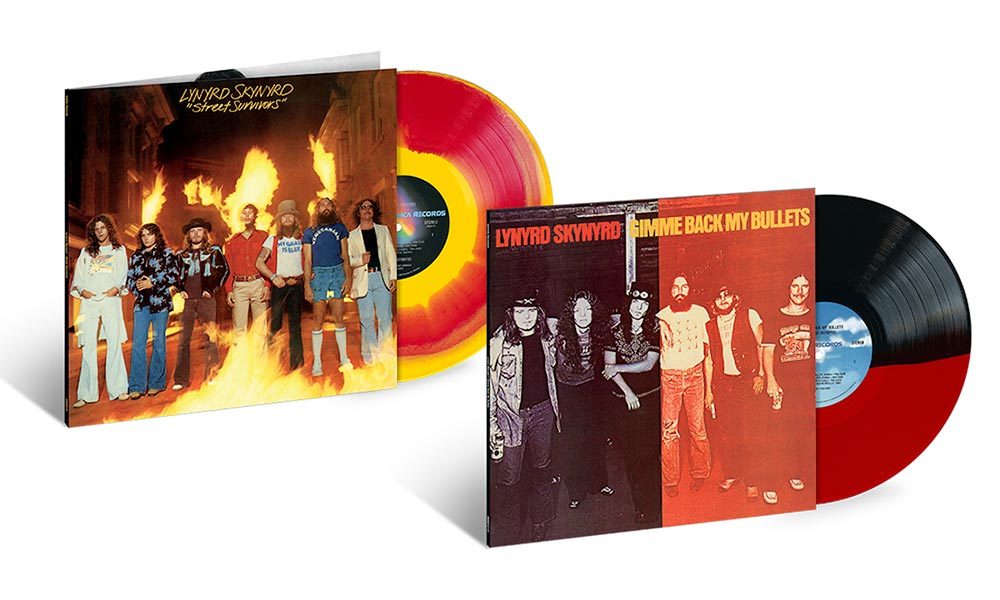 Two landmark 1970s-era Lynyrd Skynyrd albums, Gimme Back My Bullets and Street Survivors, have been granted special coloured vinyl reissues and are available now.
Gimme Back My Bullets – now released exclusively in red and split vinyl – is the Southern rock pioneers' fourth studio album. It was released on 2 February 1976, reaching No. 20 on the US albums chart and going gold early in 1981.
The album was originally titled 'Ain't No Dowd About It', in tribute to the producer Tom Dowd, whom the band idolised. The record features fan favourites 'Gimme Back My Bullets' and 'Double Trouble' and it remains a cult favourite, with Dinosaur Jr frontman J. Mascis later covering 'Every Mother's Son' on his 1996 solo album, Martin + Me.
Now issued on red and yellow burst vinyl, Street Survivors is Lynyrd Skynyrd's fifth album, which was first issued on 17 October 1977. It is the last album recorded by original members Ronnie Van Zant and Allen Collins, and is the only band studio recording by guitarist Steve Gaines.
Three days after the album's release, the band's chartered airplane crashed en route to Baton Rouge, Louisiana, killing the pilot, co-pilot, the group's assistant road manager and three band members (Van Zant, Gaines, and Gaines' older sister, backup singer Cassie Gaines), and severely injuring most who survived the crash.
The album peaked at No. 5 in the US, with the single 'What's Your Name?' becoming a Top 20 hit on Billboard Hot 100. The album also features the single 'That Smell'. Street Survivors was an instant success, achieving gold certification just 10 days after its release. It would later go double platinum and was equally well-received by the critics, with Rolling Stone later declaring "Street Survivors was the most meticulously crafted record of the original Skynyrd's eleven-year career."
Gimme Back My Bullets and Street Survivors are out now and can be bought here.
Format:
UK English