McCartney, Slash, Grohl Etc Join Alice, Depp In Hollywood Vampires
September 11 will mark the release of the self-titled album by the Hollywood Vampires, featuring a collection of rock superstars convened by Alice Cooper, Aerosmith's Joe Perry and their mutual friend Johnny Depp.
Guests on the record include Sir Paul McCartney, Perry Farrell, Dave Grohl, Joe Walsh, Slash, Robbie Krieger, Zak Starkey, Brian Johnson and Kip Winger, along with a spoken introduction to 'Raise The Dead' by Sir Christopher Lee, recorded just before his death. You can watch the brief trailer above.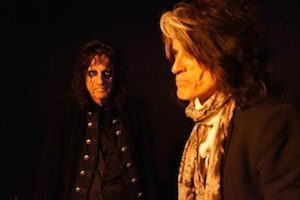 Alice Cooper and Joe Perry
The album celebrates the spirit of the original drinking club of the same name that gathered at the upstairs bar of the Rainbow Bar & Grill on Sunset Strip, Los Angeles from 1972, of which Cooper was a founding member. Attendees would include the likes of John Lennon, Harry Nilsson, Keith Moon, Bernie Taupin, Jim Morrison and Mickey Dolenz. "To join the club, one simply had to out drink all of the members," says Alice.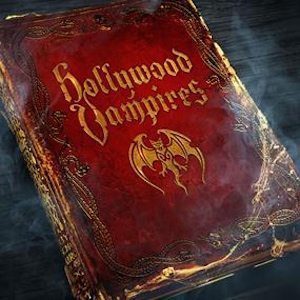 Cooper and Depp decided three years ago that they should remember those halcyon days — without the drinking — in an album project with remakes of rock classics, with producer Bob Ezrin. The album package is an antique book which was created by men's fashion designer and rock fan John Varvatos, and liner notes are supplied by Taupin.
"I'm not here to defend their vices," he writes of the original Vampires. "Over-indulgence of any sort does not ultimately constitute for a healthy mind and body. And while on the periphery of those involved, wives may have come and gone, career choices may have been deemed dubious, and heartbreak in some cases stalked a dark corridor, but in the lair of the Hollywood Vampires only joy and laughter reigned."
The lead single, which combines Alice's own 'School's Out' with Pink Floyd's 'Another Brick In The Wall Pt. 2,' was debuted on Cooper's own radio show. McCartney shares lead vocals with Alice, and plays piano and bass, on a version of the song he wrote for Badfinger, 'Come and Get It,' while Alice is joined by AC/DC's Brian Johnson for a cover of Led Zeppelin's 'Whole Lotta Love.'
Other highlights include Jimi Hendrix's 'Manic Depression' with Depp and Walsh on guitar and The Who's 'My Generation,' with Depp and Tommy Henriksen on guitar and Zak Starkey on drums. All artist proceeds from the album will be donated to MusiCares.
Format:
UK English