N.E.R.D's Landmark Third Album 'Seeing Sounds' Returns To Vinyl
Released through Urban Legends, the record is available on double-disc black wax and limited edition red marble 2LP vinyl.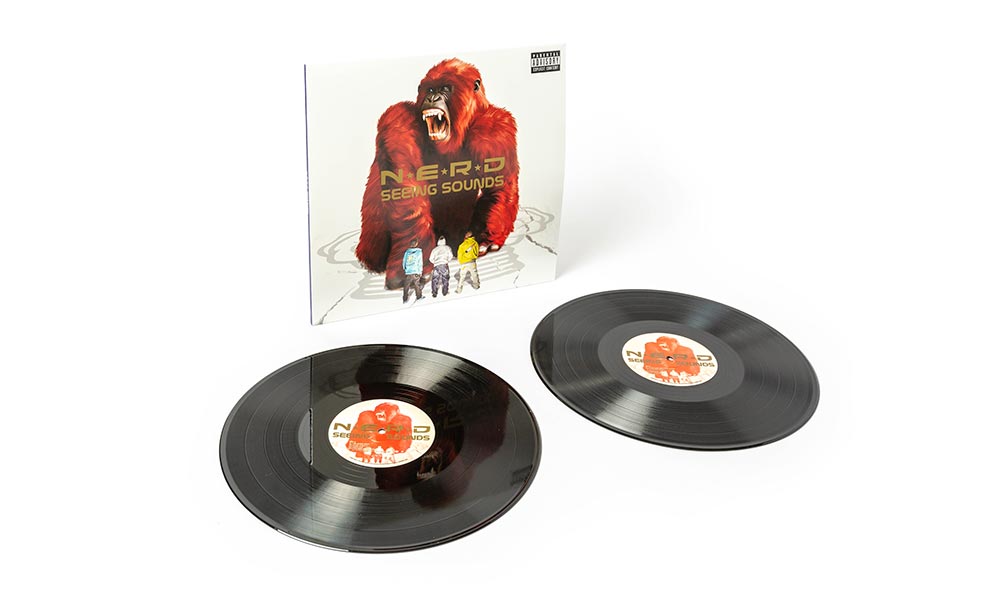 N.E.R.D's critically acclaimed third album, Seeing Sounds, is now back on wax. Released through Urban Legends, the record is available on black 2LP vinyl and limited edition red marble 2LP vinyl. The new vinyl editions feature two bonus tracks – 'Lazer Gun' and 'Everyone Nose (All The Girls Standing In Line For The Bathroom)' Remix featuring Kanye West, Lupe Fiasco, and Pusha T— both are which are coming to vinyl for the first time.
The album's instantly recognizable cover art, with the large looming gorilla and classic N.E.R.D font, was a return to form for the group after leaving their previous label. The duo of Pharrell Williams and Chad Hugo—also otherwise known as The Neptunes—expanded their top-tier production by exploring atmospheric rock tangents with more added emotional appeal than previous, more straightforward efforts. The title is conceptually based on the neurological phenomenon of synesthesia—the mixing of sensory modalities—for instance, seeing colors when listening to music.
The rejuvenation worked to their advantage, with the album selling 80,000 units in its first week and charting at No. 7 on the Billboard Hot 200. In addition to a positive critical response, the album sold more than 200,000 units within a few years after its release. It was also a huge success internationally, charting in the Top 20 in Australia, Switzerland, Canada, and the Netherlands. Despite being recorded sometime around 2007, the forward-thinking ethos of The Neptunes and their textured production, coupled with in-the-pocket musicianship, propelled the album to national and international acclaim.
Seeing Sounds is out now. Scroll down to read the full tracklist and buy it here.
N.E.R.D: Seeing Sounds:
LP 1:
'Intro / Time For Some Action'
'Everyone Nose (All The Girls Standing In Line For The Bathroom)'
'Windows'
'Anti Matter'
'Spaz'
'Yeah You'
'Sooner or Later'
'Seeing Sounds'
LP 2:
'Happy'
'Kill Joy'
'Love Bomb'
'You Know What'
'Laugh About It''
'Lazer Gun'
'Everyone Nose (All The Girls Standing In Line For The Bathroom)' (Remix) feat. Kanye West, Lupe Fiasco, and Pusha T (Side B)
Format:
UK English