Olivia Rodrigo Navigates The Push And Pull Of Adulthood In 'Brutal' Music Video
The visual was directed by Petra Collins.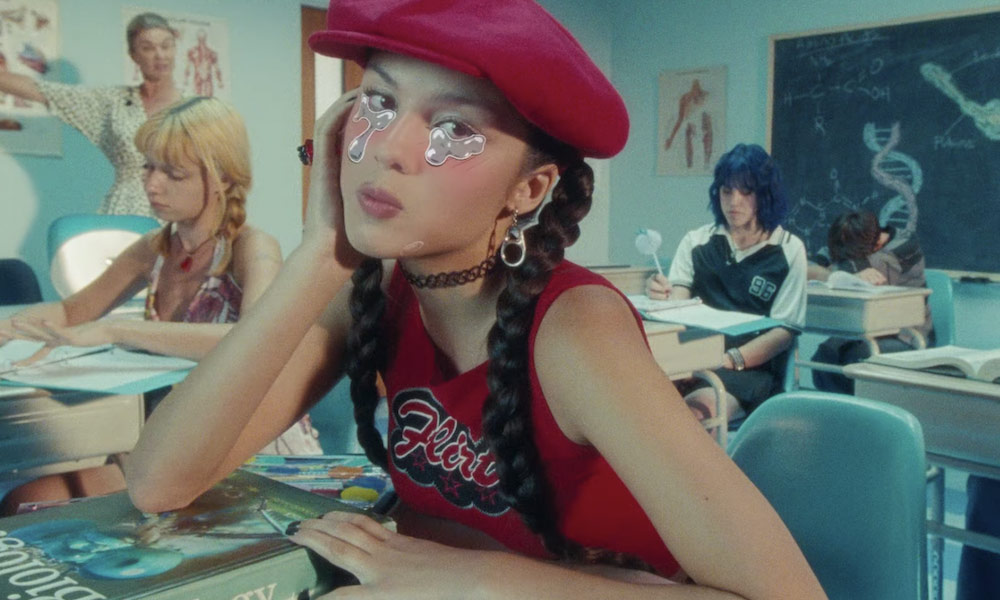 Olivia Rodrigo is currently experiencing one of the most notable debut years for an artist in recent pop history. 18-years-old and a recent high school graduate, the singer wants her listeners to know that despite the glitz and the glam, it's brutal out here. In the recently shared music video for "Brutal," the latest single from her debut album Sour, Rodrigo portrays the push and pull of adulthood and stardom.
Directed by Petra Collins, who also helmed the video for Sour smash "Good 4 U," the visual for "Brutal" features Rodrigo starring as an angsty teen being dragged around an empty mall, an orange-haired pop star being pushed and positioned, a filter-reliant social media influencer with the username "spicypiscesnyc" and more.
"Had the best time ever making this," Rodrigo wrote on Instagram. "So so so grateful to Petra Collins who constantly inspires me and who directed this video so incredibly. Hope u guys love the vid and all my teen angst lol."
"And I'm so sick of 17 / Where's my f___n' teenage dream / If someone tells me one more time / Enjoy your youth I'm gonna cry," Rodrigo delivers on the track with venom in her tone. As she moves through the mall in the visual, she passes a poster of the pop star she plays that reads "Golden Years" in bold, futuristic lettering.
"They say these are the golden years / But I wish I could disappear / Ego crush is so severe / God, it's brutal out here," she declares in the chorus of the track which explores the topics of envy, growing up and exploitation.
"Brutal" is the most recent Sour track to receive a visual treatment, following "Good 4 U," "Deja Vu" and "Drivers License." Not counting the views rolling in for "Brutal," Rodrigo has amassed over 1.2 billion global views on her YouTube channel this year.
Released in May, Sour debuted at No.1 on the Billboard 200 albums chart and broke the record for the most-streamed album in a week by a female artist in Spotify history with over 385M global streams. It earned the most U.S. audio streams from a female debut album ever.