Rihanna Named Harvard University's Humanitarian of Year
'So I made it to Harvard – never thought I'd be able to say that in my life'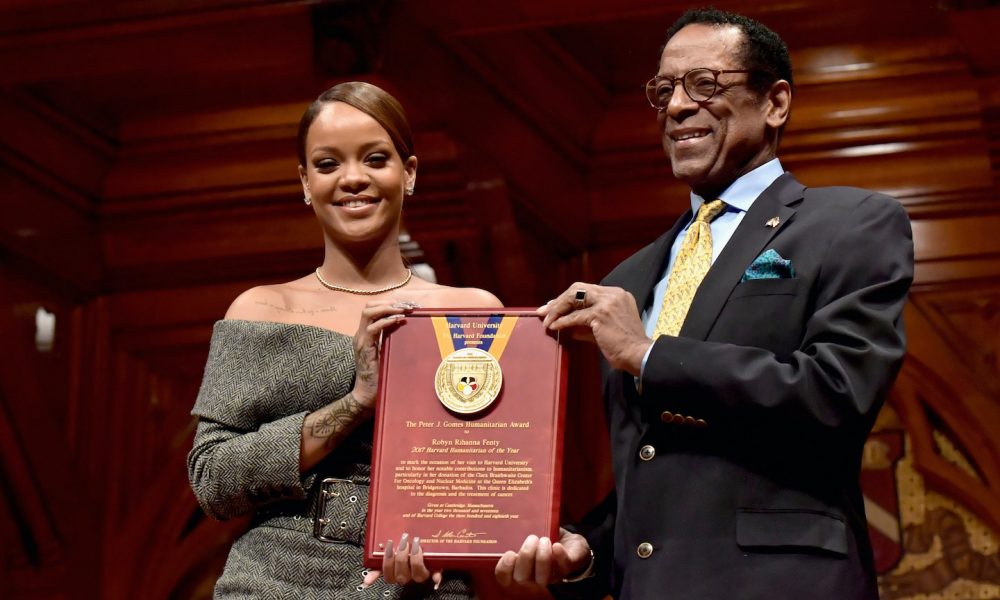 Celebrities have been the recipients of honorary degrees at prestigious universities before, but Rihanna took it one step further and was named humanitarian of the year by the Harvard Foundation, joining an elite group of past winners that includes Malala Yousafzai, James Earl Jones, and Arthur Ashe, among others.
She accepted the Peter J. Gomes Humanitarian Award at a ceremony that took place at the Sanders Theatre on the university's campus today and opened her acceptance speech with, "So I made it to Harvard – never thought I'd be able to say that in my life." Humor aside, she made clear her commitment to using her platform for a larger cause.
"We're all human, and we all just want a chance: a chance at life, a chance at education, a chance at a future, really". She concluded by saying, "You don't have to be rich to help somebody", leaving the crowd with some wisdom from her grandmother: "If you got a dollar, there's plenty to share".
Robyn Rihanna Fenty, Harvard Humanitarian of the Year Award Ceremony
Her humanitarian work is certainly substantial. Even at the beginning of her career when she was just 18, she started the charitable Believe Foundation. which is dedicated to assisting disadvantaged and terminally ill children worldwide, especially those with cancer, leukemia and AIDS.
As the Harvard Gazette reports:
"Rihanna has charitably built a state-of- the-art center for oncology and nuclear medicine to diagnose and treat breast cancer at the Queen Elizabeth Hospital in Bridgetown, Barbados", said S. Allen Counter, the Harvard Foundation's director.
"She has also created the Clara and Lionel Foundation Scholarship Program [named for her grandmother and grandfather] for students attending college in the U.S. from Caribbean countries, and supports the Global Partnership for Education and Global Citizen Project, a multiyear campaign that will provide children with access to education in over 60 developing countries, giving priority to girls and those affected by lack of access to education in the world today".
Watch the full livestream, with Rihanna taking the stage around the one hour and 13-minute mark.
Format:
UK English