Rise Against's Studio Albums To Be Collected In Career-Spanning Vinyl Box Set
The self-titled box includes 180-g black vinyl pressings of all eight of the band's studio albums to date.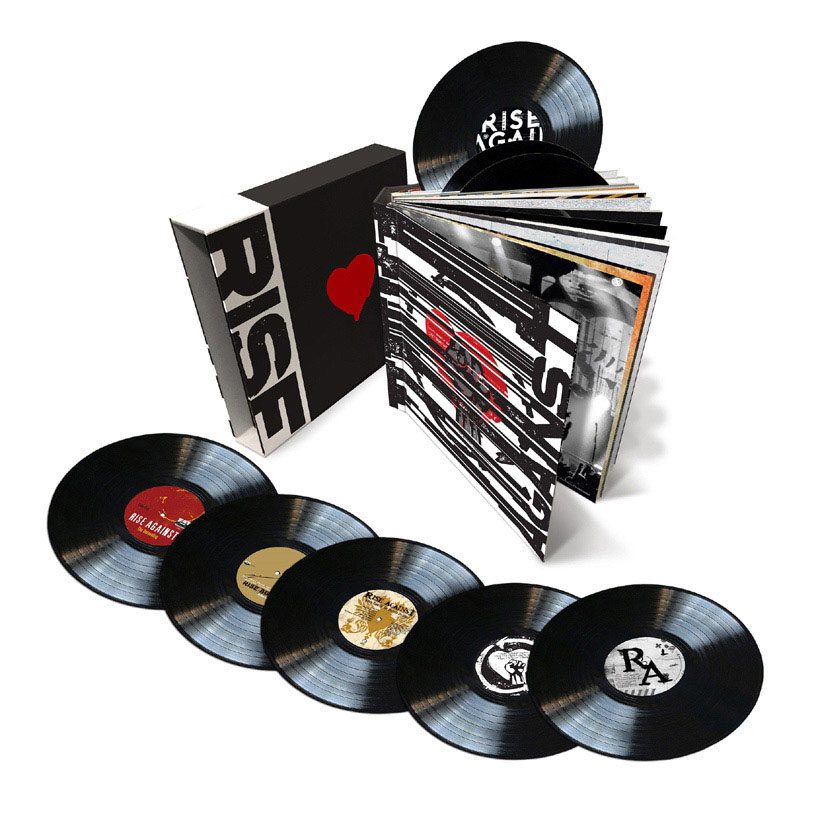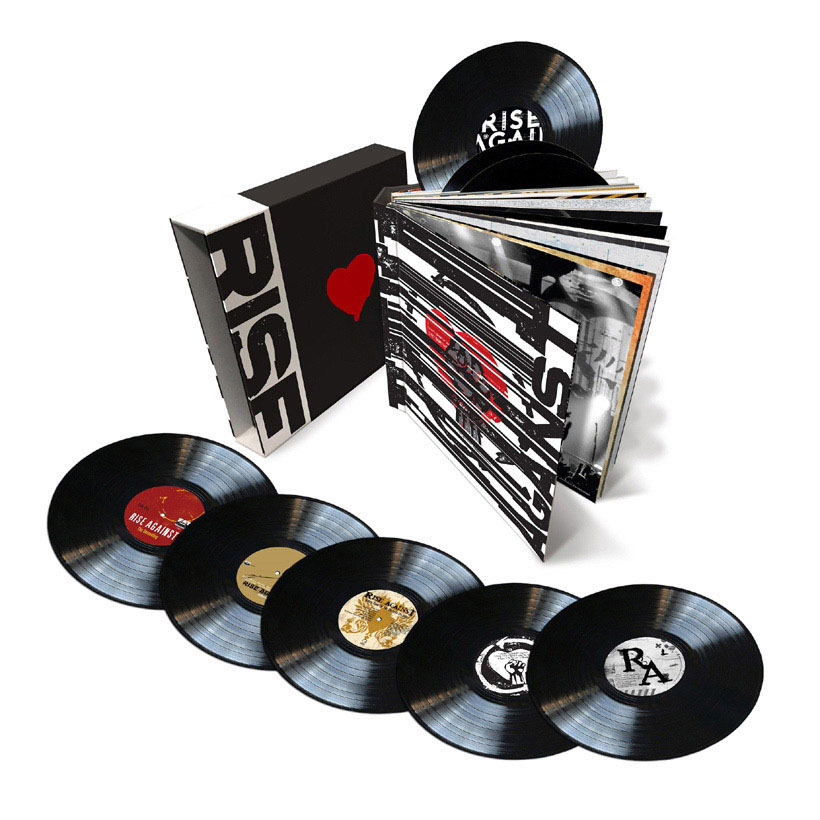 On November 30, US punks Rise Against's body of work will be collected in the career-spanning self-titled vinyl box set Rise Against via Interscope/UMe. The comprehensive collection will feature 180-g black vinyl pressings of all eight of Rise Against's studio albums, including their three Gold-certified albums Siren Song of the Counter Culture (2004), The Sufferer & The Witness (2006), and Appeal To Reason (2008). In addition, a limited edition 180-g clear vinyl version will be available via the band's website.
Both versions include a unique book featuring exclusive photos and an oral history made up of interviews from the band detailing their rise from the fertile Chicago punk underground to the international stage, offering insights into their revered discography.
Since forming in Chicago in 1999, Rise Against has inspired generations of punk and rock fans with its fiery and anthemic brand of melodic hardcore punk. Using their international platform to speak out for social justice, Rise Against's rousing lyrics address progressive political issues like economic injustice, animal rights and homophobia.
"Eighteen years and eight records later, the story of Rise Against is best told with the music," says frontman Tim McIlrath. "Each song on each record was a handcrafted stepping stone that took us far beyond any expectations we ever had and surpassed any goal we ever set. These albums connected with, and introduced us to, a die-hard fanbase we feel unworthy of. Whether it was Blasting Room production on most of these albums or the Shepard Fairey artwork for Siren Song Of The Counterculture, the devil is in the details. Each record here tells our story and represents a snapshot of where we were and who we were at the time, maybe it does the same for you."
Rise Against were formed in 1999 by bassist Joe Principe and vocalist/guitarist Tim McIlrath and quickly released two albums – The Unraveling and Revolutions Per Minute – on legendary San Francisco independent punk label Fat Wreck Chords. The band toured relentlessly, including dates on the Warped Tour, and rapidly built a devoted underground, with Exclaim calling them "the hardcore salvation we've all been waiting for."
Rise Against - Savior (Official Music Video)
While their second album Revolutions Per Minute (2003) had Pop Matters declaring that the band was already at, "its peak in songwriting, performing, and energy," the band's success and acclaim continued to grow after they signed to Geffen in 2003. Rise Against's first major label album, Siren Song of the Counter Culture was certified Gold in the US. In a review of the album, Punk News credits the band with popularizing melodic hardcore music and influencing "literally thousands of bands."
Rise Against continued to inspire transgressive rock fans seeking hope and catharsis during the Bush presidency and, with the release of their fourth album The Sufferer and the Witness, which also went Gold, The AV Club exclaimed, "no other band plays this style as compellingly."
In 2008, the Illinois punks hit their commercial peak with their fifth full-length Appeal to Reason, which melded their driving melodic hardcore with scathing lyrics about the Iraq War and the Bush administration. The album hit No. 3 on the Billboard 200, No. 1 on the Canadian Albums Chart and the single 'Savior' charted for over 60 weeks, setting the record for the most consecutive weeks spent on both the Hot Rock Songs and Modern Rock Tracks charts.
Their following two albums showed the band maturing while winning new fans with their combustible energy and conviction. Endgame (2011) and The Black Market (2014), both broke into the Top 5 of the Billboard 200 album chart. Of Endgame, Rolling Stone enthused, "Rise Against's mastery of anthemic punk rock is second only to their mastery of being pi_ed off."
The box set concludes with Rise Against's most recent album, 2017's Wolves. The band's fifth straight top 10 album, it was recorded as a response to the Trump administration and the overall contemporary political climate, written with the intent to inspire during a dark time. Recorded with producer Nick Raskulinecz, their first album in over a decade without Bill Stevenson at the helm continues their mission to speak truth to power.
Rise Against is out on 30 November and can be bought here.
Format:
UK English