S.G. Goodman Releases Sophomore Album, 'Teeth Marks'
The singer-songwriter also shared a video for sister songs 'If You Were Someone I Loved' and 'You Were Someone I Loved.'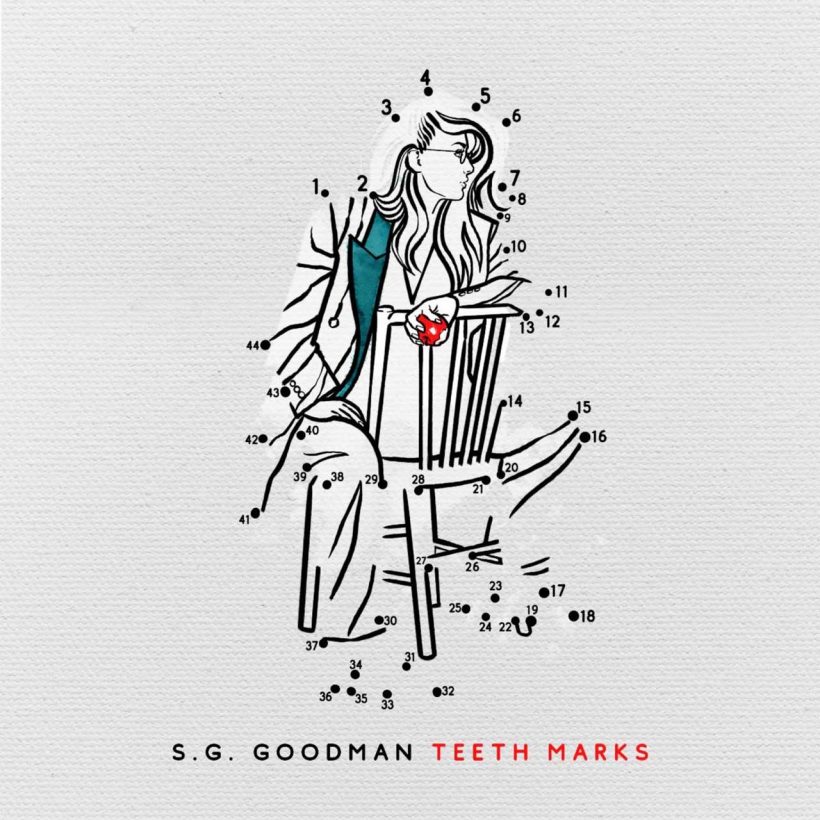 Kentucky-based singer-songwriter S.G. Goodman has released her sophomore album Teeth Marks via Verve Forecast. With the record's release also comes the music video for sister songs "If You Were Someone I Loved" and "You Were Someone I Loved," directed by Meredith Truax.
According to a press release, the pair of songs explore "the lack of human empathy surrounding the opioid crisis from two points of view: an average on-looker who might not care, and the mother of a forgotten victim of the crisis."
In an interview with Stereogum, Goodman elaborated further on the making of the two-parter. "Because it's such a heavy subject, I was very timid in feeling I hadn't said everything that would do the subject justice. I still can't say whether that's the case or not," she said. "That's why I ended it with, once again, a musical or vocal style that leans towards my roots. But also, I ended the story with the subject of a family member who loved this person, because I felt they should have the final say about that person's life and worth. In the digital version it'll look like two tracks, but on the vinyl, it'll be one, which is how I intended it."
In support of Teeth Marks, Goodman is soon embarking on her headlining tour, with stops in major cities like Nashville, New York City, Los Angeles, London, Chicago, and more. It kicks off on June 4.
Stream or buy S.G. Goodman's Teeth Marks.
S.G. Goodman Summer Tour Dates:
Jun 4 – Nashville, TN – Third Man Records
Jun 7 – New York, NY – Mercury Lounge
Jun 10 – Stockholm, SE – Stockholm Americana
Jun 11 – Copenhagen, DK – Copenhagen Americana
Jun 12 – Oslo, NO – Oslo Americana
June 18 – Turnbridge Wells, UK – Black Deer Festival
June 19 – Manchester, UK – Yes Manchesterw/ Darlingside
June 20 – London, Union Chapel w/ Darlingside
July 2 – Berwyn, IL – Fitzgerald's American Music Festival
July 17 – Somerset, KY – Master Musicians Festival
Aug 4 – Happy Valley, OR – Pickathon Festival
Aug 11 – Santa Fe, NM – Tumbleroot Brewing
Aug 13 – Tucson, AZ – 191 Toole
Aug 14 – Phoenix, AZ – Musical Instrument Museum
Aug 16 – Los Angeles, CA – Teragram Ballroom
Aug 17 – Felton, CA – Felton Music Hall
Aug 18 – San Francisco, CA – The Independent
Aug 20 – Portland, OR – Doug Fir Lounge
Aug 21 – Seattle, WA – Tractor Tavern
Aug 22 – Seattle, WA – Tractor Tavern
Aug 24 – Bozeman, MT – Live from the Divide
Aug 26 – Salt Lake City, UT – The Commonwealth Room
Aug 27 – Denver, CO – The Bluebird
Aug 28 – Fort Collins, CO – The Armory
Aug 29 – Colorado Springs, CO – Lulu's Downstairs
Sep 4 – Nelsonville, OH – Nelsonville Music Festival
Sep 9-10 – Bristol, TN – Bristol Rhythm & Roots
Sep 20 – Asheville, NC – American Vinyl Co
Sep 21 – Raleigh, NC – Cats Cradle
Sep 23 – Philadelphia, PA – Johnny Brendas
Sep 24 – Washington, DC – Songbyrd
Sep 25 – Freehold, NJ – Concerts in the Studio
Sep 28 – Boston, MA – 939 Cafe
Oct 2 – Dana Point, CA – Ohana Festival
Oct 4 – Chicago, IL – Schuba's
Oct 5 – Minneapolis, MN – 7th Street Entry
Oct 7 – St Louis, MO – Off Broadway