Watch The Video For The Struts' 'Strange Days' Ft. Robbie Williams
The song is also the titular song from the band's new album, set for release through Interscope on October 16.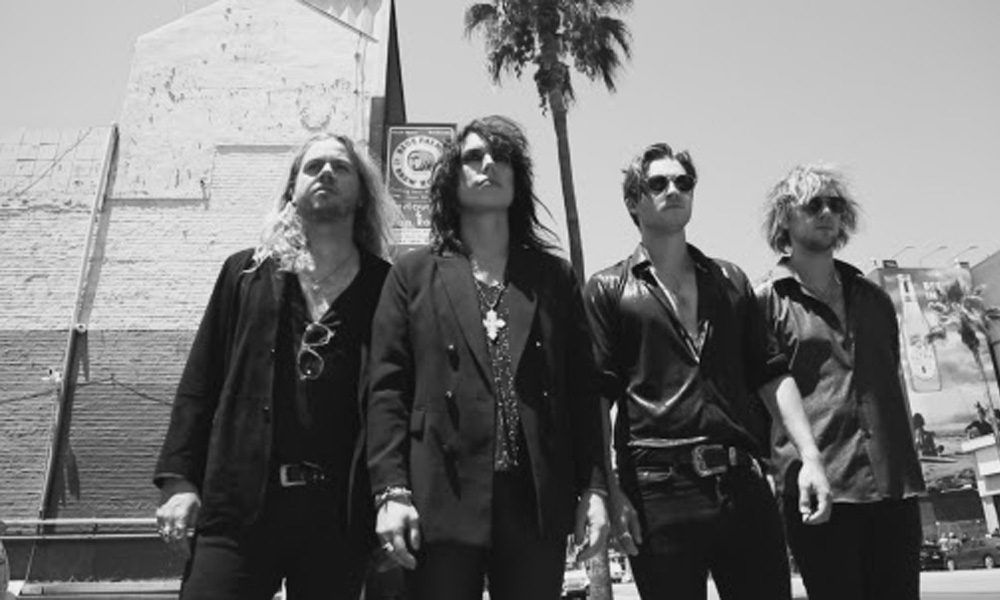 The Struts and Robbie Williams have released the video for their collaborative single "Strange Days". Shot by Chris Applebaum, the clip was filmed in multiple locations around Southern California. You can check the video out below.
The Struts, Robbie Williams - Strange Days feat. Robbie Williams (Official Video)
"Strange Days" is the second song to be released from the band's upcoming album by the same name, which is set for release October 16 via Interscope Records. It follows the release of the track "Another Hit of Showmanship," which features Albert Hammond Jr of The Strokes and centers on a poignant vocal performance from Luke Spiller, who deftly channels the tension between giving in to temptation and rising above your demons.
"I was doing Quarantine Radio [an Instagram Live show launched by The Struts] and Robbie hit me up out of the blue asking if we could talk," Luke Spiller says of hooking up with Robbie Williams. "We ended up Face-Timing for about two hours the first time we'd ever spoken, talking about life and music and UFOs and everything else you can think of. I asked if he'd like to work together at some point, and while we were making the album, he graciously let us come over and record him singing on his front porch."
Williams adds, "We did a vocal for a wonderful song that has been gifted my way. It's been an absolute pleasure and a privilege to listen to this man sing. It's great to be a fan of someone and then a part of this recording. It's like having a hero here and I genuinely mean that."
Strange Days finds The Struts joining forces with not only Robbie Williams and Albert Hammond Jr, but also Def Leppard's Joe Elliott and Phil Collen on the hip-shaking stomper "I Hate How Much I Want You" and Rage Against The Machine's Tom Morello on "Wild Child."
The Strange Days album came to life over the course of a charmed and frenzied burst of creativity this spring. After getting tested for COVID-19, the band all moved into the Los Angeles home of Jon Levine, a producer who worked extensively on their acclaimed sophomore album YOUNG & DANGEROUS. Within just ten days of couch-crashing at Levine's house, The Struts had laid down nine original tracks alongside a cover of a KISS B-side.
Strange Days is out on October 16 and can be pre-ordered here.