The Making of Blues Master Bobby Rush's 'Porcupine Meat'
The story behind the 2016 album that went on to win the Grammy Award for Best Blues Recording.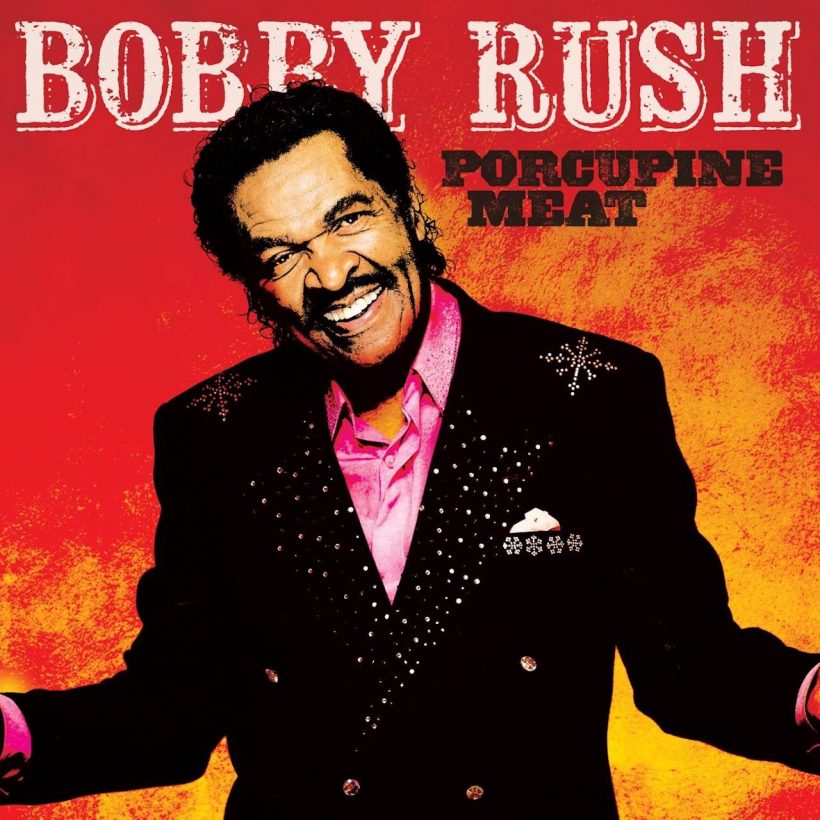 In his latest 'Letter from New Orleans,' producer Scott Billington tells about the making of veteran blues master Bobby Rush's new album Porcupine Meat.
Bobby Rush takes a certain mischievous pleasure in being evasive about his age. To venture a guess, based on his lithe stage gymnastics, on the stamina it takes for him to maintain his non-stop touring schedule, or on his worldly character, forty or so would seem about right.
Yet, some sources postulate that Emmet Ellis, Jr. was born in Homer, Louisiana in the early 1930s. By the time he moved with his family to Pine Bluff, Arkansas in the 1940s, he was gigging as Bobby Rush, eventually playing in a band that included, briefly, the influential slide guitarist Elmore James. He moved to Chicago in the mid-1950s, where he crossed paths with other young up-and-comers like guitarists Freddie King and Luther Allison. After a string of 45 RPM singles, he had a hit record in 1971 with "Chicken Heads." So, forty is a few years shy of the truth.
Certainly, Bobby Rush has the wisdom of age. He can reach back into folklore for a story that pokes at the foibles of life (like the story of the goat that fell into an abandoned well, and eventually walked out after successive shovels full of dirt thrown in to bury the unfortunate animal raised it to the top). His understanding of blues history is consummate – themes that reach back to its earliest days, an understanding of stagecraft, and original songs that have continued to resonate with African American audiences long after most other blues singers have lost that connection.
I Don't Want Nobody Hanging Around
I met Bobby Rush in the early 1990s, at a Recording Academy event, and we have been friends ever since – perhaps the bond of two musically driven Scorpios. At the time, Rounder Records was amping up its involvement in the blues field with its new Bullseye Blues label, and label co-founder Marian Levy was keen on signing Bobby. Yet, because of Bobby's other commitments and alliances within the Southern blues community, and because of his independent streak, it did not happen.
I went to hear Bobby perform whenever I could – at the Memphis in May festival, and at a Mississippi juke joint, and at the New Orleans Jazz and Heritage Festival. One year, we were both judges at the Blues Foundation's International Blues Competition. Around the time I heard him at the Crescent City Blues and Barbeque Festival in 2015, I was also becoming acquainted with his new manager, Jeff DeLia, and finally the time seemed right for us to work together.
He'd been releasing records on his own label, Deep Rush, for the past decade, and finally decided that a partnership with Rounder and with me would make sense. Bobby was open to recording in New Orleans for the first time, with a backing band that I would assemble. We agreed that Mississippi guitarist Vasti Jackson, who has long been a part of Bobby's recordings, would join the band as musical director.
Bobby is a songwriter with a backlog of stories and hooks, written in his notebooks and on yellow pads, from which he me presented with one idea after another. Once we agreed that an idea was worth pursuing (usually with a mutual burst of enthusiasm, as Bobby riffed on where the story might go), he began the process of fleshing them out into full-fledged lyrics. To put words to music, he began travelling from his home in Jackson, Mississippi, to guitarist Vasti Jackson's small studio in Hattiesburg, recording demos that would give us the bones of each song to present to the other musicians.
I joined them on several occasions, along with songwriter (and my wife) Johnette Downing, and engineer Steve Reynolds, bringing along several of our own songs. I also had collected a few songs by outside writers, just in case we needed them. We worked on chord changes, bridge sections and instrumental motifs with Vasti, while Bobby listened, observed and commented with intense concentration, contributing his own ideas on guitar or harmonica.
We came away with Bobby's "It's Your Move," "Got Me Accused," "I Think Your Dress Is Too Short," "Funk o' de Funk," and "I Don't Want Nobody Hanging Around," along with our collaborations "Snake in the Grass" and "Catfish Stew," and a few others.
The night before our sessions began, I met with Bobby as he settled into his hotel room. I was thrilled with almost all the songs that we now had in our collective pocket, but I wasn't convinced that the two sentimental blues ballads we had in the mix were right for the project. Just as I was about to again ask Bobby to consider two of the outside songs, he grinned intuitively and retrieved from his suitcase an old Radio Shack cassette player and a plastic shopping bag full of cassette tapes.
Bobby Rush - "Porcupine Meat" (OFFICIAL MUSIC VIDEO)
It took a few minutes for him to find what he was looking for, making the machine squeal and he fast-forwarded and rewound the tapes. Then, in quick succession, he presented me with "Porcupine Meat," "Nighttime Gardener" and "Me, Myself and I"—demos of songs that he had written in the past but never recorded. I was elated, knowing that we had our complete album. I also knew there would be at least one very disappointed songwriter.
One of the things I appreciate about many New Orleans musicians is that funk, R&B and blues are not "retro" – these styles are simply a part of what they've played all their lives. These were the musicians I wanted to hire—not blues players per se, but musicians with broad experience who understood the blues, and who could get as funky as Bobby wanted.
The rhythm section was easy. I had previously worked with drummer Jeffery "Jellybean" Alexander and bassist Cornell Williams on a session with Theryl "Houseman" de'Clouet, and I'd seen them many times backing Jon Cleary as one half of the Absolute Monster Gentlemen. I knew they had just the right balance of deep soul and precision (for there is a nuance of feel among New Orleans rhythm sections, from loose-limbed street attitude, to gospel groove, to studio exactitude, even if the unmistakable New Orleans syncopation is always there).
There would be a twist in the rhythm section, though. I had worked with sousaphone player Kirk Joseph on five records by the Dirty Dozen Brass Band. He is the world virtuoso on his instrument, having pushed the sousaphone to previously unimagined limits (think of what Béla Fleck did with the banjo) that can now be heard around the world – if there is a sousaphone or tuba player in a Slavic dance band, he or she has likely been influenced by Kirk, imitating his high trills and fast-fingered runs.
Most of all, though, Kirk is one of the best bass players in New Orleans, regardless of instrument. I had often wished to record him in a pure funk setting, and here was the opportunity. On the songs on which he would play, the record would have a different kind of sound, too. Bobby was game.
Keyboard player David Torkanowsky has been a critical part of dozens of records that I have produced, often contributing arrangements and leading the band, and I knew he would be an asset. We decided that he would play only vintage keyboards —Hammond B3 organ, Wurlitzer piano and Hohner clavinet. David recommended that we bring on Thibodeaux, Louisiana native Shane Theriot, the former guitarist for the Neville Brothers who is currently the musical director of Daryl Hall's Live From Daryl's House. Both David and Shane were a part of Bobby's previous album, the Grammy-nominated collaboration with Blinddog Smokin' called Decisions.
We were fortunate to be able to record at the new Parlor Recording Studio, built inside an old warehouse along Tchoupitoulas Street. Matt Grondin and his team have built one of the best studios that New Orleans has ever had, with glass-fronted isolation booths that would allow us to record our basic tracks live, through a beautifully restored Neve 8078 console. Steve got us set up and running by mid-afternoon on Sunday, February 28, and we were off with "It's Your Move," followed quickly by "Funk o' de Funk," on which Jellybean's groove and Kirk's dancing sousaphone line had everyone smiling and on their feet.
Bobby sang and played live with the band, directing a performance that was still going strong after eight minutes. It seemed as if Vasti (panned to the right channel on the record) and Shane (in the left channel) were reading one another's minds, with guitar parts that fit together as if they'd been written that way. We finished the day with "Catfish Stew." My concept for the song had begun by imagining a late 1950s New Orleans R&B groove, but the band took it to a whole other place that was eminently more danceable than the song in my head.
We began the next day's sessions, again with Kirk, with the slow blues "Got Me Accused." With the exception of one vocal verse, which Bobby decided to revise, what you hear on the record is exactly what the musicians played that day. It's an astonishing performance – the kind that I am always amazed to have captured, with all the subtle shifts of texture that come from musicians listening to one another.
Before we cut the final take, David said to Kirk, "What if you were to play this like it was your Daddy's funeral"? I cringed for a brief moment (a sensitive place to go, I thought), but then the song's slow tempo took on the deep feeling and beautiful space that you hear. Indeed, Bobby's vocal and harmonica solo might be one of most soulful performances he has yet recorded. The blues funk of "I Don't Want Nobody Hanging Around" followed, with the spirit still in the room.
Cornell joined us for the next two days. A highlight of those sessions was "Porcupine Meat," which Vasti tweaked on the spot, adding the gorgeous chords that lead to the refrain. Bobby's live vocal was a keeper. In our rehearsals, Bobby had played a tape of himself performing a double-tracked version of "I'm Tired," using both chromatic and diatonic harmonicas. We had tried to cut this song with both versions of the band, but it didn't gel.
So, on our last day in the studio, we recorded Bobby doing the song solo, playing to a click track (a metronome), before adding a second pass of harmonica, like he had done on the demo. Next, we accumulated drum, guitar and bass sounds for a later remix. After four days, we had all our basic tracks, with time left over to add acoustic guitar and second keyboard parts to a number of songs.
What impressed me most about Bobby in the studio was his full engagement with the recording process, and the positive energy he brought to every moment. It's not uncommon for musicians and especially singers to lose focus and spontaneity after a few takes, but not Bobby. In fact, his energy seemed to grow, fueling successive takes. I kept asking myself, "Am I really working with an octogenarian [for that is closer to his actual age]?"
Over the next month, Steve and I edited the tracks down to reasonable lengths, trying to identify the very best parts of each vamp, and getting everything ready for Bobby to record his final vocals (on about half the songs) and for other overdubs. We recorded this time at the Rhythm Shack, a smaller studio in the Riverbend neighborhood. We sent tracks to our guest artists (Joe Bonamassa, Dave Alvin, and Keb' Mo') for them to add their parts at their own studios, even though we wished they could have joined us at The Parlor.
Trombonist Jeff Albert is one of the first-call horn arrangers in New Orleans, and I knew I could rely on him to bring fresh and funky parts. Many of the city's best musicians were on hand to play his charts, including my old friend Roger Lewis, from the Dirty Dozen, on baritone sax, and Jeff Watkins, who played for several years with James Brown, on tenor. Cornell came back to add backing vocals, along with Charles "Chucky C" Elam, III and Johnette Downing.
I'm Tired (Tangle Eye Mix)
Steve and I sorted through the pieces and parts of "I'm Tired," editing together a new form for the song, before he went to work with his mixing magic, adding a few new drum parts. As Tangle Eye, Steve and I had done a full album of remixes of Allen Lomax's recordings, but this was the first time we collaborated with a living artist using this production technique.
We went back to The Parlor to mix, running all the sounds back through the Neve and printing to 1/2 " analog tape. Bobby was with us every step of the way, not because he always had to be there, but because, as he told us, "I didn't want to miss anything."
Bobby Rush may embody the history of the blues, but he also shows us possibilities of where the blues might go. These blues never take themselves too seriously. They poke fun at themselves, and they can be enjoyed as pure entertainment (as can Bobby's live show, with his shake dancers and sometimes corny routines).
But there's also something here that cuts deep, reaching truths about life and love that might be truer than anything else in contemporary music: stories of hard times and heartache transformed in song. You can hear the depth of that wisdom and optimism in Bobby's voice. What a treat it was to work with him.
Format:
UK English