Watch The Lyric Video For Tyler Bryant & The Shakedown's New Track, 'On To The Next'
The new song is the first taster from the band's new album, tentatively expected during the summer of 2019.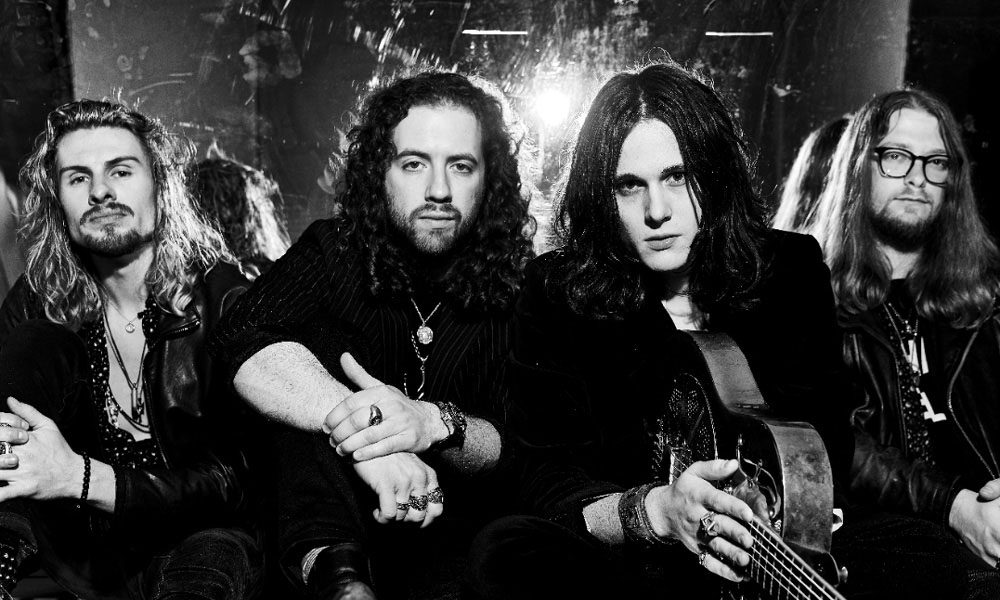 Tyler Bryant & The Shakedown have shared their brand new song, 'On To The Next'. You can watch the lyric video for the track above.
The new track is the first taste of new music from the band's next album, tentatively due this summer. The song and the forthcoming album were recorded with Joel Hamilton (Highly Suspect, Pretty Lights).
"'On to the Next' was inspired by the Shakedown's live show," Tyler Bryant said, offering some insight into the tune. "We show up, we leave it all on the table, and we get gone. We've done this regardless of any obstacle since we formed the band. This is something I'm incredibly proud of as I've always valued resilience. The 'we're here no matter what' mentality has inspired me to stick to my guns and charge forward."
He shared a deeper look into the personal and universal meaning behind the song, saying, "With that said, I'm often confronted with self-doubt and anxiety. That's natural when you go wholeheartedly all in, with anything. Over the course of the new recording sessions, these feelings are key players behind a lot of the lyrics. However, they aren't welcome in 'On To The Next.' The lyrics were born from the attitude of the music and for me, this is purely a song of empowerment."
Bryant finished, "When I walk on stage, I wanna feel like the biggest badass in the room. No matter how many awesome Shakedown fans show up, 10 times out of 10, I'm the only one who can make me feel like that. I want this song to make someone else feel like they're the one if they need it while they're going through their day. 'On to the Next' is me making a conscious decision to leave every stage I step on a pile of bricks.
"That's just me, though. When I find myself in that vicious feedback loop of doubt and anxiety, I know I'm not the only one who struggles with that. Everyone has their own mountains to climb and we've all got to harness our own unique mojo and use it to our advantage. The song exists purely to make whoever is listening to it feel like a total badass."
Tyler Bryant & The Shakedown are touring with Black Stone Cherry on a co-headline run this spring. The two bands pay the following US dates:
3/28: Charlotte, NC @ Amos
3/29: Greenville, SC @ The Firmament
3/30: Cincinnati, OH @ Bogart's
3/31: Mcminnville, TN @ Volcano Room at Cumberland Caverns
4/4: Austin, TX @ Come and Take It Live
4/5: Houston, TX @ Scout Bar
4/6: Dallas, TX @ Trees
4/11: Joliet, IL @ The Forge
4/12: Lafayette, IN @ Lafayette Theatre
4/13: Columbus, OH @ A&R Music Bar
4/18: Flint, MI @ The Machine Shop Concert Lounge
4/19: Grand Rapids, MI @ Elevation
4/20: Racine, WI @ Rt 20
4/25: Hopewell, VA @ Beacon Theatre
4/26: Fredericksburg, VA @ Hard Times Four Mile Fork
4/27: Leesburg, VA @ Tally Ho Theatre
4/29: Lancaster, PA @ Chameleon Club
4/30: Cambridge, MA @ Middle East
5/1: Asbury Park, NJ @ The Stone Pony
5/4: Panama City Beach, FL @ Panama City Bike Week
5/16: Belvedere, IL @ The Apollo Theatre
5/17: Columbia, MO @ Blue Note
5/18: Lawrence, KS @ The Granada
5/24: Greensboro, NC @ Blind Tiger
5/26: Pryor, OK @ Rocklahoma
5/31: Huntington, WV @ V Club
6/22: Bristol, TN @ Thunder Mountain Music Park
7/12: Telluride, CO @ Ride Fest
7/13: Telluride, CO @ Ride Fest
Format:
UK English