Vinyl Release For Historic Ella Fitzgerald Live Album 'Ella At Zardi's'
The 1956 performance that announced Ella's arrival at Verve Records gets a double vinyl LP release.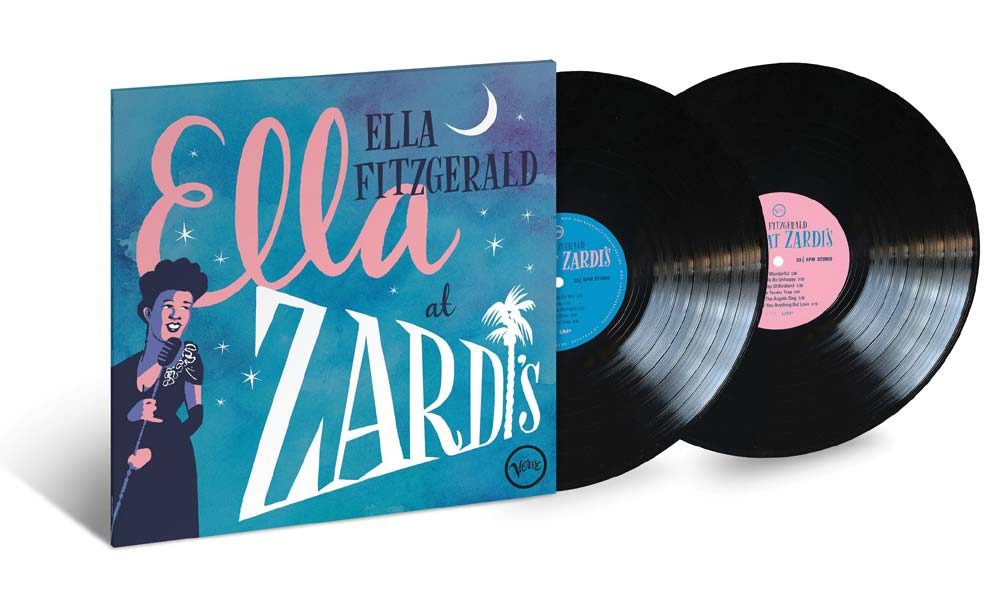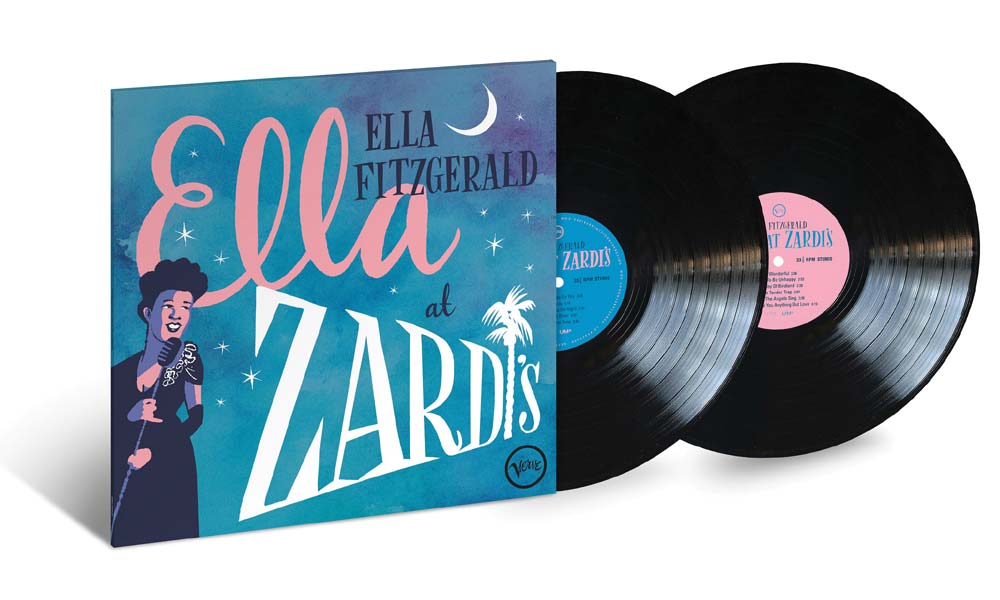 Ella Fitzgerald's historic 1956 recording Ella At Zardi's will receive a wide release as a black vinyl double LP on 17 August via Verve/UMe. This follows its limited-edition release for Record Store Day on blue and pink vinyl, which gave the legendary singer her first No. 1 on the Jazz Albums chart and second on the Traditional Jazz Albums survey. The album was first available on CD and digitally in December 2017, at the end of a year of celebrations of Ella's centennial.
"It's a real find," enthused NPR at that time, "two sets of blithe vocal brilliance recorded in a club in 1956, before Ella became a trademark…get this to savour Fitzgerald's assured sense of swing, and unmatched (still!) vocal dexterity." Allmusic.com described the recording as "enchanting" and "a magical experience."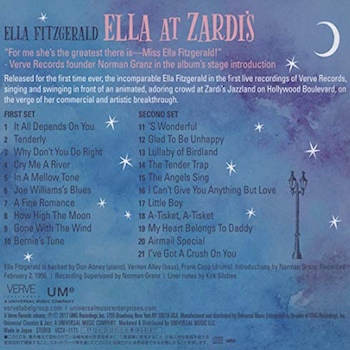 As reported by uDiscover ahead of the December 2017 release, the two-set performance of 21 songs — captured in full on the album — was recorded by Verve founder Norman Granz to celebrate the creation of the label and Fitzgerald's arrival at the company. She was accompanied on the Zardi's stage by pianist Don Abney, Vernon Alley on bass and Frank Capp on drums. Granz announces the performer by saying: "This is for real; for me she's the greatest there is—Miss Ella Fitzgerald!"  
Ella At Zardi's was earmarked to be Verve's inaugural release, but it was shelved in favour of the classic LP which started the singer's series of songbook releases, Ella Fitzgerald Sings The Cole Porter Song Book. The Zardi's tapes were in the Verve Records vaults for six decades before their emergence.
Ella At Zardi's is released as a black vinyl double LP on 17 August. Scroll down to see the track list, and buy it here.
LP1 – FIRST SET
SIDE A
1.   It All Depends On You 
2.   Tenderly 
3.   Why Don't You Do Right 
4.   Cry Me A River 
5.   In A Mellow Tone
SIDE B
1.   Joe Williams's Blues 
2.   A Fine Romance 
3.   How High The Moon 
4.   Gone With The Wind 
5. Bernie's Tune
LP2 – SECOND SET
SIDE C
1. 'S Wonderful 
2. Glad To Be Unhappy 
3. Lullaby of Birdland 
4. The Tender Trap 
5. And The Angels Sing 
6. I Can't Give You Anything But Love 
SIDE D
1. Little Boy (a.k.a. Little Girl)
2. A-Tisket, A-Tasket 
3. My Heart Belongs To Daddy 
4. Airmail Special 
5. I've Got A Crush On You 
Explore our Ella Fitzgerald Artist Page.
Format:
UK English