Wall-To-Wall Muddy Waters, With New Chicago Mural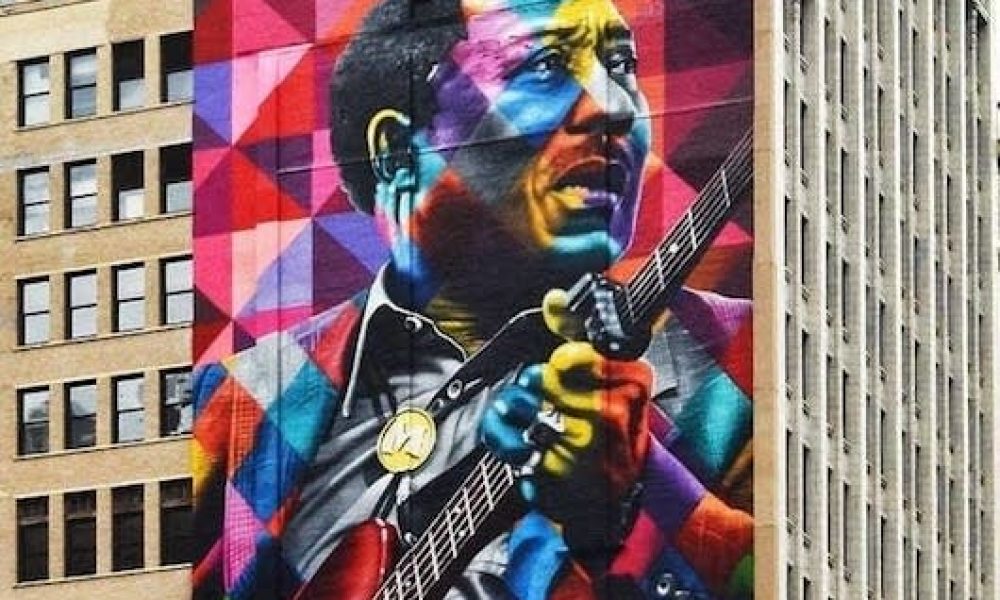 A nine-storey mural depicting blues giant Muddy Waters has been unveiled in Chicago, as part of the Chicago Blues Festival. The eye-catching work, by Brazilian artist Eduardo Kobra, is painted on the side of a building at 17 North State Street, at the corner of State and Washington Streets.
The dedication, on 8 June on the sidewalk outside the building, included a performance by the Muddy Waters Legacy Band, which features Waters' sons Mud and Big Bill Morganfield, as well as Muddy's former band member Rick Kreher. Kobra and his team painted the mural last year, in the space of two weeks, as part of Columbia College and the Wabash Arts Corridor's Big Walls Project.
Kobra is noted for his visually arresting and giant-scale murals, and has many other greats of music in his portfolio. He has painted Tupac and Notorious B.I.G. In Miami, David Bowie in Jersey City and Bob Dylan in Minneapolis. The new Waters artwork replaces Kay Rosen's Go Do Good mural at the North State Street location.
A pop-up shop selling merchandise, hosted by Kobra and the Muddy Waters Foundation, was open during the blues festival, with proceeds going to the Foundation. Kobra has also created a limited edition of 100 prints of the mural. More information about the artist is at his website.
Click here to explore our Muddy Waters Artist Page.
Format:
UK English