'Mulan': A Disney Soundtrack Fit For A Warrior
Matthew Wilder and David Zippel's songs introduced a new kind of Disney heroine.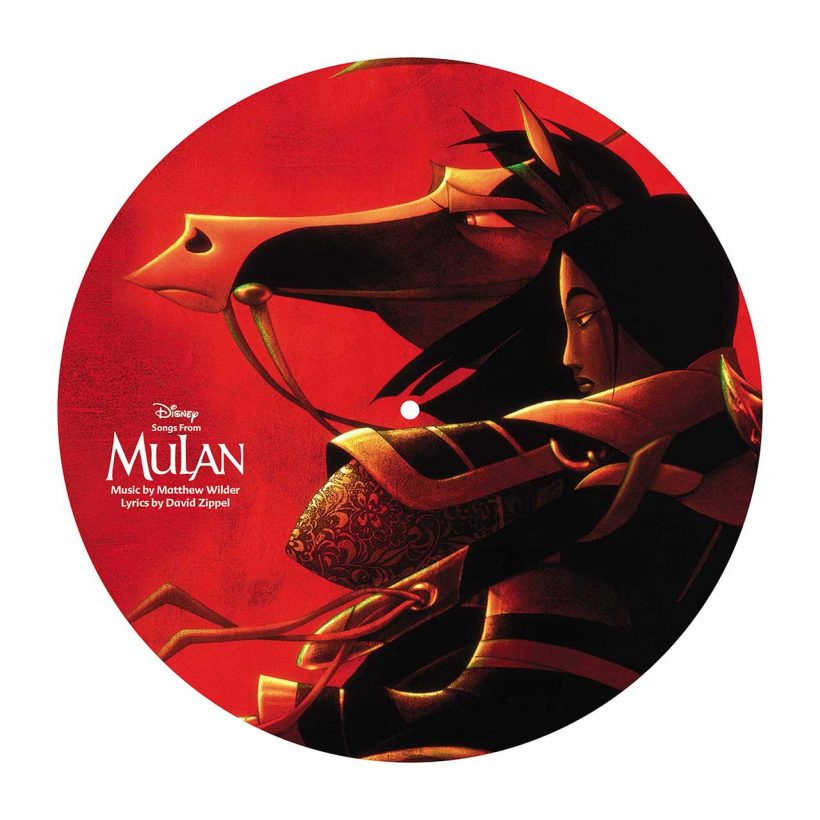 The animated feature film Mulan was a break from convention for Disney upon its release in 1998. It was the first Disney movie to look to the East for inspiration, with a plot inspired by a Chinese folk tale, the Ballad Of Mulan. The story is thought to have originated during the period known as the Northern Wei dynasty, named after the regime which ruled China from AD 386- AD 535. Children's author Robert D. Souci – then working as a consultant at Disney – was working on his own book based on the tale. When he heard that the studio was keen to develop an East Asian heroine, he suggested an adaptation.
Mulan also introduced a new type of Disney heroine. While Disney's female lead characters had traditionally been princesses in search of love, Mulan was a fearless warrior fighting for her family's honor. Mulan begins with the lead character accidentally sabotaging attempts by her family to match her with a suitable partner thanks to her clumsiness, poor timekeeping, and general aversion to traditional feminine ideals. When an invasion of China means that her father is called up for army service, Mulan takes his place, passing as a man and bravely serving in the army under the command of Captain Li Shang until her secret is discovered. Though military law dictates that she should be executed, Shang spares her life and expels her from the army. Despite this, Mulan's courage in defending the capital city when the enemy launches a surprise attack saves the day, and finally brings honor to her family.
Listen to Disney's Mulan soundtrack now.
Mulan proved that a female character in a Disney blockbuster didn't need to be the love interest. Initially, however, that was far from the case. In its early stages, the project was called China Girl and told the story of a helpless Chinese girl who is "saved" from her oppressive culture when she falls in love with a British man and starts a new life in his home country. As work on the project progressed, the writers became frustrated with the romantic storyline – even after it became Mulan, an early draft focused on Mulan leaving home to escape an arranged marriage with Shang. Producer Pam Coats convinced Disney bosses that the focus should shift to Mulan leaving home because of her love for her father. The change in direction gave the project a new focus. "We all knew we were creating a Disney heroine who wasn't the normal Disney princess and it was our commitment to stay true to it," writer Raymond Singer told Slate in 2020. Rather than the cliché that could have been, Mulan became an inspirational figure for generations of young women.
Disney called upon singer-songwriter Matthew Wilder (best known for his 1983 hit, "Don't Break My Stride") and lyricist David Zippel (fresh from working on Disney's Hercules). The duo brought a pop sensibility to the five songs they wrote for the movie. The breezy "Bring Honor to Us All" shows Mulan being given a makeover in preparation for meeting the matchmaker responsible for choosing her husband. Traditional Chinese musical flourishes accompany verses that stress that women should be obedient, of the pressure Mulan is under to marry, and the importance of family honor. It's in the tradition of great Disney scene-setting songs: The audience gains an understanding of Mulan's character and the challenges she faces, all set to an irresistible tune.
When her family's efforts at matchmaking go badly, Mulan's soul searching is accompanied by "Reflection," an emotional power ballad, sung by Lea Salonga. The lyrics speak of Mulan's internal struggle – that she cannot be truly herself and please her family. When she gazes at her reflection in water, she doesn't recognize herself. It not only resonates with anybody who's ever tried to discover who they really are, but – along with "Bring Honor to Us All," places the audience firmly on Mulan's side. A pop version of "Reflection" was also recorded by Christina Aguilera, launching the future star's career.
Christina Aguilera - Reflection (2020) (From "Mulan")
The stirring "I'll Make a Man Out of You" provided a gear shift as it soundtracked Captain Shang's efforts to kick his soldiers into shape, with frequently comic results. "Matthew and I were just trying to find a really original take on a training montage that was fun and funny; that wasn't obvious," Zippel told Entertainment Weekly in 2018.
Mulan | I'll Make A Man Out Of You | Disney Sing-Along
"We knew it needed to be masculine and muscular and hence the drums, all the military aspects… were factored into a very odd pop song," added Wilder. "I knew I wanted it to sound large and I knew what the tempo and the cadence of the piece was. I was sort of mixing and matching East meets West where I was taking drum cadences from traditional Chinese drums and then marrying that with military snares, etc., and just kept building and building and building so it became this cacophonous effect of a Chinese marching American band."
Wilder and Zippel's songs were an essential part of Mulan's success as the movie became another huge hit for Disney. And it has endured – in 2020 a live-action adaptation of Mulan was released, bringing the timeless tale of a formidable heroine to a new generation.