Steppenwolf Show Up 'At Your Birthday Party'
More rock-leaning than the band's previous work, the album was their first to feature Nick St. Nicholas on bass.
With two top ten albums and two top three singles in America in 1968, Los Angeles rockers Steppenwolf gave themselves some act to follow. But in the early months of the following year, they were at it again. On 7 March 1969, they released their third LP, At Your Birthday Party, and would soon see it residing in the top ten, along with its flagship single 'Rock Me.'
Listen to At Your Birthday Party right now.
The new album, more rock-leaning than the band's previous work, was the first to feature Nick St. Nicholas on bass, replacing Rushton Moreve. The arrival of St. Nicholas divided opinion among Steppenwolf diehards, but the new band member had co-writes on two tracks, including a solo credit for 'Sleeping Dreaming,' even if that was little more than a minute-long jam. Frontman John Kay wrote 'Rock Me,' which had the further benefit of a placement in the 1968 feature film Candy, a period piece of permissiveness featuring Marlon Brando, Richard Burton and even Ringo Starr.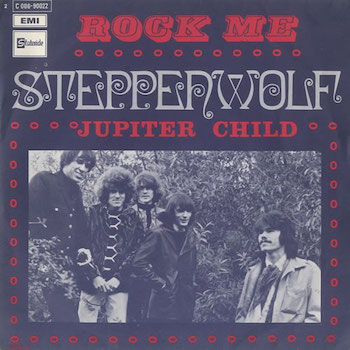 The single made its Hot 100 debut the week before the album release, and although it only managed a ten-week chart stay, compared to 13 for 'Born To Be Wild' and 16 for 'Magic Carpet Ride,' it nevertheless reached No. 10. It was a similar story for At Your Birthday Party, which fell short of the gold certification already achieved by Steppenwolf and The Second, but still spent 29 weeks on the Billboard album chart.
The magazine's review of the new long player amusingly described Steppenwolf as "the popular underground and above ground quartet." It described Party as "a strong programme," singling out the impending hit single as well as 'Jupiter Child,' "another good, heavy cut," and 'She'll Be Better,' "a fine, bluesy number. 'Round & Down' also stands out."
At Your Birthday Party can be bought here.
Follow uDiscover's Steppenwolf Best Of playlist.