The Beatles – As You've Never Seen Them Before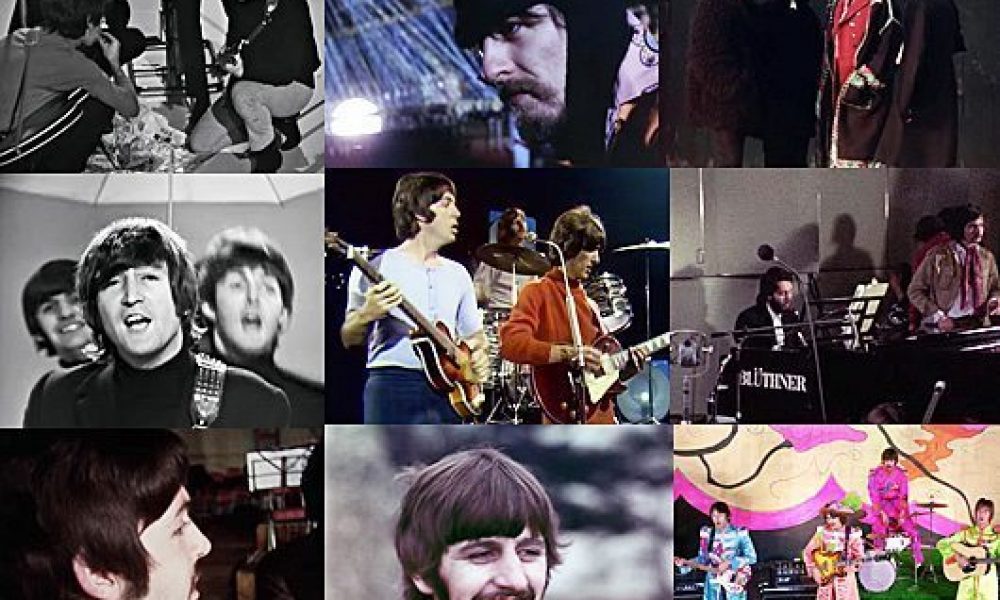 Let us take you down, 'cause I'm going to, Strawberry Fields…
So today is the day that the Beatles 1 and 1+ is released, a day that most Beatles fans probably thought they would never see. Here at uDiscover we've seen all 50 videos and we can assure, even those who may doubt they could ever be surprised by anything The Beatles have left to do that this will not only surprise you, it will thrill and delight you…maybe even amaze you.
Thanks to Apple Corps, who dug deep into The Beatles' vaults we have videos for all 27 No.1 singles from the UK and the USA, along with 23 other alternate versions, as well as rarely seen and newly restored films and video. Apple Corps assembled an 18-person team of film and video technicians and restoration artists to undertake painstaking frame-by-frame cleaning, colour-grading, digital enhancement and new edits that took months of dedicated, 'round-the-clock work to accomplish.
Add to this the brilliant digitally restored sound with new stereo and 5.1 surround audio mixes produced from the original analogue tapes by the GRAMMY® winning team of Giles Martin with Sam Okell at Abbey Road Studios and what have you got? The Beatles as you've never seen (and heard) them before.
The Beatles - A Day In The Life
As you can see from the film, this was no ordinary recording session. The classical musicians, who had been asked to wear evening dress, fake noses, funny hats and generally enter into the spirit of the occasion. Filmed between 8pm and 1am with guests including Mick Jagger and Keith Richards, the occasion provided some of the inspiration for what transpired during the recording and filming of 'All You Need Is Love' for the Our World project.
Given the BBC's ban, because of what they assumed were drug references, they did not show the film at the time of its release in the UK. And yet this is the film, perhaps more than any other, which captures the spirit of 1967, an amazing year – a year when The Beatles changed what was expected of 'pop stars' and entirely reinvented popular music.
Recorded a year later 'Revolution' is, like 'A Day In the life', among the 23 bonus videos. On the day before shooting this clip, which took place at Twickenham Film Studios on 4 September 1968, George Harrison was working on 'While My Guitar Gently Weeps' at Abbey Road. That same day a mix of 'Revolution' was made that allowed the band to sing live while being filmed, which would avoid any issues with the British Musician's Union over miming on TV – a long running saga that in part is what lead to Ther Beatles creating such amazing films. On the single John sings, "When you talk about destruction, don't you know that you can count me out", but adds the word, "in" on the clip as he does on the slower album version. Some of Paul and George's backing vocals are also mimed, although the "shoo-be-doo-wops" were sung live.
Penny Lane' was filmed by Peter Goldmann, who also shot a promo for 'Strawberry Fields Forever'. These films were so innovative that neither would have looked out of place on MTV a decade and a half later. Two days after filming in Stratford East London on 5 February 1967, Goldmann and The Beatles headed to Knole Park, the grounds of a stately home in Kent, to film scenes of the band horse-riding in the countryside. 'Strawberry Fields Forever' had been shot at the same location a week earlier. Around this time, Goldmann and his crew (but minus the Beatles) travelled to Liverpool to shoot the sequences near to Penny Lane.
The Beatles - Hello, Goodbye
Having decided to make a promotional film to support the release of 'Hello, Goodbye', the band's chosen location was the Saville Theatre, on 10 November 1967. Brian Epstein had leased the theatre in 1965 and staged a number of Sunday concerts at the Saville, including one by the Jimi Hendrix Experience on 4 June 1967. Both Paul and George attended the performance and heard the guitarist play his version of the title track to Sgt. Pepper's Lonely Hearts Club Band.
These second two videos were, of course, No.1 records, so they are on the first disc. This 27-track CD/DVD and CD/Blu-ray is Beatles 1 and the brand new Beatles 1+ celebrates their career in over 200 minutes through 50 promotional films and videos on CD/2-DVD and CD/2-Blu-ray packages.
One minute clips can be seen here…
The I Feel Fried version
The Beatles - I Feel Fine (2015 Restored Clip from Beatles 1)
The Beatles - Help (2015 Restored Clip from Beatles 1)
The Long And Winding Road - 1s Preview
Format:
UK English