Emily D'Angelo's 'Enargeia' Wins Classical Album Of The Year At 2022 Juno Awards
Emily D'Angelo's critically acclaimed debut album 'enargeia' won Classical Album Of The Year (Solo Artist) at the Juno Awards.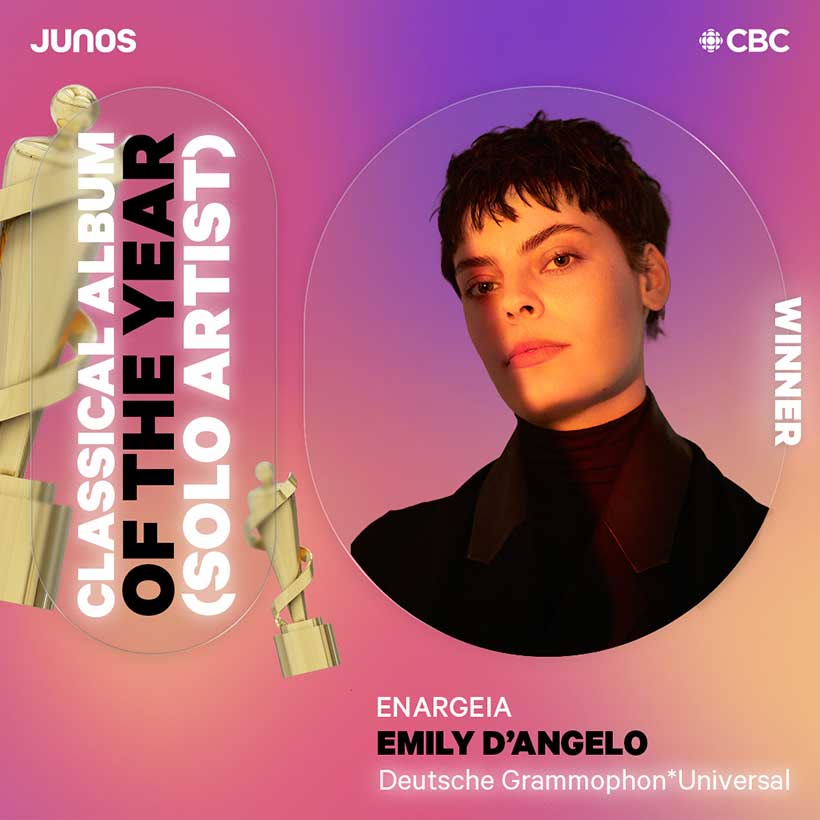 Emily D'Angelo's critically acclaimed debut album enargeia won Classical Album Of The Year (Solo Artist) at the 2022 Juno Awards held last night (Sunday 15 May) in Toronto, Canada. The Juno Awards celebrate Canada's best recording artists across a number of categories.
Emily D'Angelo's enargeia features music from the 12th and 21st centuries written by four female composers – Hildegard von Bingen, Hildur Gudnadóttir, Missy Mazzoli and Sarah Kirkland Snider. D'Angelo described the album as "a soundworld, bound together by the multi-sensory ancient concept of enargeia." The recording was named one of the 50 best albums of 2021 by NPR and the best Canadian classical album of 2021 by the CBC.
Emily D'Angelo – Snider: The Lotus Eaters
D'Angelo's initial inspiration was Hildegard von Bingen
Emily D'Angelo's initial inspiration for enargeia was the medieval abbess, mystic and polymath Hildegard von Bingen whose influence runs like a thread throughout the album. She recalled, "I discovered her music as a kid, when I was singing in choir, and I was transfixed. I'd never heard anything like it before, yet it all sounded so familiar and organic." The composer's two pieces on the album, O Virtus Sapientiae and O Frondens Virga, are presented in new arrangements by leading American contemporary composers Sarah Kirkland Snider and Missy Mazzoli. enargeia also includes original pieces by both Mazzoli and Snider, as well as two vocal works by the Grammy Award-winning Hildur Gudnadóttir, "whose use of bowed instruments as a drone harkens to medieval music but through a modern, ambient lens," noted D'Angelo.
Mezzo-soprano Emily D'Angelo was born in Toronto, Canada, in 1994 and is a graduate of the University of Toronto. She became a member of the Metropolitan Opera Lindemann Young Artists Development Program in 2017 and made her debut on the Met stage in 2018. In the same year D'Angelo won all four top prizes at the Operalia competition, a first in its 26-year history, and the following year she won the Schleswig-Holstein Musik Festival's Leonard Bernstein Award, whose previous winners have all been instrumentalists. She was named by New York's Lincoln Center as one of its 2020 Emerging Artists, by WQXR NYC Public Radio as one of its '40 Under 40' singers to watch, and one of Canada's 'Top 30 Under 30' Classical Musicians reinforcing her status as one of today's fastest rising vocal stars.
A keen recitalist and concert singer as well as star of the operatic stage, Emily D'Angelo is known for her wide-ranging repertoire and is making her mark as a champion of contemporary music. Her passion for introducing audiences to new works is reflected in her debut album, enargeia.
"Emily D'Angelo is a phenomenon"
"In a word, Emily D'Angelo is a phenomenon," observed Le Devoir and The New York Times noted she has, "A voice hued like polished teak".
Buy or stream Emily D'Angelo's album enargeia here.
Do you want to be the first to hear the latest news from the classical world? Follow uDiscover Classical on Facebook and Twitter.
---
Format:
UK English