Brazilian Guitarist Plínio Fernandes Announces Debut Album 'Saudade'
Plínio Fernandes' album 'Saudade' features music by Brazilian composers and special guests Sheku and Braimah Kanneh-Mason and Maria Rita.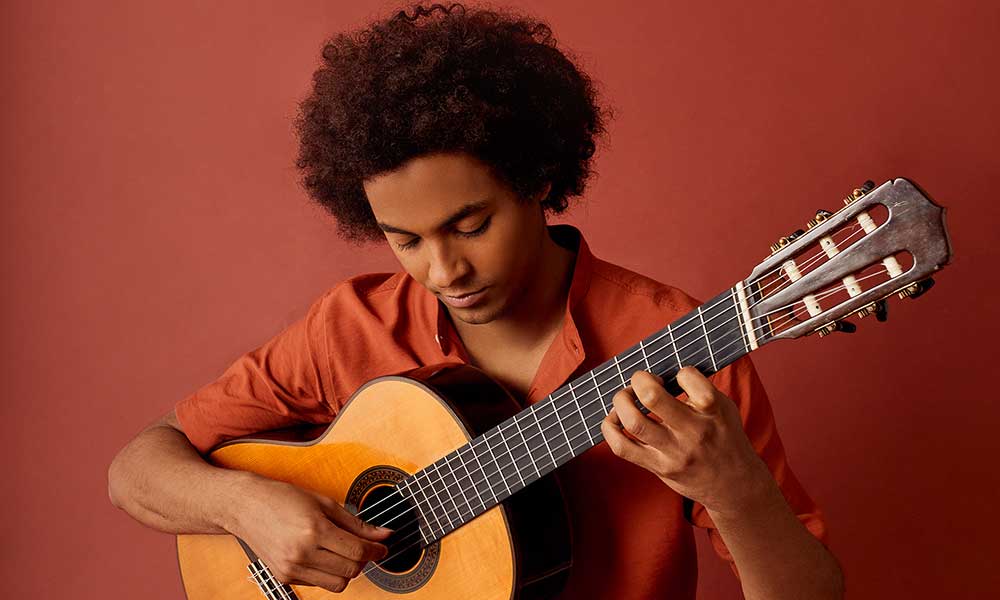 Brazilian classical guitarist Plínio Fernandes has signed to Decca Gold and will release his debut solo album Saudade on 8 July 2022. Watch the video for the first track 'Assanhado' available to stream here.
Plínio Fernandes - Assanhado (Official Music Video)
"It's really a dream come true"
Plínio Fernandes said, "It's really a dream come true: the opportunity to be signed by Decca Gold. All my heroes recorded for the label, especially Andrés Segovia. Being the one chosen to carry through that legacy is amazing, but such a responsibility."
Plínio Fernandes was born and raised in São Paulo, Brazil, and studied at the Royal Academy of Music in London where he received his master's degree. On his debut album Saudade Plínio combines his musical passions, the popular songs of Brazil/Latin America and the classical tradition of Villa-Lobos, telling his captivating international story in sound. He explained, "I chose songs that I grew up listening to, and in many cases I fell in love with the guitar through them."
Saudade evokes Plínio Fernandes love for his faraway home, Brazil. "I've found a home in London, and I plan to stay," he said, "but the title Saudade means nostalgia, longing for something, which is literally what I feel here. The way I connect to Brazil and my identity as a Brazilian artist is through music." For that reason Saudade features music by a wide range of Brazilian/Latin American composers from the Five Preludes of Heitor Villa-Lobos, who has been described as, "the single most significant creative figure in 20th-century Brazilian art music", to the timeless songs of Antônio Carlos Jobim, Milton Nascimento, Jacob do Bandolim, Violeta Parra, Edu Lobo and Cartola.
Features Sheku Kanneh-Mason, Braimah Kanneh-Mason and Maria Rita
Most of the songs on Saudade were arranged, some for the first time for classical guitar, by Sérgio Assad (of the Assad Brothers guitar duo) who is also a renowned composer. Two of his pieces, 'Valseana' and 'Menino', featuring violinist Braimah Kanneh-Mason, are included on the album. "In Brazilian music the guitar is very popular as an accompanying instrument," Plínio Fernandes noted, "but it's a singing, lyrical solo instrument as well, and Sergio's arrangements really capture that. Having him involved meant so much to me."
Cellist Sheku Kanneh-Mason, Braimah's brother and Plínio's musical brother as well, is featured on Villa-Lobos' 'Bachianas Brasileiras No. 5: I. Aria (Cantilena)'. Plínio Fernandes was previously featured on Sheku Kanneh-Mason's 2020 album Elgar, on the track 'Scarborough Fair', and in the BBC Imagine documentary on the Kanneh-Mason family This House is Full of Music.
In addition renowned vocalist Maria Rita joins Plínio on the song 'O Mundo É Um Moinho'.
Plínio Fernandes is also passionate about music education and is an ambassador for the London Music Masters charity which involves performing, teaching and guiding young musicians in schools.
Plínio Fernandes debut album Saudade will be released on 8 July 2022 – listen to the first track, 'Assanhado', out now.
Do you want to be the first to hear the latest news from the classical world? Follow uDiscover Classical on Facebook and Twitter.
---
Format:
UK English