Coming Soon – Charlie Watts meets the Danish Radio Big Band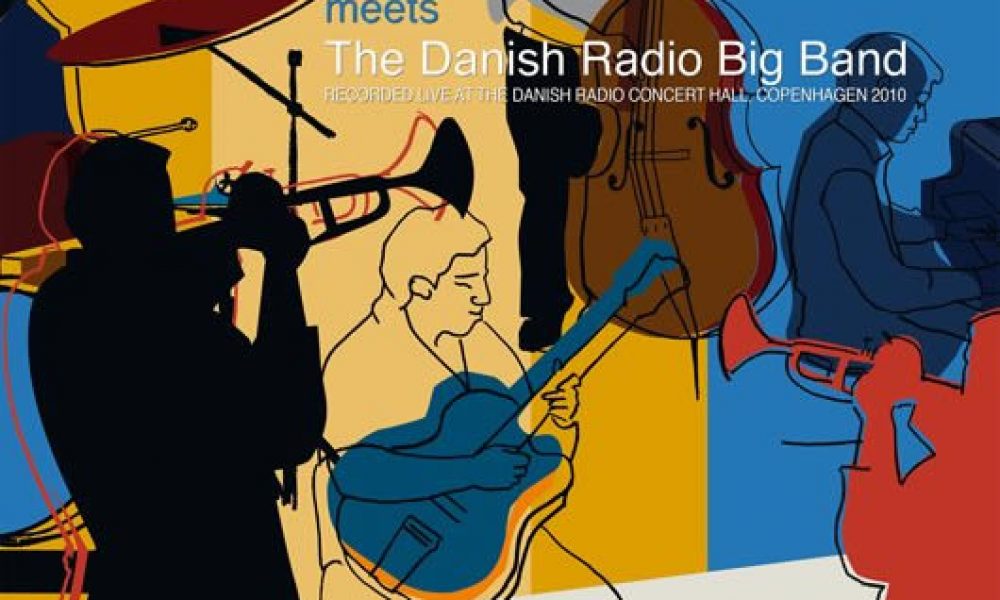 Before Charlie Watts became the best known drummer on the planet with The Greatest rock 'n' Roll Band in the World he lived for a few months in Denmark. According to English trumpeter and flugelhorn player, Gerard Presencer, who is also a member of the Danish Radio Big Band, it was something he only found out about by chance when he and Charlie talked on the telephone in 2009
"I landed a job with Danish Radio Big Band in 2009. A week or two after arriving in Copenhagen I got a call from Charlie. Later the idea dawned upon me for a return to his Jazz days over here after nearly 50 years. I spoke with my boss at the Danish Radio Big Band and went about putting this live project together. We agreed upon a week in Copenhagen in October 2010."
They rehearsed for 4 days, then played a concert on the fifth day at the newly opened Danish Radio Concert Hall in Copenhagen. This concert was recorded for broadcast by Danish National Radio. Charlie and his long-time bassist Dave Green went to record shops and strolled around the city, with no need for security guards. Charlie made it clear that he did not want to be placed on a big riser above the band, as he found that this did not help the musicians to bond.
In choosing the material, it was important to focus on the groove. According to Prescencer, "Having Dave Green on bass as special guest was an essential ingredient, as these two boyhood friends (next door neighbours growing up in Wembley, North London) have unspoken psychic connections that bassists and drummers, so there are times on this recording where their abundant empathy makes the rest of the band comfortable enough to really play out and take chances."
The album includes seven tracks, including two Mick and Keith compositions, 'Paint it Black' and 'You Can't Always Get What You Want', both arranged by Prescencer and another one, 'Faction' that is based on another Stones' classic. There are also two by Charlie himself, both written with fellow drummer Jim Keltner.
A day or two after the broadcast Prescencer began to think that the concert was so good it deserved to be heard more widely. "The Danish Radio needed very little convincing to hand over the recordings to me to work on, as well as Søren Frost our regular drummer and rhythm section consultant from the big band and the brilliant recording engineer, Lars C. Bruun. So, after several years work on this, we have produced this collection of music from our gig."
Charlie Watts meets the Danish Radio Big Band is the kind of album that many jazz fans had probably given up hope of hearing. In the glory days of big band jazz and arrangers like Oliver Nelson coming up with brilliant music, albums like this were, if not commonplace, at least more readily available. The truth is there is nothing commonplace about this album, it is a sheer delight.
Anyone who knows Charlie, knows how much he loves jazz. A few years ago when he and I were looking at a photo of the Stones playing in the 1960s he pointed at a particular cymbal and said, "I've still got that cymbal, but I don't use it on Stones' gigs, it's too good for them. I just use it on my jazz gigs." There's no doubt, that's the cymbal you hear on the first part of the 'Elvin Suite'.
Charlie Watts is one of the great ambassadors for jazz and every jazz lover will relish this record, and the fact that Charlie is involved may bring jazz to the attention of some that are not sure if they like jazz. Listen to this and you know you do.
Charlie Watts meets the Danish Radio Big Band will be released by impulse! on 21 April 2017… we can't wait.
TRACKLISTING
1. Elvin Suite-¬Part 1 (9:17)
Composers:Charlie Watts,Jim Keltner
Arranged by:Gerard Presencer
Melody interpretations:Per Gade-¬guitar,Anders Gustafsson-¬trumpet,Vincent Nilsson-¬trombone
Soloists:David Green-¬acoustic bass,Peter Jensen-¬trombone,Steen Rasmussen-¬fender rhodes piano
2. Elvin Suite Part 2 (5:53)
Composers:Charlie Watts,Jim Keltner
Arranged by:Gerard Presencer
Soloist:Uffe Markussen-¬tenor sax
3. Faction (also known as Satisfaction) (6:13)
Composers:Keith Richards,Mick Jagger
Arranged by:Gerard Presencer
Soloists:Gerard Presencer-¬flugelhorn,Lars Møller-¬tenor sax
4. I Should Care (7:56)
Composers:Axel Stordahl, Paul Weston, Sammy Cahn
Arranged by:Gerard Presencer
Soloists:Gerard Presencer-¬flugelhorn,Steen Nikolaj Hansen-¬trombone,
Nicolai Schultz-¬flute
5.You Can't Always Get What You Want (7:12)
Composers:Keith Richards,Mick Jagger
Arranged by:Gerard Presencer
Soloists:Gerard Presencer-¬flugelhorn,Pernille Bevort-¬soprano sax
6. Paint It Black (7:42)
Composers:Keith Richards,Mick Jagger
Arranged by:Gerard Presencer
Soloists:Per Gade-¬guitar,Gerard Presencer-¬flugelhorn
7. Molasses (7:36)
Composer:Joe Newman
Original Woody Herman chart transcribed by Mårten Lundgren
Soloists: Lars Møller-¬tenor sax,Vincent Nilsson-¬trombone,Nicolai Schultz-¬alto sax
Double Rhythm Section with David Green & Kaspar Vadsholt-¬basses, Charlie Watts & Søren Frost-¬Drums
Total Running Time: 51:49
Format:
UK English