Former French First Lady Carla Bruni Covers ABBA, Rolling Stones
Carla Bruni, the internationally renowned singer-songwriter who is also France's former First Lady as the wife of ex-President Nicholas Sarkozy, will release her fifth studio album French Touch on Decca on 6 October.
A collection of 11 covers from a wide range of influences, the record includes versions of ABBA's 'The Winner Takes It All' and the Rolling Stones' 'Miss You.' The latter track is now on digital and streaming services, and this video has been released, directed by Jean-Baptiste Mondino, whose previous credits include Madonna, Bjork, Sting and Vanessa Paradis:
French Touch is produced by the acclaimed and in-demand American musician, writer and producer David Foster, who met Bruni after a performance in Los Angeles in 2014. The album also features the official first single, also available on digital and streaming services, a reading of Depeche Mode's 'Enjoy The Silence.'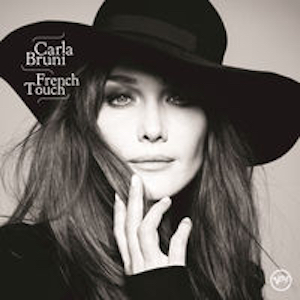 Bruni says that the choice of material, which also includes the Patsy Cline classic 'Crazy' and runs the gamut from 'Stand By Your Man' to 'Highway To Hell,' was made on the basis of music that was "a  coup de foudre," or "love at first sight."
The album sees the resumption of a recording career in which Bruni has sold some three million albums worldwide since her 2002 debut 'Quelqu'un m'a dit (Someone Told Me).' Her last release was 2013's 'Little French Songs.' Here's a short film on the making of the new record:
The track listing for the album follows below. Pre-order French Touch.
1. Enjoy the Silence
2. Jimmy Jazz
3. Love Letters
4. Miss You
5. The Winner Takes It All
6. Crazy
7. Highway To Hell
8. A Perfect Day
9. Stand By Your Man
10. Please Don't Kiss Me
11. Moon River
Format:
UK English