Three Landmark Beastie Boys Albums To Receive Vinyl Reissues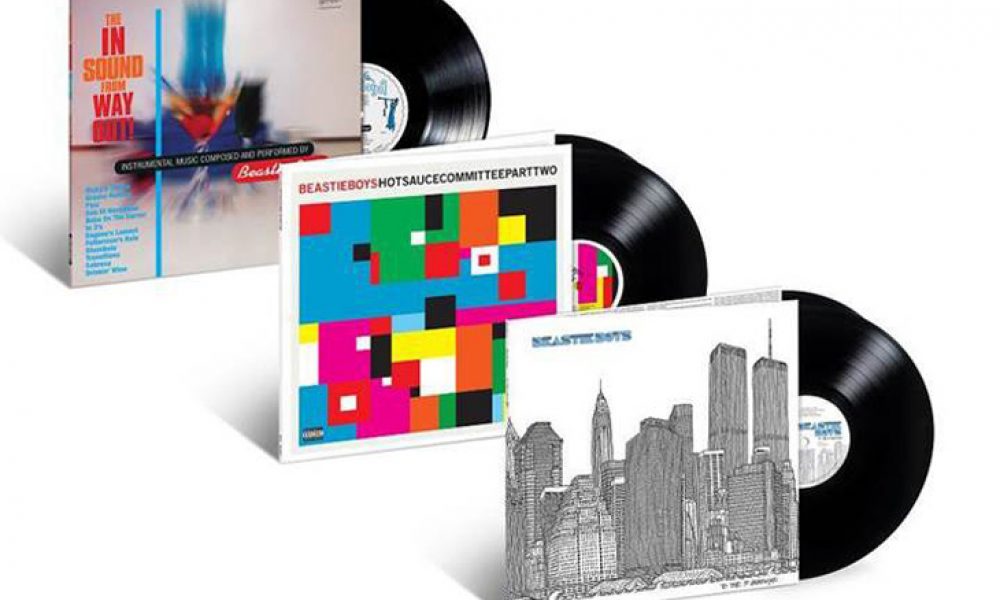 Capitol Records are to release special new vinyl editions of three landmark albums from New York hip-hop pioneers Beastie Boys. The three titles, The In Sound From Way Out!, Hot Sauce Committee Part 2 and To The 5 Boroughs will all be pressed on 180g vinyl on 8 December through Capitol Records.
Originally released through Beastie Boys' French fan club, The In Sound From Way Out! is a collection of the group's funky instrumentals from Check Your Head and Ill Communication, with a couple of new tracks thrown in. The Beasties had a flair for loose, gritty funk and soul-jazz, and the stuttering, greasy keyboards of Money Mark give the music an extra edge — he helps make the music sound as authentic as anything from the early 70s.
 To The 5 Boroughs was Beastie Boys' sixth album, originally released in June 2004. Debuting at No.1 on the Billboard 200 it sold 360,000 copies in its first week and later gained a Platinum certification by the RIAA for sales of over one million copies in the US. Four singles were released from the album, 'Ch-Check It Out', 'Triple Trouble', 'An Open Letter to NYC' and 'Right Right Now Now'.
Beastie Boys - Make Some Noise
 Hot Sauce Committee Part 2 was the eighth and final studio album by Beastie Boys. The album received critical acclaim upon its release, on 27 April 2011, and was also a commercial success, debuting at No.2 on the Billboard 200. The release was supported by four singles – 'Lee Majors Come Again', 'Too Many Rappers', featuring Nas, 'Make Some Noise' and 'Don't Play No Game That I Can't Win', featuring Santigold.
The 180g vinyl editions of The In Sound From Way Out!, Hot Sauce Committee Part 2 and To The 5 Boroughs will be released on 8 December. Scroll down to read the full tracklists and explore our dedicated Beastie Boys Artist Page.
The In Sound From Way Out!:
'Ricky's Theme'
'Groove Holmes'
'Pow'
'Son Of Neckbone'
'Bobo On The Corner'
'In 3's'
'Eugene's Lament'
'Futterman's Rule'
'Shambala'
'Transitions'
'Sabrosa'
'Drinkin' Wine'
To The 5 Boroughs (2LP):
'Ch-Check It Out'
'Right Right Now Now'
'The Hard Way'
'It Takes Time To Build'
'Rhyme The Rhyme Well'
'Triple Trouble'
'Hey Fuck You'
'Oh Word?'
'That's It That's All'
'All Lifestyles'
'Shazam!'
'An Open Letter To NYC'
'Crawlspace'
'The Brouhaha'
'We Got The'
Hot Sauce Committee Part 2:
'Make Some Noise'
'Nonstop Disco Powerpack'
'OK'
'Too Many Rappers' (featuring Nas)
'Say It'
'The Bill Harper Collection'
'Don't Play No Game That I Can't Win' (featuring Santigold)
'Long Burn The Fire'
'Funky Donkey'
'The Larry Routine'
'Tadlock's Glasses'
'Lee Majors Come Again'
'Multilateral Nuclear Disarmament'
'Here's A Little Something For Ya'
'Crazy Ass Shit'
'The Lisa Lisa/Full Force Routine'
Format:
UK English