The Pharcyde's 'Bizarre Ride II The Pharcyde' Gets Deluxe 25th Anniversary Reissue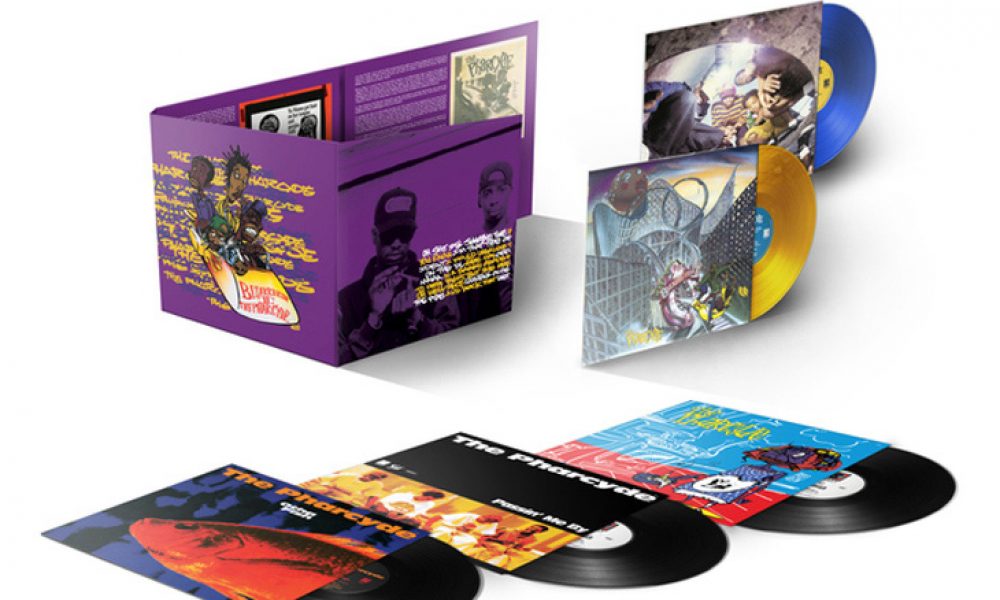 Frequently cited as one of the most influential hip-hop albums of all time, The Pharcyde's Bizarre Ride II The Pharcyde is to receive a Deluxe 25th anniversary vinyl release via Craft Recordings on 17 November.
The album's deluxe 25th vinyl edition features the original album on 2LPs + 3 12" singles, while the 2CD edition includes the original album, plus a full disc of bonus material. The audio has been remastered by Dave Cooley (J Dilla, Madvillain, Madlib) at Elysian Masters and will include non-album tracks, remixes, and rarities. New liner notes by leading music journalist and author Jeff Weiss (Passion of the Weiss, LA Weekly) round out the package. Standard versions of the original album with remastered audio will also be available on vinyl and cassette.
Critically acclaimed as an absolute classic of the alternative hip-hop genre, Bizarre Ride II The Pharcyde has shipped over a million units worldwide and garnered the group justifiable comparisons to De La Soul and A Tribe Called Quest. The very definition of a crossover record, outlets ranging from Pitchfork to The Source have hailed it as one of the greatest albums ever made. NME calls it "… a cartoon-strip of blunt-smoking antics, sexual innuendo and unashamed political incorrectness, crammed with infectious beats."
Listening to "Bizarre Ride II the Pharcyde" 25 years after its release, its sense of timeliness is unmistakable. Every song on the album inverts a hoary hip-hop cliché. With classics like 'Oh Shit,' 'Otha Fish', 'Ya' Mama,' and the now-ubiquitous US No 1 hit 'Passin' Me By,' Bizarre Ride II The Pharcyde remains essential and enduringly unique – a rite of passage for any serious Hip-Hop head.
The Pharcyde - Passin' Me By
In support of the release, WhoSampled have teamed up with Craft Recordings to present an interactive album experience to celebrate the 25th Anniversary of Bizarre Ride II The Pharcyde, to tell the story of this iconic group and showcase their lasting effect on popular music. Fans can delve into the story of the album, check out archival photos and press material and explore the samples that compose the smash hit 'Passin' Me By' via infographics, interactive features, and a Spotify playlist.
The Pharcyde continue to record and perform around the world, keeping the spirit of free-flowing collaboration alive. In 2008, the Danger Mouse-produced Gorillaz smash hit 'Dirty Harry,' for which Pharcyde MC Bootie Brown provided the centrepiece verse, received a Grammy nomination for best Urban/Alternative Performance, launching a long-standing association with the group.
The deluxe 25th anniversary edition of Bizarre Ride II The Pharcyde will be released on 17 November. Scroll down to read the full tracklist and pre-order it here.
25th Anniversary Deluxe (2LP + 3 12")
Bizarre Ride II The Pharcyde LP 1:
'4 Better Or 4 Worse (Interlude)'
'Oh Shit'
'It's Jigaboo Time (Skit)'
'4 Better Or 4 Worse'
'I'm That Type Of Ni**a'
'If I Were President (Skit)'
'Soul Flower (Remix)'
'On The DL'
LP2:
'Pack The Pipe (Interlude)'
'Officer'
'Ya Mama'
'Passin' Me By'
'Otha Fish'
'Quinton's On The Way (Skit)'
'Pack The Pipe'
'Return Of The B-Boy'
Ya Mama 12":
'Ya Mama (Murphy Mix)'
'Ya Mama (Cosby Mix)'
'I'm That Type Of Ni**a'
'Soul Flower (Remix)'
Passin' Me By 12":
'Passin' Me By (Video Remix)'
'Passin' Me By (Video Instrumental)'
'Passin' Me By (Acapella)'
'Pork'
'Pork (Cosby Edit)'
'Pork (Instrumental)'
Otha Fish 12":
'Video Edit'
'L.A. Jay Remix'
'Video Edit Inst.'
'The Angel Remix'
'Passin' Me By (Fly As Pie Mix)'
Bizarre Ride II The Pharcyde (2CD):
Disc One:
'4 Better Or 4 Worse (Interlude)'
'Oh Shit'
'It's Jigaboo Time (Skit)'
'4 Better Or 4 Worse'
'I'm That Type Of Ni**a'
'If I Were President (Skit)'
'Soul Flower (Remix)'
'On The DL'
'Pack The Pipe (Interlude)'
'Officer'
'Ya Mama'
'Passin' Me By'
'Otha Fish'
'Quinton's On The Way (Skit)'
'Pack The Pipe'
'Return Of The B-Boy'
Disc 2: Bonus Tracks:
'Pork'
'Panty Raid'
'Live @ Dodger Stadium'
'Ya Mama (Murphy Mix)'
'Ya Mama (J-Swift Mix)'
'Passin' Me By (Fly As Pie Mix)'
'Passin' Me By (Instrumental)'
'Otha Fish (L.A. Jay Remix)'
'Otha Fish (The Angel Remix)'
'Soul Flower (Dogs Bollocks Remix)'
'I'm That Type Of Ni**a (Straight Up Faded Mix)'
'Passin' Me By (Acapella)'
'Ya Mama (Acapella)'
'Otha Fish (Acapella)'
'Soul Flower (Remix) (Acapella)'
'4 Better or 4 Worse (Acapella)'
Format:
UK English