Chris Hillman, Roger McGuinn Honour Byrds' 'Sweetheart Of The Rodeo' On New Tour
Two of the co-founders of the Byrds will perform the full album with Marty Stuart and his band the Fabulous Superlatives.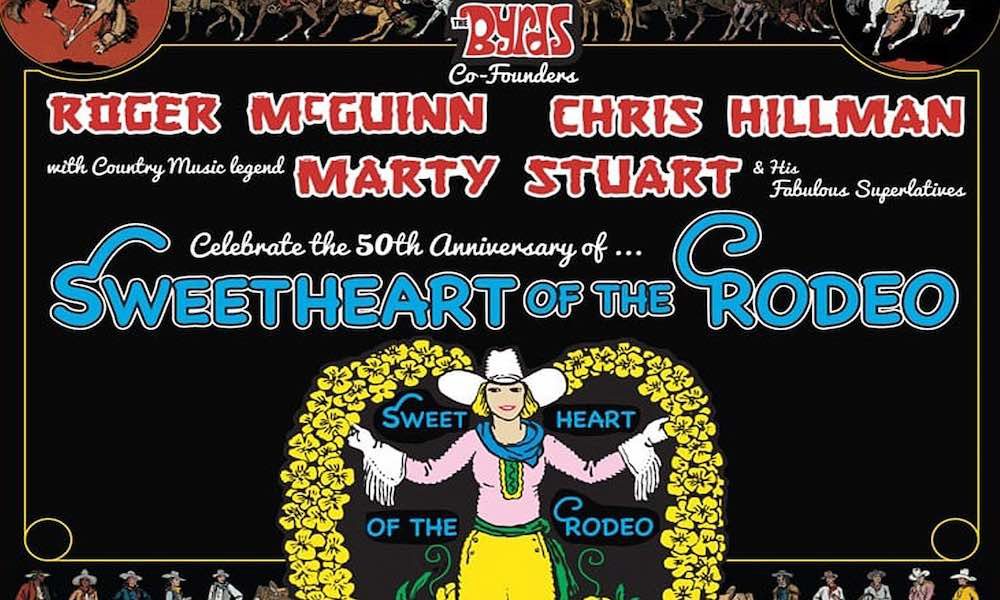 Chris Hillman and Roger McGuinn, two of the founder members of American music giants the Byrds, are reuniting for US dates to mark the 50th anniversary of the band's landmark Sweetheart Of The Rodeo album.
They'll be joined by another great name in US roots music, Marty Stuart, with his band the Fabulous Superlatives, with whom they played a short set to introduce the tour at Stuart's Late Night Jam on 6 June at Nashville's Ryman Auditorium. The tour, which begins on 24 July at the Ace Hotel in Los Angeles, will see the musicians perform the album in full, and tell the stories behind its making.
Sweetheart of the Rodeo, the Byrds' sixth album, marked the arrival of Gram Parsons in the line-up, who encouraged their evolution to a sound that came to be regarded as a prototype of the country-rock style. The LP was bookended by the Bob Dylan covers 'You Ain't Goin' Nowhere' and 'Nothing Was Delivered' and included Parsons' 'One Hundred Years From Now' and songs by the Louvin Brothers, Woody Guthrie and Merle Haggard.
Said Hillman in a press statement: "On 9 March 1968, Roger McGuinn and I along with many fantastic musicians began recording the Sweetheart of the Rodeo album at Columbia Studios in Nashville. It was truly a pivotal moment in our lives taking a turn toward the music we always felt a strong kinship with.
"We are honoured that it has left a strong, long lasting  impression on  country and rock music. To  celebrate this special time with Roger, Marty Stuart and His Fabulous Superlatives is such a blessing  on this, the 50th  anniversary of Sweetheart of the Rodeo."
McGuinn added: "Celebrating the 50th anniversary of Sweetheart of the Rodeo with a group   of my favourite musicians is an honour. I can't wait to be on stage with Chris Hillman, Marty Stuart and those Fabulous Superlatives! We're all looking forward to taking the fans through the back pages of the recording. The concert will include songs that led up to that ground breaking trip to Nashville and all the songs from the album."
"The Byrds' Sweetheart of the Rodeo recording stands as a milestone in American music," observed Stuart. "I bought my first copy of the record in 1972. Upon my first listen, I was mesmerised at the effect of the combined power country music, rock & roll, bluegrass, gospel and folk music had on me.
"From that day forward, I considered  Sweetheart of the Rodeo a blueprint as to how I should live my musical life. It is truly an honour for me and the Superlatives to get to go out and play music from Sweetheart with Roger and Chris. We love and greatly admire both of them and I have to believe this is a show not to be missed."
The tour dates are as follows:
24 July Los Angeles, CA ///Ace Hotel
29 July Saratoga, CA /// Mountain Winery
18 September Albany, NY /// Hart Theater @ The Egg
20 September Hopewell, VA /// Beacon Theatre
3 October Akron, OH /// Akron Civ
Format:
UK English