Multi-Disc CD, Vinyl Editions Of 'The Complete Cuban Jam Sessions' Set For Release
The five volumes of the 'Cuban Jam Session' albums were recorded over a span of almost a decade, from 1956–1964.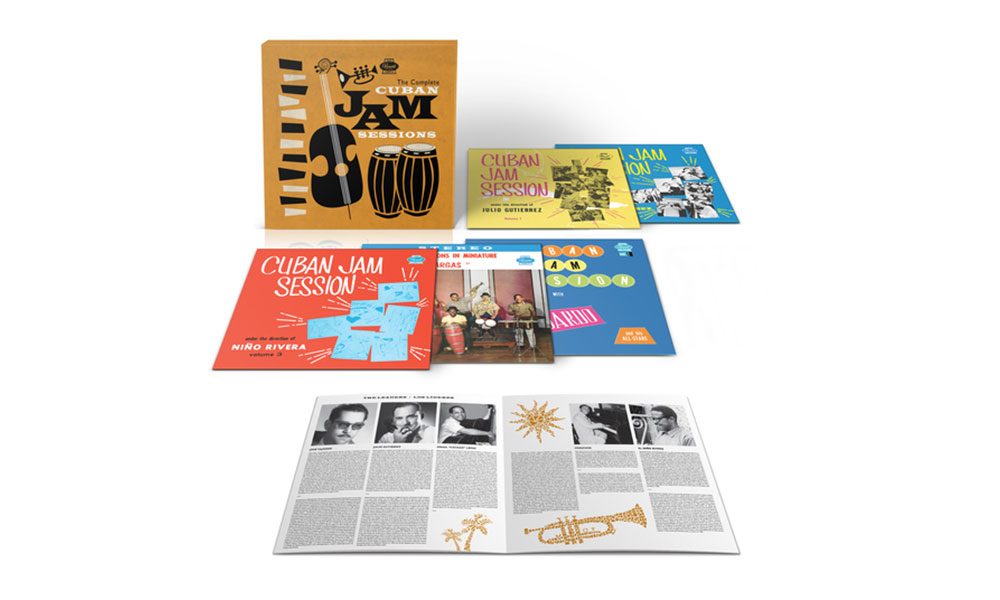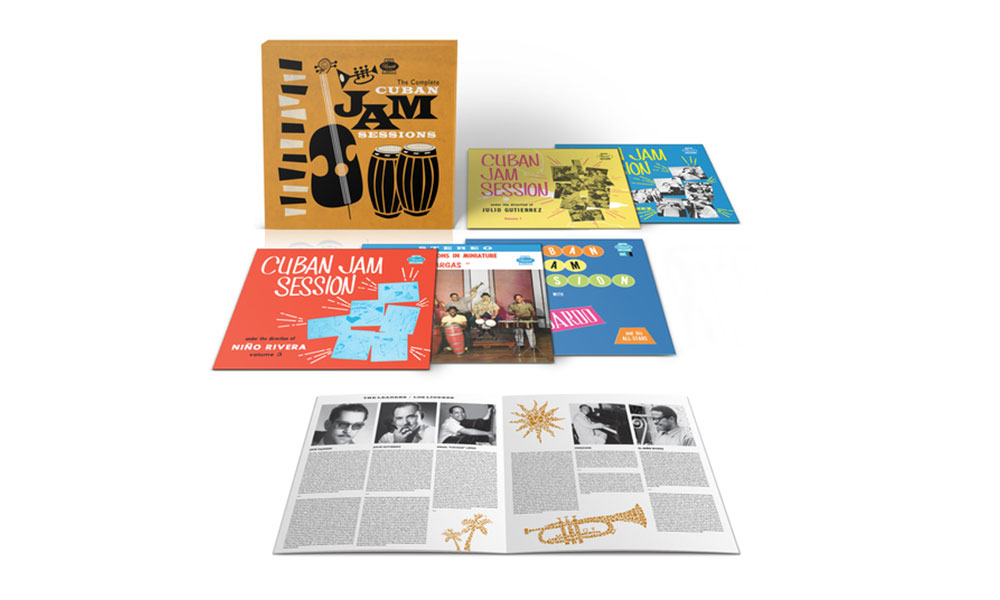 Craft Recordings is set to release The Complete Cuban Jam Sessions as 5LP and 5CD box sets on 9 November. Compiled here in their entirety and original format for the first time, the five volumes of Panart's Cuban Jam Session albums were recorded over a span of almost a decade, from 1956–1964. Together these albums encapsulate a stylistic and historic panorama of Cuban music, from big band son montuno to Afro-Cuban rumba, mambo, cha-cha-chá and country acoustic guajira music. At the same time, they attest to Cuba's long relationship with popular American music and jazz.
These sessions collectively feature an impressive line-up of renowned pioneers of descarga (improvised jam session), including pianist Julio Gutiérrez, tres player Niño Rivera, flautist José Fajardo and the legendary master bassist and mambo co-creator, Israel "Cachao" López. Participating musicians include the legendary percussionist Tata Güines, trombone master Generoso Jiménez, pioneering Cuban jazz drummer Guillermo Barreto, Cachao's brother and co-father of the mambo Orestes López, ground-breaking timbales player/drummer Walfredo de los Reyes, Sr., jazz-influenced pianist Pedro Jústiz "Peruchín," and Cuban scat singer Francisco Fellove, among many others.
The 5 disc vinyl set includes 35 tracks on 180-g audiophile vinyl in tip-on jackets. It offers a 28-page book featuring black-and-white archival images of the featured artists as well as extensive liner notes and musician bios, in English and Spanish, by award-winning Latin music writer, Cuban music specialist and box set co-producer, Judy Cantor-Navas. The 5CD version comes packaged in mini-jacket replicas of the vinyl jackets and is supplemented by an extensive 96-page CD booklet. The complete collection will also be released digitally, including (for the first time) hi-res 192/24 and 96/24 formats.
The Complete Cuban Jam Sessions reveal the flip side of Cuban music's Golden Age: the informal gathering that took place away from the colorful stage shows and splendid decadence of Havana's fabled nightlife. As the original back cover of Cuban Jam Sessions Volume 1 states, "It is without reservation of any kind that Panart assures you that that which you are about to hear will be a novel, unusual record. We expect that the buyer will find in it all the color and excitement of authentic Cuban music not limited to the time of the standard recording date, but music as it is felt by the men who know how to play…"
The Complete Cuban Jam Sessions is out on 9 November. Scroll down to read the full tracklist and buy the 5LP or 5CD editions.
The Complete Cuban Jam Sessions: 5CD:
Disc 1:
Julio Gutiérrez – 'Introduction'
Julio Gutiérrez – 'Theme On Perfidia'
Julio Gutiérrez – 'Theme On Mambo'
Julio Gutiérrez – 'Cimarron'
Julio Gutiérrez – 'Theme On Cha Cha Cha'
Julio Gutiérrez – 'Opus For Dancing'
Julio Gutiérrez – 'Theme For Conga'
Disc 2:
Julio Gutiérrez – 'Jam Session (Descarga Caliente)'
Julio Gutiérrez – 'Rumba Theme'
Julio Gutiérrez – 'Listen To The Rhythm Of The ChaChaCha'
Julio Gutiérrez – 'Bata Rhythm'
Disc 3:
Niño Rivera – 'Montuno – Swing'
Niño Rivera – 'Monuno – Guajiro'
Niño Rivera – 'Cha Cha Cha Montuno'
Niño Rivera – 'Guanguanco – Comparsa'
Disc 4:
Cachao – 'Trombon Criollo'
Cachao – 'Controversia De Metales'
Cachao – 'Estudio En Trompeta'
Cachao – 'Guajeo De Saxos'
Cachao – 'Oye Mi Tres Montuno'
Cachao – 'Malanga Amarilla'
Cachao – 'Cogele El Golpe'
Cachao – 'Pamparana'
Cachao – 'Descarga Cuban'
Cachao – 'Goza Mi Trompeta'
Cachao – 'A Gozar Timbero'
Cachao – 'Sorpresa De Flauta'
Disc 5:
José Fajardo – 'Juaniquita'
José Fajardo – 'Pa' Coco Solo'
José Fajardo – 'Busco Una Chinita'
José Fajardo – 'Guajirando'
José Fajardo – 'Goza El Montuno'
José Fajardo – 'Vamos A Gozar'
José Fajardo – 'La Flaunta De Jose'
José Fajardo – 'La Charanga'
Format:
UK English