Country Joe & The Fish's Legacy Celebrated With Deluxe Box Set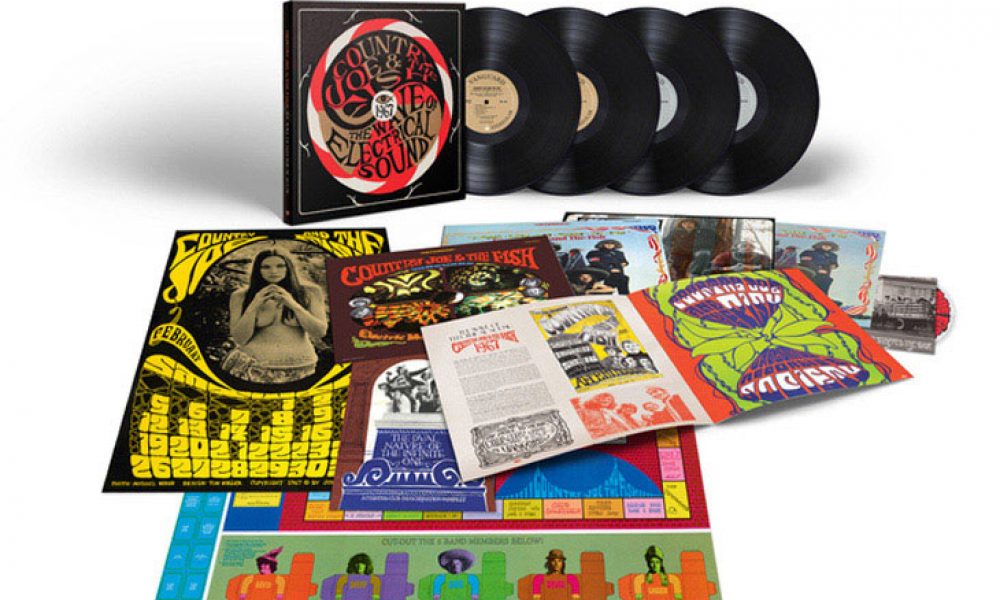 Ground-breaking psychedelic rockers Country Joe & The Fish's rich legacy is to be celebrated with a limited-edition deluxe vinyl box set, The Wave Of Electrical Sound and a series of a standalone high-end LP reissues due for release through Craft Recordings on 26 January 2018.
Limited to 2,000 copies worldwide, the deluxe 4LP box set, The Wave of Electrical Sound, will offer both mono and stereo versions of the band's landmark 1967 albums Electric Music For The Mind And Body and I-Feel-Like-I'm-Fixin'-To-Die. All four remastered LPs will be pressed on audiophile quality, 180-g vinyl, and housed in old-school-style, tip-on jackets.
The mono Electric Music For The Mind And Body album will feature rare, alternate cover artwork, while the other titles will be in replicas of their original packaging. The Wave Of Electrical Sound also contains a bounty of band ephemera from 1967, including replicas of The Fish Game, a Fish Fan Club book and a Fish calendar designed by Tom Weller.
Also included is a DVD of How We Stopped The War, a 30-minute documentary, filming the band on their way to an anti-Vietnam War rally, directed by David Peoples (writer of Blade Runner, Twelve Monkeys, Unforgiven), as well as a 24-page book, which features rare photos, artwork and new liner notes from writer, producer and musician Alec Palao.
A must-have for Fish fans, the collection offers a deep look into the band's sonic progression, and innovative uses of electronic instrumentation and distortion, all of which helped to usher in the genre of psychedelia. In his liner notes, Palao notes: "What makes both albums Country Joe & The Fish recorded in 1967 so significant is not just the presentation, but the repertoire…the writing is extraordinary. Whatever influence from Bob Dylan, Richard Farina and others McDonald might have absorbed, his muse was his own, and fully on display with idiosyncratic material that dripped with imagery and allusion."
Country Joe & The Fish came about as part political device, part necessity and part entertainment. Formed as a duo in 1965 by "Country" Joe McDonald and guitarist Barry "The Fish" Melton, the two became regulars on the Bay Area coffee house circuit, often performing with local jug band musicians.
Both McDonald and Melton were heavily involved in anti-war protests and the Free Speech Movement, particularly McDonald, who published an underground journal, Rag Baby. McDonald initially recorded music for a "talking issue" of the magazine, which became his first EP, featuring early, acoustic recordings of the band's iconic tunes 'I-Feel-Like-I'm-Fixin'-To-Die-Rag' and 'Superbird.'
By 1966, Country Joe & The Fish had grown into a rock band, with the additions of Paul Armstrong on bass, tambourine and other percussion instruments, Bruce Barthol on bass, David Cohen on guitar and keyboards and John Francis Gunning on drums (replaced by Gary "Chicken" Hirsh a year later). Following a self-titled, second EP, the 6 musicians went into the studio to record their full-length debut, Electric Music For the Mind And Body. 
Released in May of '67, the brazen and melodically complex album was full of distorted organ-driven melodies, and offered such highlights as 'Not So Sweet Martha Lorraine,' which became a staple of college radio. That track, along with 'Masked Marauder' and 'Section 43,' were notable in that they were instrumentals played on the radio, as well as in performance  ̶ an unusual occurrence in the era of three-minute singles.
The album also included a new recording of the controversial song 'Superbird,' which derided President Lyndon Johnson. Considered to be a psychedelic masterpiece, Electric Music for the Mind and Body was a commercial success, skyrocketing the popularity of the band, who garnered a coveted spot at the Monterey Pop Festival in June 1967.
Country Joe & the Fish's follow-up album, I-Feel-Like-I'm-Fixin'-To-Die, released in November 1967, contained the band's most famous track: the darkly satirical Vietnam War protest song, 'I-Feel-Like-I'm-Fixin'-To-Die,' and opened with 'The Fish Cheer,' a standard heard at all Country Joe concerts. Also featured is "Janis," written for McDonald's ex-girlfriend, and fellow Bay Area artist, Janis Joplin.
The band would go on to perform at Woodstock two years later, and extensively tour throughout US and Europe. Following several personnel changes, Country Joe & the Fish disbanded in 1970. A prolific artist and political commentator, Country Joe McDonald continues to record and tour, while Barry "The Fish" Melton went on to perform both as a solo musician, as well as a member of '80s Bay Area supergroup, The Dinosaurs.
All the former members of Country Joe & The Fish remain active, involved in different projects. McDonald himself currently performs accompanied by the Electric Music Band (led by Palao), with a show that reprises the entire Electric Music for the Mind & Body album on stage.
The deluxe box set The Wave Of Electrical Sound and the new stereo and mono editions of Electric Music For The Mind And Body and I-Feel-Like-I'm-Fixin'-To Die will be released on 26 January. Scroll down to read the full tracklistings.
Disc 1 and 2 (stereo & mono): Electric Music For The Mind And Body
'Flying High'
'Not So Sweet Martha Lorraine'
'Death Sound'
'Porpoise Mouth'
'Section 43'
'Superbird'
'Sad and Lonely Times'
'Love'
'Bass Strings'
'The Masked Marauder'
'Grace'
Disc 3 and 4 (stereo & mono): I-Feel-Like-I'm-Fixin'-To-Die
'The Fish Cheer & I-Feel-Like-I'm-Fixin'-To-Die Rag'
'Who Am I'
'Pat's Song'
'Rock Coast Blues'
'Magoo'
'Janis'
'Thought Dream'
'Thursday'
'Eastern Jam'
'Colors For Susan'
Format:
UK English