Tickets On Sale For Crowded House's First Australian Tour Since 2010
The dates include Bluesfest on April 17, 2022, on a bill also featuring Paul Kelly, Midnight Oil, and Jimmy Barnes.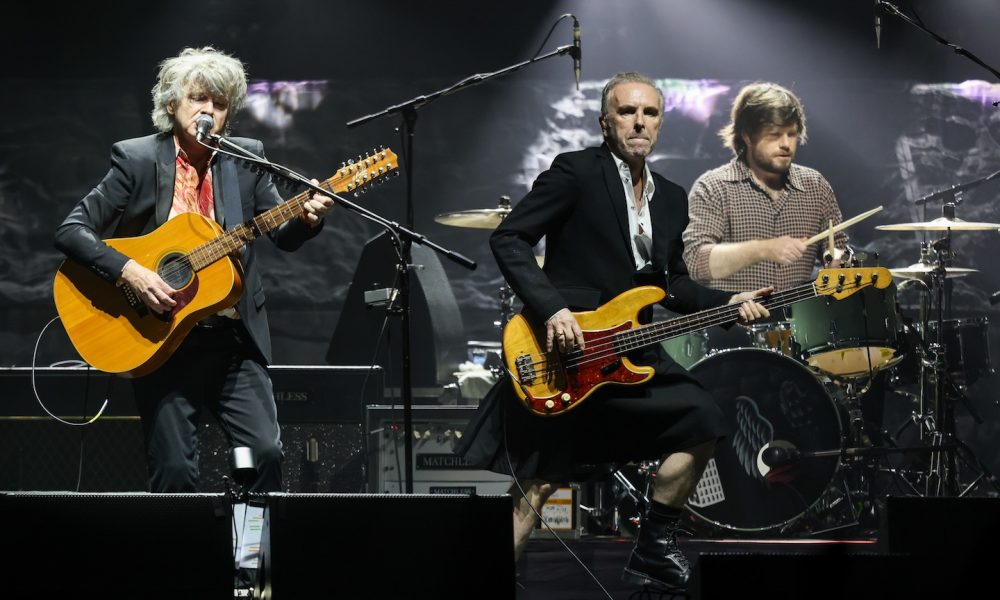 Tickets are now on general sale for Crowded House's recently-announced Australian tour, which will start on April 1 in Perth and is their first itinerary in the country for 12 years.
The Dreamers Are Waiting tour, named after the band's current album, will play six dates in Australia. They include one at the Centennial Vineyards in Bowral with the Teskey Brothers on April 16 and a show at Bluesfest in Byron Bay on the 17th, in a line-up also featuring Paul Kelly, Midnight Oil, and Jimmy Barnes. Crowded House were due to headline Bluesfest in 2020 before its Covid-related cancellation.
"Crowded House have a trophy cabinet stacked with awards and no wonder," said Bluesfest founder Peter Noble OAM (the Medal of the Order of Australia, "because not only is the Crowded House songbook jam-packed with instantly recognisable songs, but their live performances are an exercise in memorable, anthemic perfection."
Tickets for the spring 2022 can be bought here. Other dates will feature Universal Music Australia's Sydney-based indie rockers Middle Kids. Their current, second album Today We're The Greatest won the 2021 ARIA Award for Best Rock Album and was nominated for Australian Album of the Year at the J Awards.
Speaking of the ARIAs, held on November 24 at Taronga Zoo, Sydney, Dreamers Are Waiting was honored as Best Adult Contemporary Album. It beat titles by Big Scary, Kylie Minogue, Nick Cave & Warren Ellis, and Odette.
Crowded House - Love Isn't Hard At All
Crowded House recently unveiled a surf video for their new single "Love Isn't Hard At All," which was produced by frontman Neil Finn and features surfing legend Kelly Slater.
"Love Isn't Hard At All and doesn't Kelly Slater make it look easy," says Finn. "The sentiments and energy of our song seemed perfectly in synch with the flow and focus of the Surfing world's most gifted expressionist. World Surf League and Kelly supplied footage of some of his recent incredible waves which I was delighted to edit together for this visual tribute to his power and grace."
The band have also collaborated on designs for the sustainable clothing brand, Outerknown, co-founded by Slater. Further details will follow in the coming weeks.
Buy or stream Dreamers Are Waiting.