Dr. John's Final Studio Album, 'Things Happen That Way', Set for September Release
Guest stars Include Willie Nelson, Aaron Neville, and Lukas Nelson & Promise of the Real.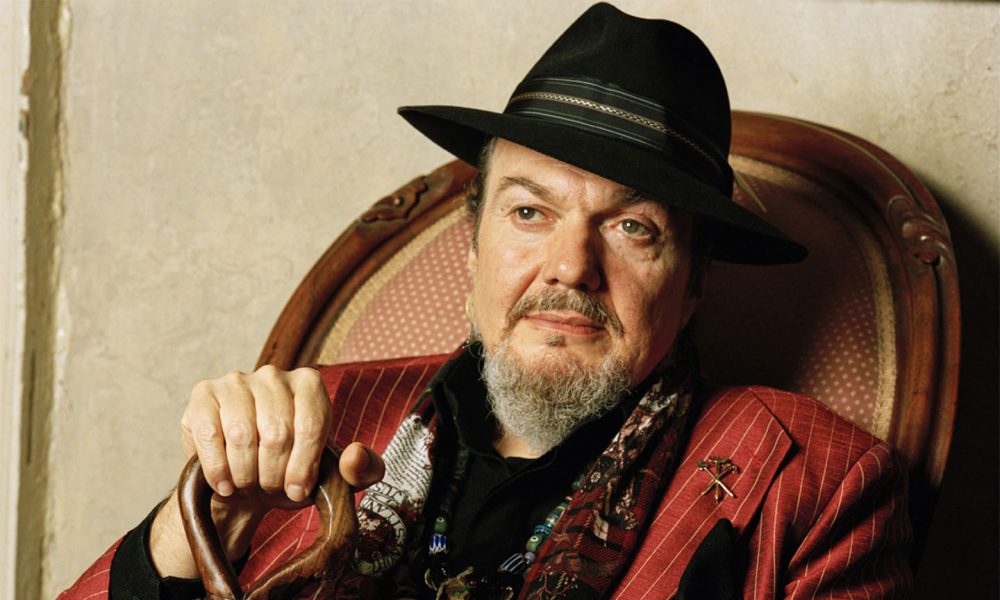 Over the course of his six-decade-long career, Dr. John embodied a near-mythic multitude of musical identities: global ambassador of New Orleans funk and jazz and R&B, visionary bluesman, rock and roll innovator, one-time top 10 hitmaker, self-anointed and massively revered high priest of psychedelic voodoo. On Things Happen That Way, due September 23, 2022, the six-time Grammy-winning Rock & Roll Hall of Famer otherwise known as Malcolm John "Mac" Rebennack Jr. reveals yet another dimension of his cosmically vast musicality: a lifelong affinity for classic country & western music.
Things Happen That Way arrives as the latest and final studio album from an artist who remained wholly unpredictable, alchemizing the charmed simplicity of traditional country into a wildly enchanting body of work.
The first single from the album – a haunting and hypnotic new rendition of "I Walk On Guilded Splinters" (which originally appeared on Dr. John's ground-breaking 1968 debut Gris- Gris) – is out now. You can check it out below.
Dr. John - I Walk On Guilded Splinters (featuring Lukas Nelson & Promise Of The Real) Official Audio
Country-rock powerhouse Lukas Nelson & Promise of the Real joined Dr. John for the newly recorded version of the classic track. "It's a great honor to attempt to interpret the work of Dr. John," says Lukas. "His music has inspired me since childhood. He was a friend to many, and we all miss him dearly. His music is medicine."
Things Happen That Way marks the fulfilment of a longtime goal of the legendary singer/songwriter/pianist, who first began plotting a country inspired album decades ago. In bringing his album's songs to life, Dr. John drew on a line-up of musicians befitting of a universally beloved luminary. Along with an elite cadre of New Orleans session players, the album's personnel include icons Willie Nelson and Aaron Neville, and rising stars Lukas Nelson & Promise of the Real.
Things Happen That Way opens on the delicate surrender of the Willie Nelson-penned "Funny How Time Slips Away," a track whose soulful harmonies and smoldering horns never overpower the sheer vulnerability of Dr. John's performance on piano and vocals.
A co-conspirator of Rebennack's for countless years, Nelson shares a warm remembrance that perfectly encapsulates the album's transportive power: "Dr. John had the most unique musical style and language that would take me to another time and place whenever I heard him play or sing."
Spotlighting his endless ingenuity as a song interpreter, Dr. John also masterfully reimagines Hank Williams' "Ramblin' Man" and "I'm So Lonesome I Could Cry." Elsewhere on the album, Aaron Neville joins in for a joyfully brass-heavy take on The Traveling Wilburys' "End of the Line," while Willie Nelson lends his balm-like vocals and signature guitar work to a soul-stirring rendition of the traditional gospel song "Gimme That Old Time Religion."
Though much of Things Happen That Way bears an exquisitely reflective mood, the album also offers up several new uptempo originals from Dr. John: "Holy Water" (a savvy and poignant look back at his early-'60s criminal charge for narcotics and subsequent two-year prison sentence, with backing vocals by Katie Pruitt), "Sleeping Dogs Best Left Alone" (a swinging and self-aware piece that knowingly speaks to the danger in playing with proverbial dynamite), and "Give Myself A Good Talkin' To"(a world-weary but high-spirited reflection on the vicissitudes of human nature).
Pre-order Things Happen That Way.
Things Happen That Way track listing:
"Funny How Time Slips Away"
"Ramblin' Man"
"Gimme That Old Time Religion" (feat. Willie Nelson)
"I Walk On Guilded Splinters" (feat. Lukas Nelson & Promise of The Real)
"I'm So Lonesome I Could Cry"
"End Of The Line" (feat. Aaron Neville)
"Holy Water"
"Sleeping Dogs Best Left Alone"
"Give Myself A Good Talkin' To"
"Guess Things Happen That Way"