Eminem Reveals Tracklist Details For New Album 'Revival'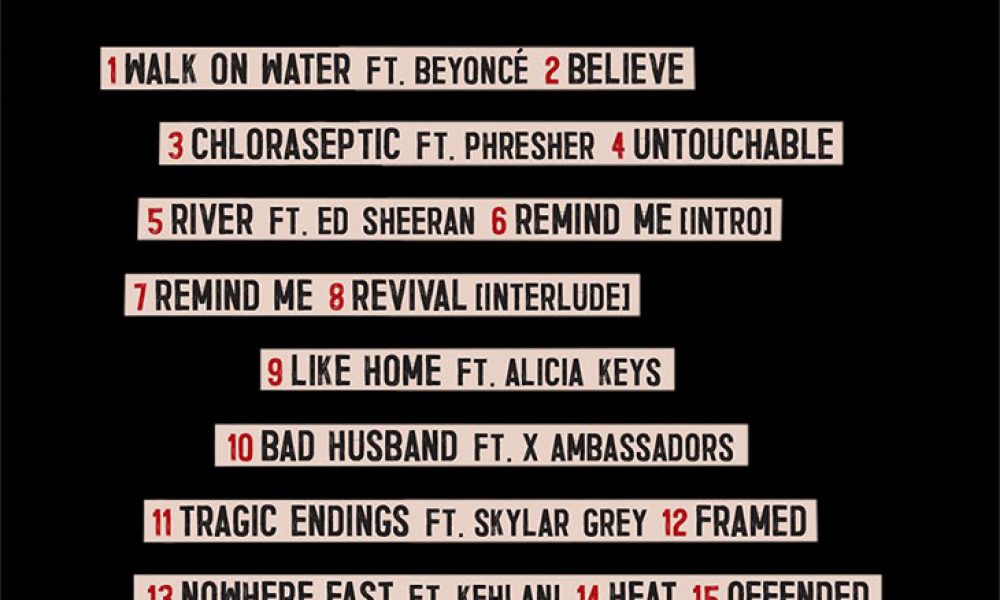 Back in October, Eminem teased his new album Revival with an extensive make-believe prescription drug campaign. Now, after confirming the title and an official release date of 15 December, the Detroit rapper has revealed full details of the new record's tracklist.
The hotly-anticipated follow-up to 2013's The Marshall Mathers LP 2, Revival features 19 tracks in all and stars such as Kehlani, Alicia Keys, Pink, Ed Sheeran, and more have all made guest appearances.
Eminem previously shared Revival's  first official single, the Rick Rubin-produced 'Walk On The Water', which features Beyoncé. He also recently discussed the new song on Rubin and Malcolm Gladwell's new podcast, Broken Record, wherein he commented: "It's a very mortal song, it's not being Superman. What I can't come up with the best s_t I wrote every single time, y'know?"
During the same podcast, Gladwell revealed that Rubin played the song for Jay-Z, who then convinced Beyoncé to sing the chorus. Eminem also discussed how Tupac Shakur's writing influenced his own creative process: "He was so smart about picking his beats. Tupac always said 'feel me,' and you have to feel him, and not just hear him," he said.
Eminem - Walk On Water (Audio) ft. Beyoncé
Eminem also recently made an appearance during this year's annual BET Hip-Hop Awards. The rapper performed a rare new freestyle as part of the show's long-running cypher series. His entire freestyle addressed President Donald Trump. Eminem criticized him for complaining about NFL protests instead of taking care of hurricane victims. He also sent a message to Trump supporters. "Any fan of mine who's a supporter of his, I'm drawing in the sand a line—you're either for or against. And if you can't decide who you like more and you're split on who you should stand beside, I'll do for you with this: f_k you!"
The full tracklisting for Reveal is as follows:
'Walk On Water' (feat. Beyoncé)
'Believe'
'Chloraseptic' (feat. Phresher)
'Untouchable'
'River' (feat. Ed Sheeran)
'Remind Me' (Intro)
'Remind Me'
'Revival' (Interlude)
'Like Home' (feat. Alicia Keys)
'Bad Husband' (feat. X Ambassadors)
'Tragic Endings' (feat. Skylar Grey)
'Framed'
'Nowhere Fast' (feat. Kehlani)
'Heat'
'Offended'
'Need Me' (feat. Pink)
'In Your Head'
'Castle'
'Arose'
Explore Our Eminem Artist Page
Format:
UK English