Hootie & The Blowfish's 2019 Columbia, SC Show To Air On Sessions Live
The reunited band played three concerts from September 11-13, 2019 at Columbia's Colonial Life Arena.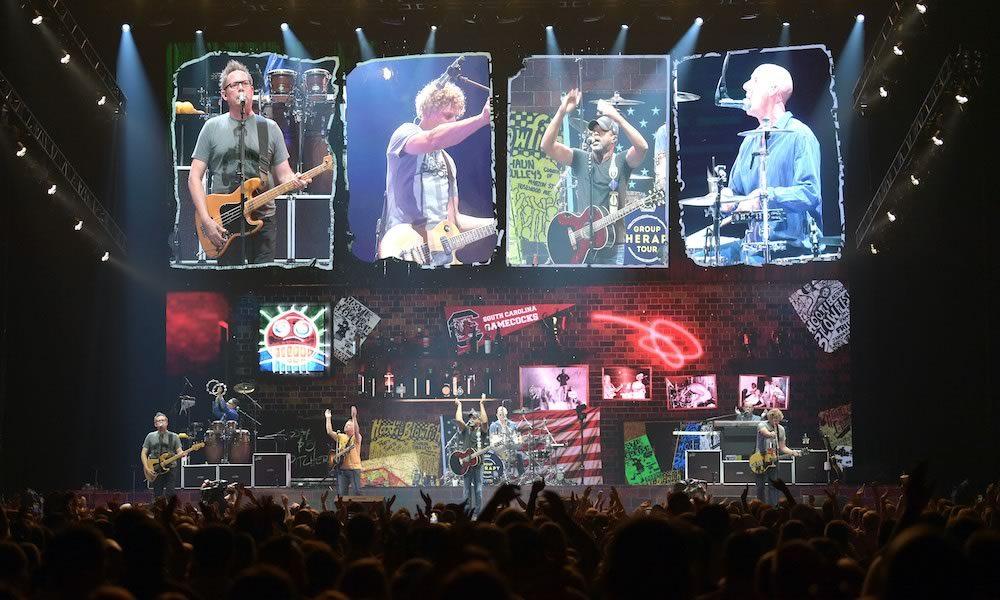 Hootie & the Blowfish will broadcast a livestream of one of their homecoming dates in Columbia, South Carolina on 2019's Group Therapy Tour on April 23 at 8pm CT.
The never-aired footage will be broadcast exclusively via Sessions Live, with tickets currently available at an "early-bird" price of $15 here. "General admission" tickets will sell at $20 from 8pm CT on April 20. A VIP ticket package is also available at $250, giving access to the livestream, an autographed tour pass and access to an exclusive virtual afterparty Q&A session with the band.
Having started the Group Therapy Tour in May 2019, the reunited Hootie & the Blowfish played three concerts from September 11-13 at Columbia's Colonial Life Arena, before an appearance a week later at the iHeartRadio Music Festival. They then crossed the Atlantic for UK dates. Their sixth studio album Imperfect Circle was then released on November 1 and became a Top 3 success on the Billboard country charts.
The shows marked Hootie's first return to Columbia for live dates for almost 20 years, in the city where their climb towards multi-million-selling status began at the University of South Carolina. At the 2019 show, the band played such favorites as "Only Wanna Be With You," "Hold My Hand," and "Let Her Cry."
"We loved every minute of being back on stage together – especially in Columbia," says frontman Darius Rucker. "We all miss live music right now, so we're really excited to be able to offer this show to our fans who can now experience the energy of that night from home."
Sessions co-founder Tim Westergren adds: "We're thrilled that Hootie & the Blowfish have chosen to make Sessions the home for this very special performance. Livestreaming continues to integrate ever more closely with physical performances as globally popular artists discover the value of an infinite virtual stage."
Imperfect Circle can be bought here.