"People Grew To Love Us Again": The Second Coming Of Hootie And The Blowfish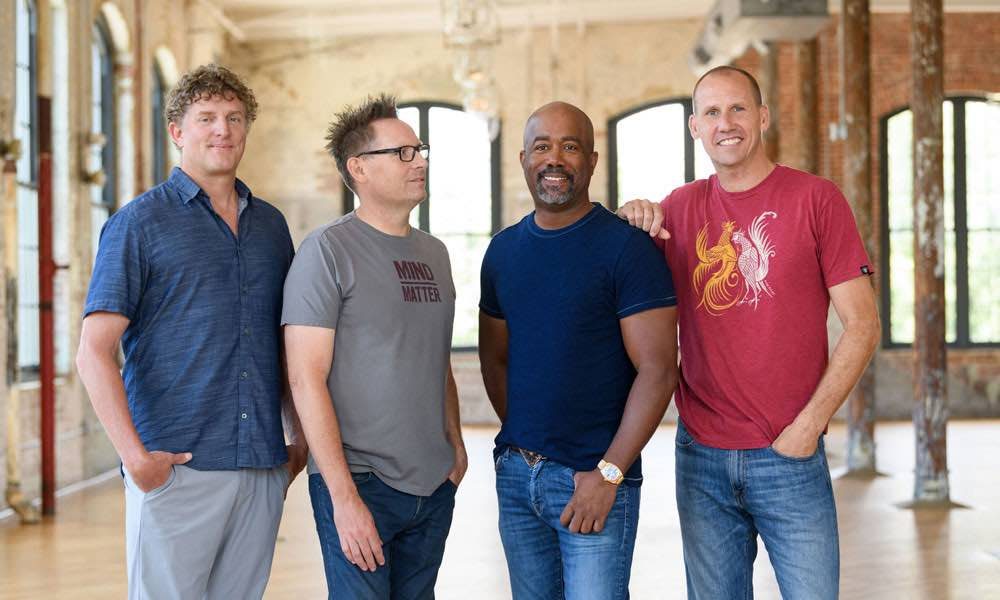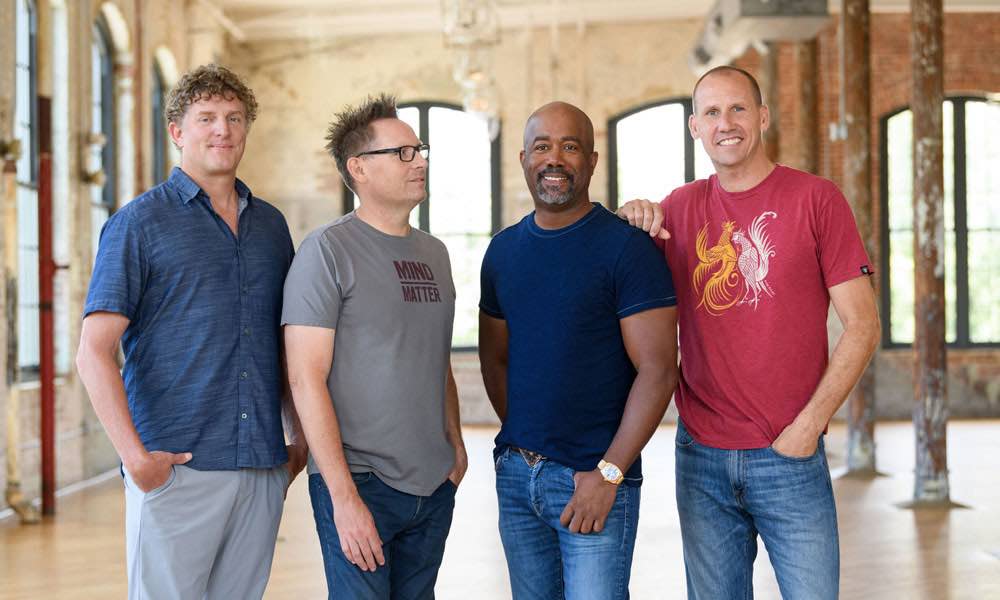 If there were raised eyebrows at the huge success of the Group Therapy tour that marked the reunion of Hootie & the Blowfish, on a double-header with Barenaked Ladies, then count the band themselves among the most surprised. Ditto the expectation for the sixth Hootie studio album that has followed, Imperfect Circle, all of 14 years since the fifth.
"The tour was a shocker for me," says frontman Darius Rucker. "The minute we put tickets out, it was like, wow. I didn't know there was that amount of people waiting around for another Hootie tour. In the time off, it wasn't people forgetting us — they grew to love us again, and that was very cool."
As the four old friends from South Carolina gather in a London hotel to speak to uDiscover Music, lead guitarist Mark Bryan adds: "No one sitting at this table was confident that we could play amphitheatres in America which hold anywhere from 18,000 to 25,000 people." Rucker goes on: "I was telling people 'This is not going to be as big as you think,' and we had everybody around us, like the CEO of CAA, coming up to me saying 'Darius, this is going to be huge.' I said 'Alright man, I'll believe it when I see it.' I believe it."
As the tour rolled across the United States to record figures, ahead of transatlantic dates in October that received an equally warm welcome, the multi-million-selling 1990s record phenomenon teased their forthcoming album with the appropriately-named 'Rollin." By August, Billboard was reporting the highest average grosses and attendance figures of their career, a quarter of a century after Cracked Rear View was smashing its way towards shipments of 21 million in the US alone.
"It's crazy," says Rucker, who has returned to the group fold by putting his Grammy and CMA Award-winning solo career in country music — seven studio albums, four chart-toppers, eight No. 1 singles — on hold for a short period. "Some of the places, we broke records that outdid what we did in 95, 96, which to me didn't make sense, but it happened."
Original fans came out for the shows in their scores of thousands, augmented by new observers and, says bassist Dean Felber, another contingent again. "There was a third demographic I saw a bunch of times, too, which was Darius' audience," he notes. "An audience that maybe said 'What? Darius was in a band?' that would listen to some of our deeper cuts with patience, but when we played [his 2013 solo No. 1] 'Wagon Wheel' or something, would just go crazy."
Adds drummer Jim Sonefeld: "That's important too, because you're introducing somebody who might be 20 or 50 who came from country music, to go back to listen to a nostalgic band."
Rucker's bandmates may not had matched his profile in the post- and pre-Hootie years, but each has explored numerous solo options. Bryan released three solo albums and opened the local nonprofit Carolina Studios; Felber has written for commercials and films and co-founded Perception Wines with winemaker Mark Ray; and Sonefeld released both rock and contemporary Christian albums.
While the idea of a new record was well established before the Group Therapy tour, it was a typically idiosyncratic band move to go on the road before the album was finished and released. "When we did that, I said 'That's just us doing it the way we do it,'" says Rucker. Adds Bryan: "We're fortunate, we have a catalogue. We could really tour at any time, but of course we'd rather do it around a new album."
The bandmates knew that Imperfect Circle would need some crafting. "We'd started the record well before the tour," says Bryan, "and we knew the songwriting would take longer than anything. We didn't have a producer at first, we just started gathering a backlog of a decade of individually-written songs or collaborations, and eventually headed to Nashville to work with some other writers.
"We probably wrote more songs for this album than any previous album, which is how you give yourself a chance of making a great album. But I think we first sat down to say 'How do we do this?' in March 2018. We hadn't written a song together in 12 years or something."
Sonefeld says that as time went on, the quartet eased back into their old symbiosis. "It was [a case of] getting warmed up, getting our chops back and getting used to the relationships," he recalls. "We'd been off a while, so there were a lot of songs to go through. It was just figuring out what of your stuff that you've done over the last ten years is worth a crap, and what just needs to go away."
Of the new material, Felber says: "There's always that level, once Darius is singing, where we can tell what he's feeling or not feeling, and that helps us figure out what direction to go in. So we established a direction as the time went on."
By the end of that year, as they announced the 2019 tour, the band had a new deal in place with Capitol Nashville (and Spinefarm for the UK), and Frank Rogers and Jeff Trott on board as producers. As the songs flowed, an album with a strong feelgood factor emerged, but one with a certain reflective wisdom.
"We didn't think about that," says Rucker, "but who we are, the songs that were coming to the top were the songs that were like that. A song like 'We Are One' or 'Turn It Up,' those songs I was like 'Man, we need that.'" He also singles out the track they co-wrote with Jim Beavers and Chris Stapleton. "Or a simple song like 'Hold On,' [when] everything is so divisive, especially where we live."
The album also features a co-write with Eric Paslay, backing vocals on three tracks by Sheryl Crow, and the 'Wild Fire Love' collaboration with one Ed Sheeran. "With Sheryl, that came about with Jeff Trott," says Rucker. "He writes and produces with Sheryl a lot, and we've known her for 25 years. She's been on a lot of my records, I've been on her records.
"With Ed Sheeran, writing with that kid, he's a monster. I met Ed when he did the Taylor [Swift] tour. I have a daughter who knows every band before they're big, and she was a big Ed fan. When he first came over to the States, she said 'Dad, will you take me to see Taylor, and I want to meet Ed.' We met him and became friends then. [All these] years later, I phoned him up and said 'Shall we write together?'"
Rucker will resume his country persona in 2020, and is confirmed among the headliners of the 2020 Country to Country Festival in London and four other cities. But as Hootie and the Blowfish explode all over again in a musical environment so dramatically changed from that of their first heyday, they're happy to sound a reassuring note.
"There's important voices out there that are singing about rebellion and fighting the power, which I think are so important," says Bryan. "I just think we knew, we're a bunch of 50-year-old dudes, we're not going to be that voice. We would rather provide the love and a better feeling."
Imperfect Circle is out now, and can be bought here.
Format:
UK English