iHeartRadio Unveils 2021 Jingle Ball Lineup Featuring Jonas Brothers, Doja Cat, And More
The stacked 10-date tour will kick off in Dallas, Texas on November 30.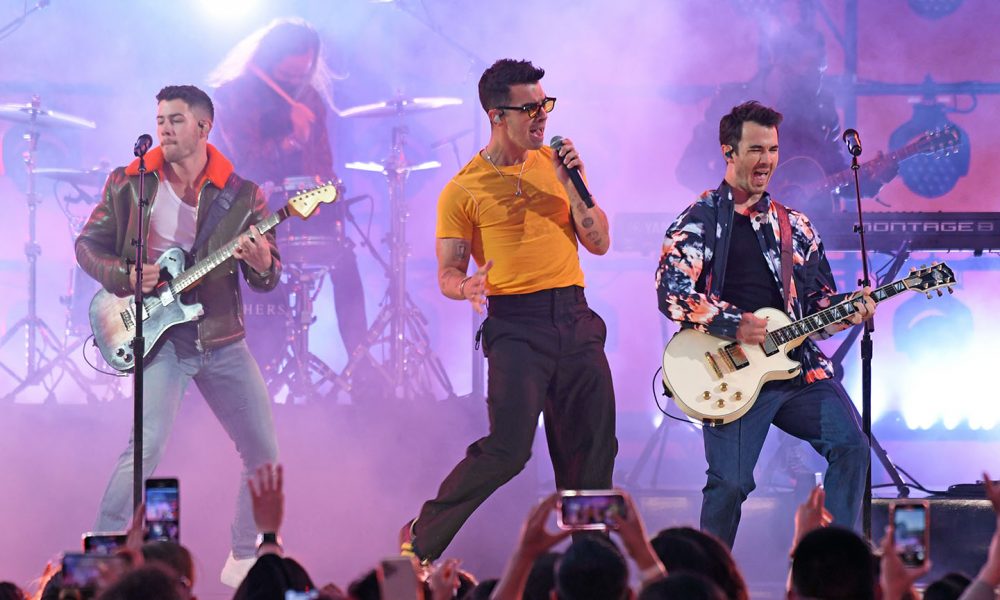 iHeartRadio has unveiled the stacked lineup for the 2021 Jingle Ball tour lineup ahead of its 10-date tour, which is making its return for the first time since 2019.
While the lineup varies from city to city, the artists recruited for this year's trek include some of the biggest stars in music. The Jonas Brothers will take the stage in New York, Washington D.C., Atlanta, and Boston. The Black Eyed Peas will also make special appearances in Los Angeles, Minneapolis, Boston, Washington D.C., Chicago, Atlanta, and Fort Lauderdale.
The lineup also features appearances from rap and pop crossover stars Lil Nas X, Doja Cat, Megan Thee Stallion, and Saweetie. Ed Sheeran, Dua Lipa, The Kid LAROI, Tate McRae, Dixie D'Amelio, Monsta X, Tair Verdes, Kane Brown, and AJR will also perform throughout varying dates on the tour.
iHeartRadio's Jingle Ball is set to kick off in Texas on November 30. It will run through December, wrapping up on December 19 in Fort Lauderdale. Tickets go on sale to the general public on October 8 at 12 p.m. local time. They can be purchased on the official iHeartRadio website.
"What started as a local show 26 years ago is now a globally televised holiday music event featuring the biggest hit artists and songs of the year," said President of Entertainment Enterprises for iHeartMedia John Sykes in a statement.
"And, for those who can't get a ticket to the iHeartRadio Jingle Ball Tour, they can watch on The CW Network, who will bring this music celebration to millions of fans' living rooms with a two-hour TV broadcast special."
Visit the official iHeart site for more details and view the official 2021 Jingle Ball tour lineup with coinciding dates below.
The 2021 iHeartRadio Jingle Ball Tour Presented by Capital One Schedule Includes:
November 30 – Dallas/Fort Worth, TX – Dickies Arena
Featuring: Doja Cat, Lil Nas X, The Kid LAROI, AJR, Tate McRae, Bazzi and Dixie D'Amelio
December 3 – Los Angeles, CA – The Forum
Featuring: Ed Sheeran, Dua Lipa, Doja Cat, Lil Nas X, The Kid LAROI, Saweetie, Black Eyed Peas, Tate McRae, Bazzi and Dixie D'Amelio
December 6 – Minneapolis/St. Paul, MN – Xcel Energy Center
Featuring: Lil Nas X, The Kid LAROI, Saweetie, Black Eyed Peas, Tate McRae, Bazzi, Dixie D'Amelio and Tai Verdes
December 7 – Chicago, IL – Allstate Arena
Featuring: Doja Cat, Saweetie, AJR, Kane Brown, Tate McRae, Monsta X, Bazzi, Dixie D'Amelio and Tai Verdes
December 10 – New York, NY – Madison Square Garden
Featuring: Ed Sheeran, Dua Lipa, Jonas Brothers, Doja Cat, Lil Nas X, Saweetie, AJR, Kane Brown, Tate McRae, Bazzi and Dixie D'Amelio
December 12 – Boston, MA – TD Garden
Featuring: Jonas Brothers, Doja Cat, Saweetie, Black Eyed Peas, Tate McRae, Bazzi, Dixie D'Amelio and Tai Verdes
December 13 – Philadelphia, PA – Wells Fargo Center
Featuring: Jonas Brothers, Doja Cat, Megan Thee Stallion, Black Eyed Peas, Saweetie, AJR, Tate McRae, Monsta X, Bazzi, Dixie D'Amelio and Tai Verdes
December 14 – Washington, D.C. – Capital One Arena
Featuring: Doja Cat, Lil Nas X, Black Eyed Peas, Saweetie, AJR, Tate McRae, Bazzi, and Dixie D'Amelio
December 16 – Atlanta, GA – State Farm Arena
Featuring: Jonas Brothers, Doja Cat, Megan Thee Stallion, Black Eyed Peas, Tate McRae, Monsta X, Bazzi, Dixie D'Amelio, and Tai Verdes
December 19 – Miami/Ft. Lauderdale, FL – FLA Live
Featuring: Doja Cat, Megan Thee Stallion, AJR, Black Eyed Peas, Saweetie, Tate McRae, Monsta X, Bazzi, and Dixie D'Amelio