Jonas Brothers Share Vibrant Music Video For 'Who's In Your Head?'
The visual was directed by Christian Breslauer.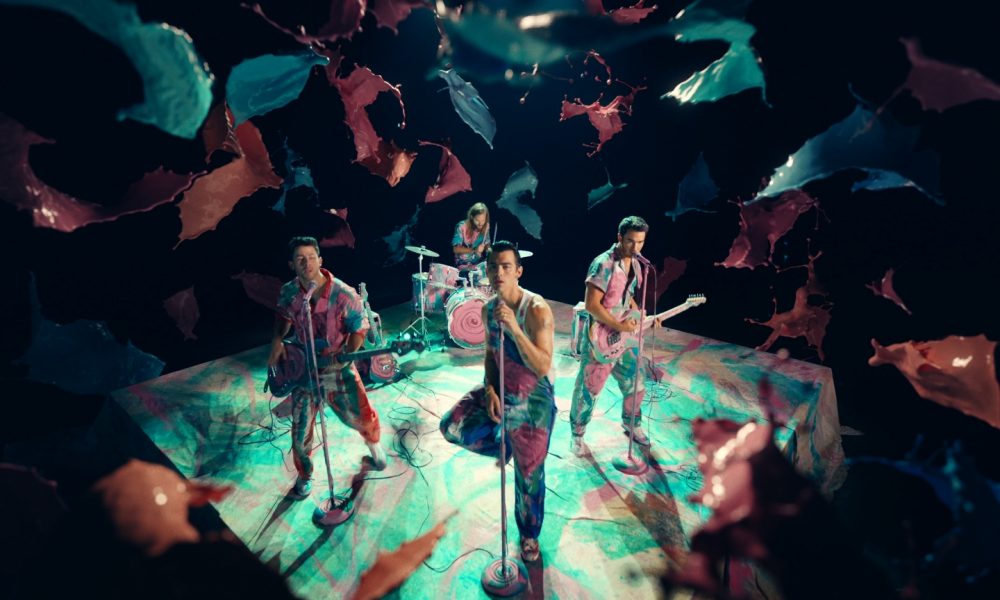 Following up the release of their latest single "Who's In Your Head," the Jonas Brothers have shared the vibrant Christian Breslauer-directed music video for the track.
The visual finds the pop trio jamming out in a performance space heavily decorated with instruments on the wall. For a while, the camera cuts back and forth between the band and a young woman painting in her studio. Before you know it, the Jonas Brothers find themselves within the painting she's working on –– dressed in the same pinks and blues to match the vibrant brush strokes.
Jonas Brothers - Who's In Your Head (Official Music Video)
It's just one of the music video's surreal visual elements. We later find a confused Joe Jonas sitting in a coffee shop where his waitress suddenly breaks into dance. Soon, he's no longer sitting on the terrace, but instead inside of a steaming cup of hot coffee as if it were a jacuzzi. Later, Nick Jonas travels through the storm of a woman's mind as she sits under the dryer at a hair salon.
"Who's In Your Head?" finds the Jonas Brothers in search of understanding. The song, co-written by Rami Yacoub and Max Martin, details a skeptical partner in a relationship where their other half seems distracted by thoughts of someone else from the past.
"I wanna know who's in your head stealing your heart while I'm still bleeding, who's in your bed wrapped in your arms while I ain't sleeping," they sing on the infectiously catchy hook Martin and Yacoub are known for crafting.
After a series of strange run-ins with expressive painters and people dancing down the street, the "Who's In Your Head" music video wraps with one final performance from the Jonas Brothers. The band takes the stage outdoors at a stage set up in downtown Los Angeles backed by a marching band in front of an audience of smiling listeners, offering a seemingly happy ending.
Anyone hoping to experience a similar moment can catch the Jonas Brothers at an upcoming show on their current Remember This tour, where "Who's In Your Head?" has become a recent addition to the already stacked setlist.