Seminal INXS Album 'Kick' Receives 30th-Anniversary Reissue In Dolby ATMOS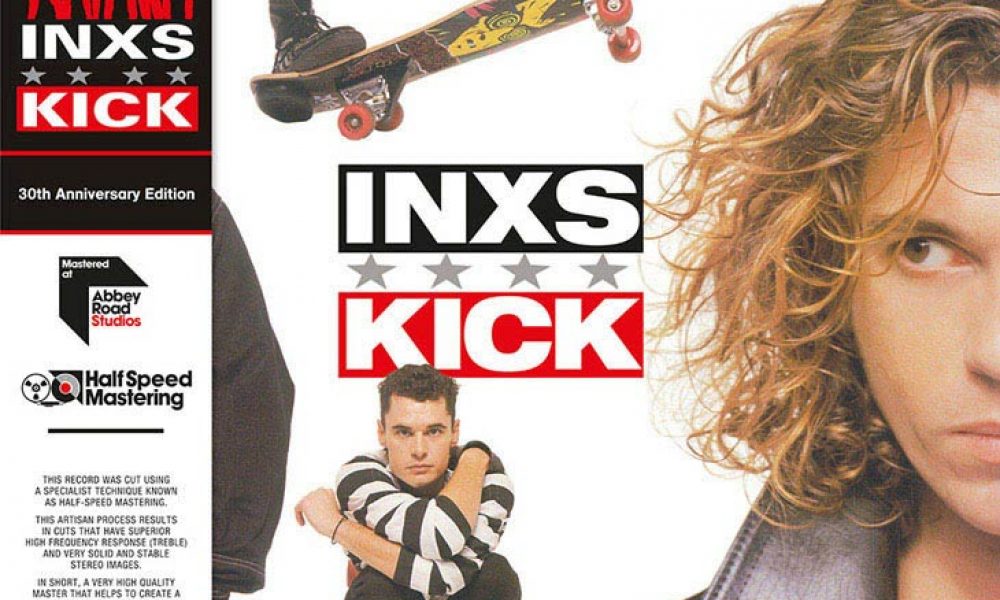 Kick, the seminal sixth album from iconic Australian rockers INXS, is to receive a deluxe reissue for its 30th anniversary. Due for release on 3 November 2017, the new edition of the landmark record will feature the album mixed in Dolby ATMOS – a pioneering immersive sound technology – by producer Giles Martin.
"You can hear this album like never before," says Giles Martin of the new 30th-anniversary Edition of Kick. "You can hear Michael [Hutchence] so close to you, you can hear his breath. You feel like you're in the studio with the band. You have a record that's 30 years old, but it's been taken in a completely new direction and you can listen to it in a completely new way and it becomes new again. Great music and great songs, they don't get old."
Housed in glorious DVD size "fan-deluxe" packaging, the 30th-anniversary edition of Kick extends previous editions with additional B-sides, rare mixes and bonus tracks over three CDs. In addition, it will feature the album mixed in Dolby ATMOS® by producer Giles Martin and Sam Okell at Abbey Road Studios. This new mix appears on a Blu-ray disc along with all the promo videos. Dolby ATMOS is an immersive sound technology that delivers the best listening experience on any device with a new dimension of clarity, fidelity and space.
"It is really surreal that 30 years ago when three record label companies rejected this album," says Petrol Records Chairman & CEO, Chris Murphy. "Now, it is revolutionised through the incredible, incredible ATMOS technology through one of my favourite people in the world, Mr Giles Martin."
INXS - Kick 30th Anniversary Edition (Teaser)
For vinyl enthusiasts, there will also be a half-speed remaster of the classic 1987 album cut at 45rpm over two heavyweight, 180g LPs for supreme fidelity, by Abbey Road Studios' half-speed Mastering pioneer Miles Showell, who says: "Having owned this album since 1987 and even cut the UK 7" lacquers for 'Need You Tonight', I was thrilled to be asked to remaster it as a double-45 half-speed mastered LP."
INXS keyboardist Andrew Farriss says that the new edition boasts "classic, fabulous pop songs that jump out of the speakers, now more than ever before", adding, "The latest INXS vinyl cuts are an outstanding achievement, especially the Kick album – I was truly amazed to hear INXS' recordings sounding so incredibly fresh, clear and kick-ass, like vinyl on steroids."
Originally formed in 1977, INXS' career spans an extraordinary 40 years, during which they have sold over 40 million records worldwide, including No.1 albums in four different continents. Delivering an avalanche of hits including 'Need You Tonight', 'New Sensation', 'Never Tear Us Apart', 'Devil Inside' and 'Mystify', Kick sold over six million copies worldwide and made INXS one of the biggest bands on the planet.
The 30th-anniversary reissue of Kick will be released on 3 November. Scroll down to read the full tracklist and order the 3CD+Blu-ray edition here.
The full Kick: Deluxe Edition tracklist is:
CD 1: Kick Original Album Remastered
'Guns In The Sky'
'New Sensation'
'Devil Inside'
'Need You Tonight'
'Mediate'
'The Loved One'
'Wild Life'
'Never Tear Us Apart'
'Mystify'
'Kick'
'Calling All Nations'
'Tiny Daggers'
CD2: Demos, Mixes & More
'Move On' [Guitar Version]
'I'm Coming' (Home)
'Mediate' [Live From America]
'Never Tear Us Apart' [Live From America]
'Kick' [Live From America]
'On The Rocks'
'Do Wot You Do'
'Mystify' [Chicago Demo]
'Jesus Was A Man' [Demo]
'The Trap' [Demo]
'Guns In The Sky' [Kick Ass Remix]
'Need You Tonight' [Mendelsohn Extended Mix]
'Move On'
CD3: Additional Mixes & B-Sides
'Never Tear Us Apart' [Soul Version]
'New Sensation' [Nick 12" Mix]
'New Sensation' [Nick 7" Mix]
'Devil Inside' [Extended Remix]
'Devil Inside' [7" Version]
'Devil Inside' [Radio Edit]
'Different World' [12" Version]
'Different World' [7" Version]
'Need You Tonight' [Big Bump Mix]
'Need You Tonight' [Ben Liebrand Mix]
'Need You Tonight' [Mendelsohn 7"Edit]
'Guns in the Sky' [Kookaburra Mix]
'Calling All Nations' [Kids On Bridges Remix]
'Shine Like it Does' [Live]
Blu-ray
Kick mixed in Dolby ATMOS and High-definition Audio
Promo Videos
'Guns In The Sky'
'New Sensation'
'Devil Inside'
'Need You Tonight'
'Mediate'
'Never Tear Us Apart'
'Mystify'
'Kick' [New 2017 promo]
Format:
UK English