Watch New Nine-Minute Animated Video For James Brown's 'Super Bad'
The clip brings a renewed sense of energy and fun to the landmark 1970 single.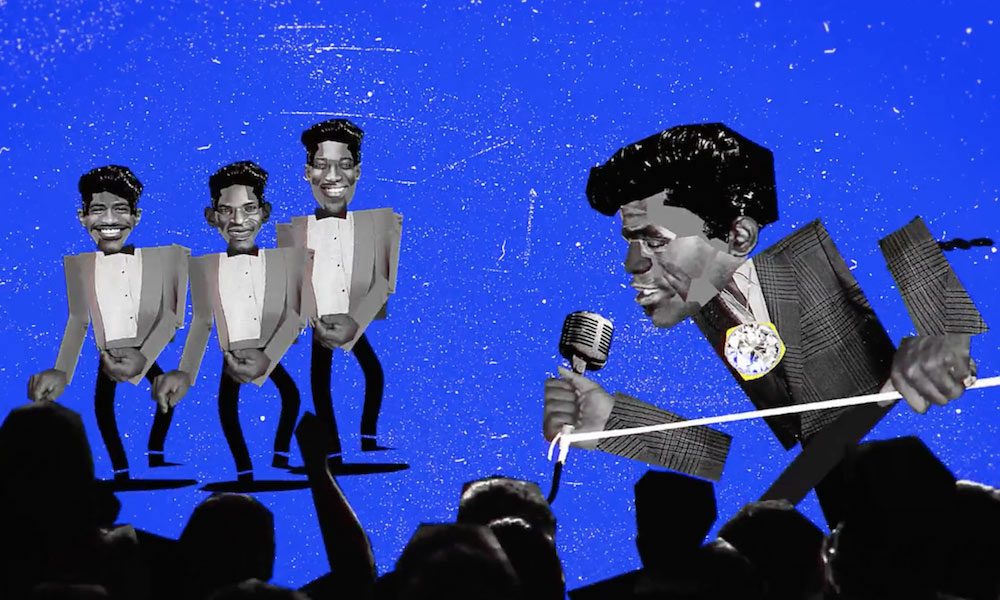 A new video for James Brown's funk classic "Super Bad (Pts 1,2&3)" by animator Troy Browne has been shared on the Godfather of Soul's official YouTube channel. The nine-minute clip brings a renewed sense of energy and fun to the landmark single, which spent two weeks atop the Billboard R&B chart in November 1970.
Browne has given a detailed explanation of how his involvement in the video came about. "I was responsible for developing the concept and visual style, initially," he says. "The idea of James and the [Famous] Flames becoming superheroes and defending us from an alien lizard attack, came from a mixture of learning about James' famous fein and cape man routine with Danny Ray and listening to 'Super Bad' whilst a kids' cartoon was on in the background.
"The energy of the cartoon matched up so well with the song and knowing of the cape man routine, it was very easy to put those few things together," says the director, who made the clip with his team in the space of a month. "[That] isn't long for a video of this length, so getting it done would involve getting a few people on board," he notes.
James Brown - Super Bad (Parts 1, 2 & 3) ft. The Original J.B.s
"Firstly, I got a producer on board, Kat Brown. I'd worked with her before and knew her skills at keeping everything moving…with this very tight deadline. We worked together to find other artists, animators and designers to approach when production started, but first I need to create the animatic and that was basically a very loose slideshow to make sure we hit the necessary story beats and that the cut flowed well with the edit.
The animators they worked with on the project were Josh Trotter, Brian Neong San, Mike Choo, Sam Pillar, Danny Cato, Joe Presser, and Gary Dumbill. "I worked with an editor to get all of the clips the animators created into the final sequence," says Browne, "but after seeing that edit it really wasn't working and I had a crisis, almost believing all the hard work of everyone resulted in something pretty bad!
"I collected everyone's project files into one large one and began to weave the scenes and hone into making the shots work together. And, whilst here I was able to really fine tune the edit to the song and make sure everything was working together."
Talking of the Godfather himself, Browne goes on: "I've always liked the James Brown songs I've heard but this project gave me the opportunity to really delve into James's other songs and his entire career. And I came to like his work more. I watched a lot of his performances and his energy and charisma are truly infectious! He's very inspiring in his lyrics too, with his messages mostly about getting motivated, getting on with life, being yourself and having fun! The song 'Get Up, Get Into it, Get Involved' being the sub-theme song for this production!"
Listen to the best of James Brown on Apple Music and Spotify.