Berry Gordy, Joni Mitchell, Bette Midler, And More Celebrated At Kennedy Center Honors
Other honorees included Lorne Michaels and Justino Díaz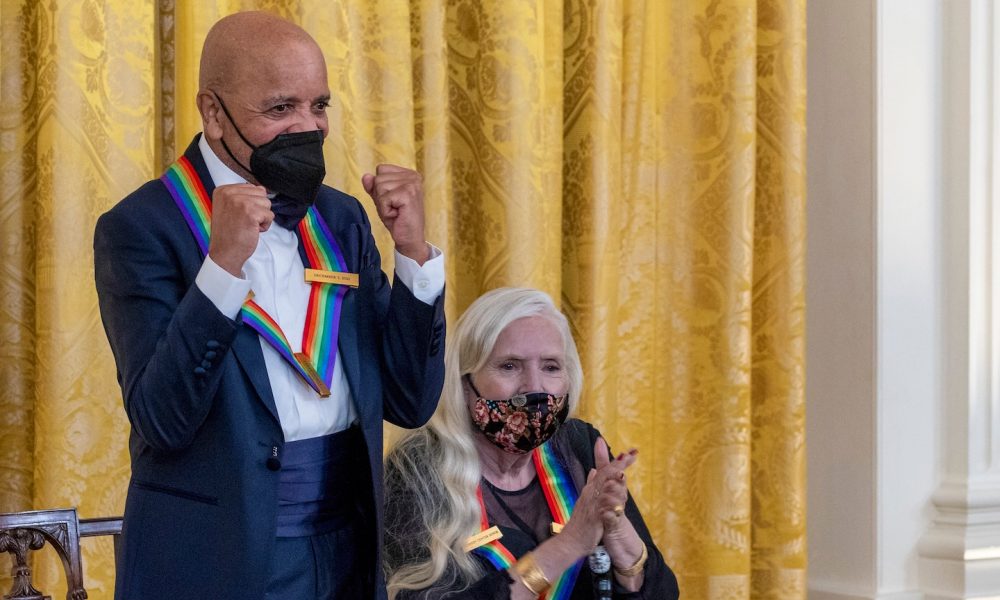 This year's Kennedy Center honorees Joni Mitchell, Bette Midler, Berry Gordy, Lorne Michaels, and Justino Díaz were celebrated this weekend with a reception at The White House, a medallion ceremony at The Library of Congress and a formal, black-tie event at the performing arts center's Opera House. The tributes and performances were filmed for a special broadcast that will air on CBS on December 22.
President Joe Biden and the First Lady attended the gala event Sunday night, a return to tradition that did not go unnoticed by host David Letterman. "It is very nice to see the presidential box once again being occupied," Letterman said. In President Trump's four years in office, neither he nor Melania Trump attended the Kennedy Center Honors.
Boxer turned songwriter and entrepreneur Berry Gordy turned an $800 loan from his family into a multimedia empire. The Motown mastermind brought the soul of Detroit to the rest of the world with artists like Smokey Robinson, The Four Tops, The Temptations, The Supremes, Marvin Gaye, The Jackson Five, and many others. Stevie Wonder recalled his first meeting with Gordy. "I was 11 years old and you said 'Ok, I heard you're good. What do you do?' And I said 'I play harmonica and I sing.' I said, 'As a matter of fact, I can sing better than Smokey Robinson.'"
After receiving his medallion, an emotional Berry Gordy told the audience, "I am so blessed to be in the company of the other honorees, this particular group of honorees whom I have known and admired for a long, long time." Gordy continued, "to get to meet them and talk to them and let them know how much I appreciate them has been a wonderful feeling for me tonight."
Upon receiving his nomination, Berry Gordy said, "The Arts not only give voice to the voiceless, but connect us, transform us, and soothe our souls. The Kennedy Center Honors epitomizes the recognition and value of both the Arts, and the Artist. I am thrilled to become a part of this prestigious American legacy.
"Growing up in Detroit, I was not only Black but the 'black sheep' of my family. I was a failure at everything I did until I was 29 years old, while my younger brother Robert was not only a family favorite, but strangely, a favorite of mine as well. He inspired me with his loyalty, love, and graciousness. Throughout the years I've been blessed with many wonderful memories, but this – the Kennedy Center Honors – is one that will be forever in my heart. Thank you."
Visit the Kennedy Center's official website for more information.