The Killers' 'Day & Age' Celebrates Tenth Anniversary With Deluxe 2LP Vinyl Reissue
The landmark triple platinum-selling album includes the much-acclaimed hit singles 'Human' and 'Spaceman.'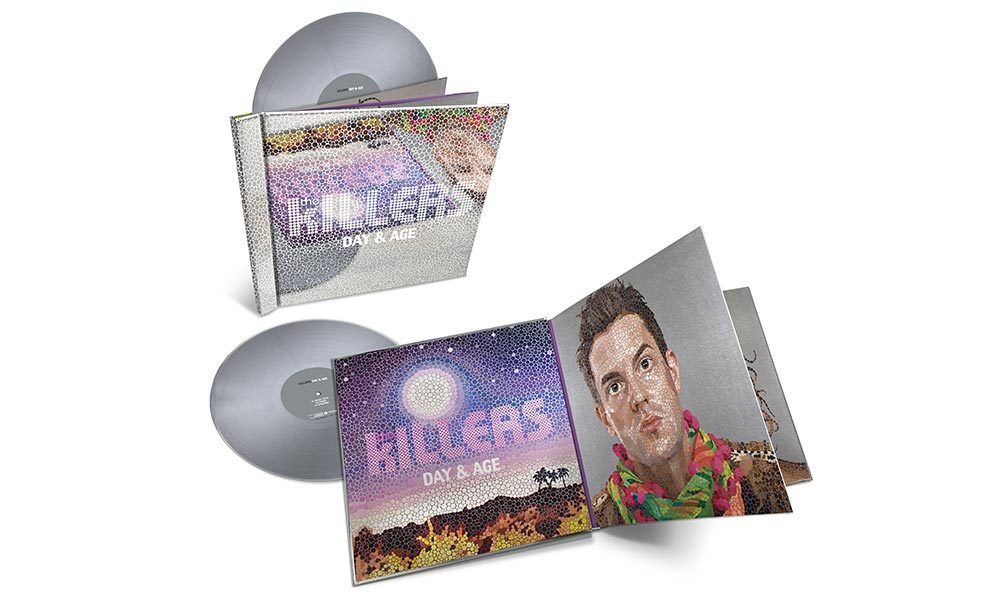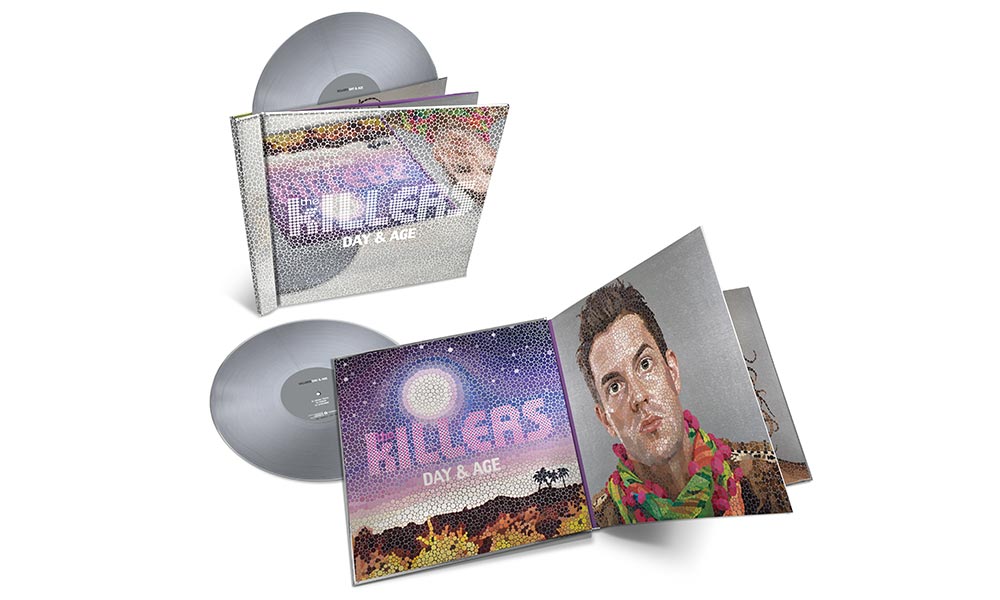 Alt-rock kingpins The Killers' third studio album Day & Age is set to celebrate its tenth anniversary in style with a remastered double-LP deluxe edition which is set for release on 14 December 14 through Island/Ume. This new edition features three bonus tracks, preceded a month earlier on November 16 by three separate eSingle releases, all with content making its digital debut.
Although Day & Age was previously issued as a single 180-g black vinyl LP, this special 10th anniversary edition marks the storied album's first appearance on 2LPs (cut at 45 rpm). Besides the standard 180-g 2LP black-vinyl version, a double silver-gray vinyl limited edition will also be made available. Both deluxe packages are housed in a hardcover case that features a patterned foil surface that will reflect the "portrait" of the viewer, referencing the band member portraits that are seen on the inner sleeves.
Released in November 2008 and produced by Stuart Price (Madonna, Kylie Minogue, Pet Shop Boys) and The Killers, the triple platinum Day & Age album includes the heartfelt hit singles 'Human' and 'Spaceman.' The 10th anniversary edition's bonus tracks include 'Forget About What I Said' (the B-side from the 'A Dustland Fairytale' single), 'A Crippling Blow' (the B-side from the 'Human' single) and 'Joy Ride (Night Version)' (the B-side from the 'The World We Live In' single) — the last two being currently unavailable digitally.
The Killers - Human (Official Music Video)
In addition to the deluxe double-vinyl edition, three digital eSingles/bundles will be released a month ahead of the vinyl reissue on November 16 to highlight the key Day & Age tracks 'Joy Ride,' 'Human,' and 'Spaceman.' 'Joy Ride (Night Version)' is making its digital debut, while 'Human' boasts six remixes and a B-side, 'A Crippling Blow' not currently available digitally. Armin van Buuren, Ferry Corsten, and Thin White Duke are among those reimagining 'Human.' Finally, 'Spaceman' soars with rare remixes of its own and a Bright Eyes cover of 'Four Winds,' a B-side also not currently available digitally. Tiesto, Sander Van Doorn, and Bimbo Jones are all part of the 'Spaceman' remix crew.
Last year, The Killers debuted at the top of the album charts in both the U.S. and the UK with their stirring September 2017 Island release Wonderful Wonderful, which also carries the distinction of being the band's fifth consecutive UK chart-topper overall.
The deluxe 10th anniversary edition of Day & Age is out on 14 December. Scroll down to read the full tracklist and buy it here.
The Killers: Day & Age – 10th Anniversary Deluxe Edition:
'Losing Touch'
'Human'
'Spaceman'
'Joy Ride'
'A Dustland Fairytale'
'This Is Your Life'
'I Can't Say'
'Neon Tiger'
'The World We Live In'
'Goodnight, Travel Well'
'A Crippling Blow' (Bonus track; B-side from the 'Human' single)
'Forget About What I Said' (Bonus track; B-side from the 'A Dustland Fairytale' single)
'Joy Ride (Night Version)' (Bonus track; B-side from the 'The World We Live In' single)
Format:
UK English