Limited Edition Book Documents Eric Clapton's Crossroads Festivals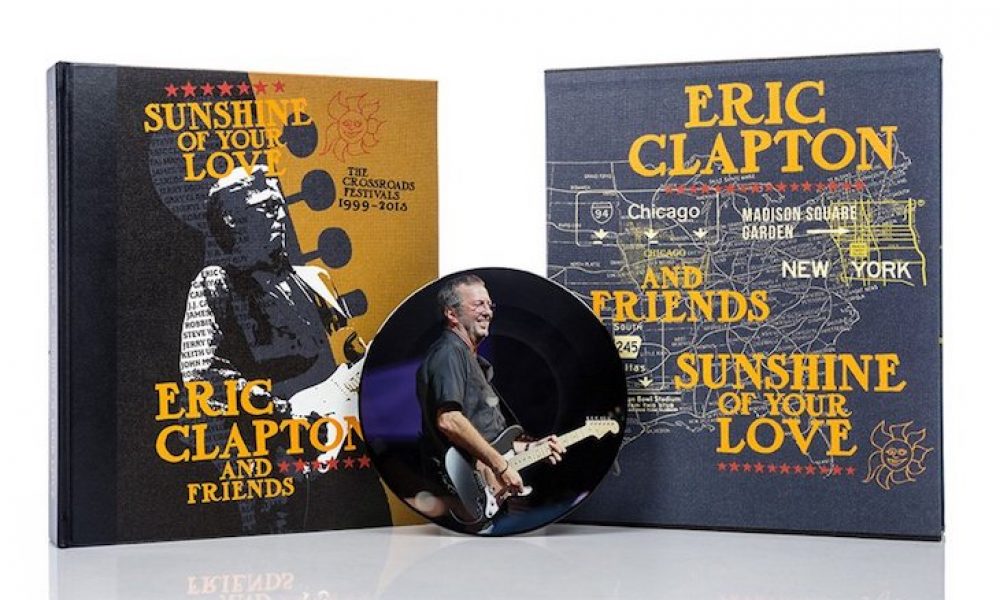 The history of Eric Clapton's Crossroads Festival over nearly 15 years is documented in a lavish, handcrafted new book. Genesis Publications, which specialises in bespoke, limited edition volumes, offers Sunshine Of Your Love — Eric Clapton's Crossroads Guitar Festivals 1999-2013 as the official record of the multi-artist events.
The 36,000-word, 200-page-plus book includes more than 350 photographs plus interviews and the memories of Clapton and his fellow contributors. These include Gary Clark Jr., Sheryl Crow, Andy Fairweather Low, Sonny Landreth, Taj Mahal, John McLaughlin, Robbie Robertson, David Sanborn, Carlos Santana and Joe Walsh.
The event was created when Clapton invited Crow, Bob Dylan, Mary J. Blige and saxophonist David Sanborn to play with him at Madison Square Garden in New York to raise funds for the Crossroads Centre, his rehabilitation facility in Antigua. Subsequent festivals took place in Dallas in 2004, near Chicago in 2007 and 2010 and then again at Madison Square Garden in 2013. 
"One by one, my heroes would eventually be in the same room with me," says Clapton, speaking in the book about the events. "What do we do? We just play, play our hearts out." Elsewhere, he adds: "Nothing beats just sitting around, on an equal footing, with about three or four other musicians. And not having anyone be the boss."
Sunshine Of Your Love is a limited edition of 2,000 copies worldwide, each one signed by at least two of the performers at the festivals. An even more desirable edition of 350 "Collector Copies" has already sold out, additionally featuring a seven-inch vinyl picture disc of Clapton performing 'Wonderful Tonight'  at Crossroads 1999 and 'Got To Get Better In A Little While' at the 2013 event,  plus a specially designed Crossroads fabric guitar strap.

"I call it world music and it's a brotherhood. Guitar players do not compete with each other. In sports it's competition. Music is about complementing," says Carlos Santana in the book. Buddy Guy notes: "Eric's been such a great person for guitar players. Anybody would be happy to be a part of this." Adds Jimmie Vaughan: "I'll tell you what happens when you go out and play with Eric Clapton and B.B. King and all these guys, you better not start thinking about it, you better have a good time."

Of the 2013 show in New York, Gary Clark Jr. says: "It was really special playing Madison Square Garden. It was amazing to be in New York City with all those cats and all that music." For John Mayer, "Coming to Crossroads is like being able to speak fluently with people who speak the same language."
Explore our Eric Clapton Artist Page.
Format:
UK English