Mark Knopfler Donates Signed Stratocaster To #ComeOnHome Campaign
The 2011 signature Strat is based on the design of Knopfler's 1961 original.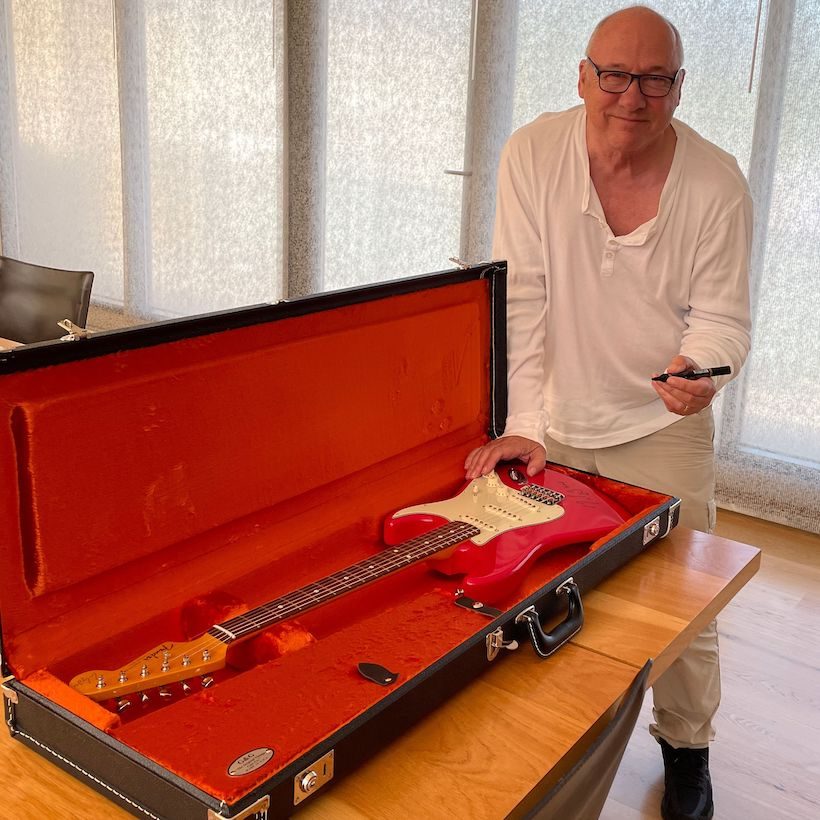 Mark Knopfler has donated a signed 2011 Fender Signature Stratocaster from his collection, for a prize draw to raise funds for homelessness charity Streets of London's #ComeOnHome campaign.
Each entry into the prize draw costs £5, and fans can enter as many times as they like to increase their chances of winning. Entries can be purchased until Friday, June 25, and the winner will be notified by Friday July 2, via email. The more you donate, the cheaper the cost for each entry; a donation of £20, for example, buys six entries rather than four.
Donate to #ComeOnHome
A donation to #ComeOnHome can be made without entering the draw, at its donation-only Crowdfunder, or by post at Mark Knopfler #ComeOnHome Prize Draw, c/o Streets of London, East Lodge, Farleigh Hungerford, Bath, BA2 7RW, UK.
This 2011 signature Strat is based on the design of Knopfler's 1961 original. The guitar was chosen for its tone, playability and weight, and is strung with D'Addario EXL110 gauge strings. Two printed photographs of Knopfler signing the guitar, one of which is seen above, will be included in the package that's sent to the winner.
Worldwide shipping is included, and Streets of London will provide an accompanying letter of authentication to confirm that the item comes directly from Knopfler's management, after donated by the guitar hero for the draw.
Life-changing support
Since 2015, Streets of London has provided more than £600,000 of vital funding and life-changing support to the homeless sector in London. This includes day centers, housing advice and support, and mental and physical healthcare.
Its work has been even more invaluable during the pandemic. More than 3,000 people slept rough on London's streets between January and March, this year, of which more than half of those were sleeping rough for the first time. Find out more about the charity's work at the Streets of London website.
Listen to the best of Mark Knopfler on Apple Music and Spotify.