Olivia Rodrigo Shares Clip Of Christmas Song She Wrote As A Child
'In honor of Christmas Eve, may I present to you my very first Christmas song 'the bels' written by five-year-old me.'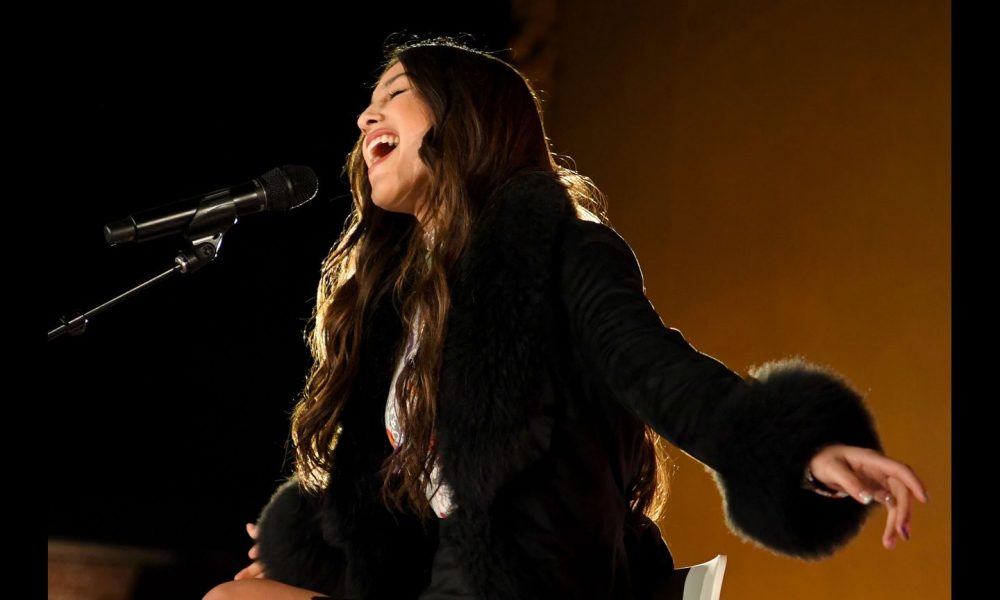 Olivia Rodrigo has shared a clip of a Christmas song she wrote when she was five years old.  In a post shared to Instagram on Christmas Eve, the "Drivers License" star showed fans a snippet of an early example of her songwriting in the form of "the bels," alongside a photo of her as a child in a Christmas dress, holding a microphone. 
"In honor of Christmas Eve, may I present to you my very first Christmas song "the bels" written by five-year-old me lol," she wrote. "Happy holidays!!!"
The track itself features the pluckings of a synthesized violin and a pre-programmed beat while five-year-old Rodrigo sings: ""Ho ho ho ho ho, wait for the bells / Wait for the bells on Santa's sleigh to ring" and "Red and green as a Christmas queen / Make the holiday special to me."
Rodrigo is bringing the curtain down on a monumental year which began with her clenching the top spot on the UK Charts with her breakout hit "drivers license" for nine weeks. Her debut album SOUR, also featuring the singles "good 4 u" and "brutal," also topped the charts upon its release in May, and has been nominated for seven Grammys, including Album of the Year and Best New Artist. 
She will be embarking on her first headline tour in May 2022, bringing Baby Queen along in a supporting slot for the U.K. leg of the tour, while Holly Humberstone will be coming along for the US leg.
Following reports of fans ending up in queues of 90,000 people while trying to purchase tickets, Rodrigo publicly explained why she isn't playing arenas just yet. "I don't think I should skip any steps," she said, acknowledging that this will be the first headline tour of her career. 
The whole UK leg of the tour, which will see her take in London's 5,000 capacity Eventim Apollo, is completely sold out.
Buy or stream Olivia Rodrigo's Sour.