Paul McCartney Archive Collection Set For Reissue In CD, Coloured Vinyl Editions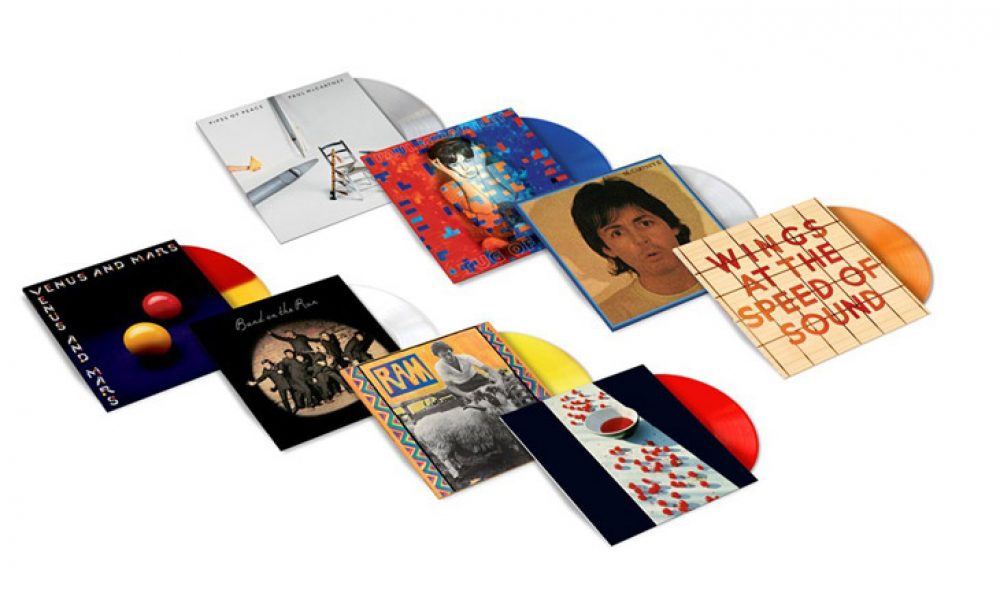 The first eight titles in Paul McCartney's critically acclaimed and multiple Grammy Award-winning Archive Collection are set to be reissued by MPL/Capitol/Universal Music on 17 November 2017.
New editions of Paul McCartney's McCartney, McCartney II, Tug Of War, Pipes Of Peace, Paul And Linda McCartney's Ram, Paul McCartney & Wings' Band On The Run and the two Wings albums Venus And Mars and At The Speed Of Sound will be issued in single CD digipak and 180g heavyweight black vinyl single LP formats—as well as limited edition 180g coloured vinyl pressings. All vinyl LPs in the Archive Collection will feature a download card and fully restored artwork. The titles and corresponding limited edition vinyl colours are as follows:
Paul McCartney: McCartney – red vinyl
Paul And Linda McCartney: Ram – yellow vinyl
Paul McCartney & Wings: Band On The Run – white vinyl
Wings: Venus And Mars – red and yellow vinyl
Wings: At The Speed Of Sound – orange vinyl
Paul McCartney: McCartney II – clear vinyl
Paul McCartney: Tug Of War – blue vinyl
Paul McCartney: Pipes Of Peace – silver vinyl
The Paul McCartney Archive Collection debuted with the 2 November, 2010 re-release of Paul McCartney & Wings' 1973 milestone Band on the Run, which won the 2010 Grammy Award for Best Historical Album, while the Archive Collection's Deluxe Edition Box Set of the 1976 classic Wings Over America took the 2013 Grammy for Best Boxed or Special Limited Edition Package. The most recent instalment was this year's reissue of McCartney's eighth studio album Flowers In The Dirt, which Rolling Stone called "spectacular…an extraordinary document," and the Observer hailed as "perhaps the greatest record to emerge from the world of AOR in 1989… an absolute pleasure to rediscover today."
Paul McCartney & Wings - Band On The Run (Rockshow)
Every release in the ongoing Paul McCartney Archive Collection is supervised by Paul McCartney himself, who oversees all aspects of each and every title from remastering to the curation of lost tracks, outtakes, artwork, photographs and video from his personal vaults, and much more. The result is one of the most ambitious and personal undertakings of its kind, one that encompasses more than 40 years of cherished, classic material from the most successful songwriter and recording artist in music history.
The CD, 180g vinyl and coloured vinyl editions of McCartney, Ram, Band On The Run, Venus And Mars, Wings At The Speed Of Sound, McCartney II, Tug Of War and Pipes Of Peace will be released on 17 November. Scroll down to read the full tracklistings and order the reissues here.
McCartney:
'The Lovely Linda'
'That Would Be Something'
'Valentine Day'
'Every Night'
'Hot as Sun/Glasses'
'Junk'
'Man We Was Lonely'
'Oo You'
'Momma Miss America'
'Teddy Boy'
'Singalong Junk'
'Maybe I'm Amazed'
'Kreen – Akrore'
Ram:
'Too Many People'
'3 Legs'
'Ram On'
'Dear Boy'
'Uncle Albert/Admiral Halsey'
'Smile Away'
'Heart of the Country'
'Monkberry Moon Delight'
'Eat at Home'
'Long Haired Lady'
'Ram On' (Reprise)
'The Back Seat of My Car'
Band On The Run:
'Band on the Run'
'Jet'
'Bluebird'
'Mrs. Vandebilt'
'Let Me Roll It'
'Mamunia'
'No Words'
'Helen Wheels'
'Picasso's Last Words (Drink to Me)'
'Nineteen Hundred and Eighty-Five'
Venus And Mars:
'Venus and Mars'
'Rock Show'
'Love in Song'
'You Gave Me the Answer'
'Magneto and Titanium Man'
'Letting Go'
'Venus and Mars (Reprise)'
'Spirits of Ancient Egypt'
'Medicine Jar'
'Call Me Back Again'
'Listen to What the Man Said'
'Treat Her Gently – Lonely Old People'
'Crossroads Theme'
Wings At The Speed Of Sound:
'Let 'Em In'
'The Note You Never Wrote'
'She's My Baby'
'Beware My Love'
'Wino Junko'
'Silly Love Songs'
'Cook of the House'
'Time to Hide'
'Must Do Something About It'
'San Ferry Anne'
'Warm and Beautiful'
McCartney II:
'Coming Up'
'Temporary Secretary'
'On the Way'
'Waterfalls'
'Nobody Knows'
'Front Parlour'
'Summer's Day Song'
'Frozen Jap'
'Bogey Music'
'Darkroom'
'One of These Days'
Tug Of War:
'Tug of War'
'Take It Away'
'Somebody Who Cares'
'What's That You're Doing?' (duet with Stevie Wonder)
'Here Today'
'Ballroom Dancing'
'The Pound Is Sinking'
'Wanderlust'
'Get It' (duet with Carl Perkins)
'Be What You See' (Link)
'Dress Me Up as a Robber'
'Ebony and Ivory' (duet with Stevie Wonder)
Pipes Of Peace:
'Pipes of Peace'
'Say Say Say' (duet with Michael Jackson)
'The Other Me'
'Keep Under Cover'
'So Bad'
'The Man' (duet with Michael Jackson)
'Sweetest Little Show'
'Average Person'
'Hey Hey'
'Tug of Peace'
'Through Our Love'
Format:
UK English