Slowtide Launches Beatles-Inspired Beach Collection
The limited edition drop includes a turkish towel, three beach towels, and an oversized throw blanket.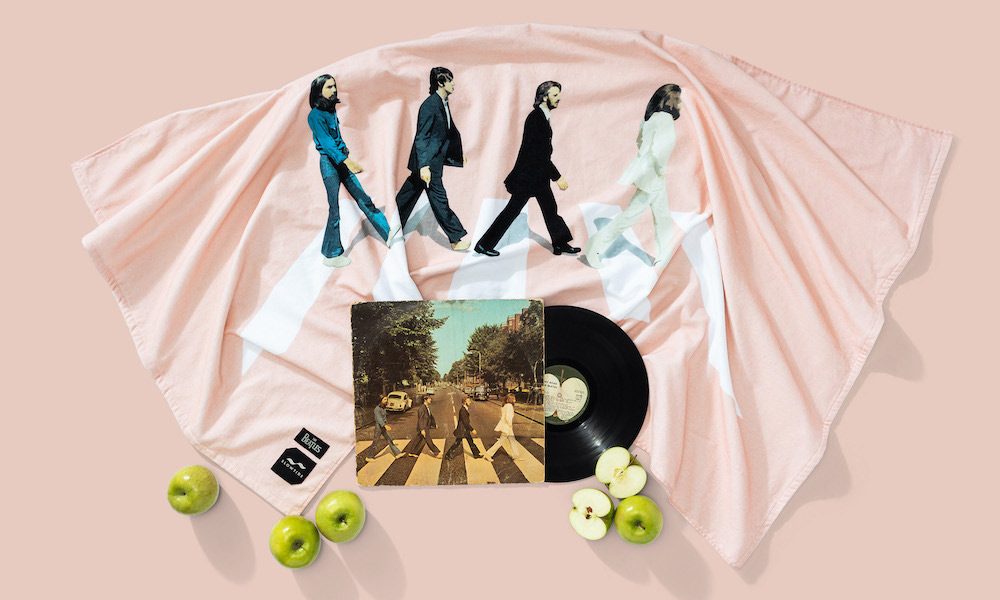 Slowtide has teamed up with Thread Shop, The Beatles' North American licensing agent, to release a collection of surf and beach-inspired accessories. Slowtide has been celebrated for its commitment to organic towels made from 100% sustainably sourced cotton, so the collaboration with rock's pioneering environmentalists makes total sense.
Following the success of its Grateful Dead collection, the surf and accessories brand unveiled a colorful new capsule inspired by Paul, George, Ringo, and John. The limited-edition drop includes a Turkish towel, three beach towels, and an oversized throw blanket for its first season.
The lightweight "Rubber Soul" Turkish towel is available for $44.95 and features a print inspired by The Beatles' sixth studio album. Influenced by the song "All You Need is Love," the premium woven towel features the song title and band's logo. The remaining 100% cotton beach towels are nods to Abbey Road and artwork from Yellow Submarine. The oversized blanket in the collection features a woven design, with "Here Comes The Sun" written across.
"I've always been a huge Beatles fan. Before Slowtide was created, all three of the Slowtide founders attended an amazing Paul McCartney show in San Francisco in 2013. Since then, we have always wanted to work with and pay homage to the iconic band and the artwork behind some of its finest records." said Dario Phillips, co-founder of Slowtide, in a press statement.
"When we first started speaking with the team at Slowtide, we were impressed with the quality and passion they put into all of their products and couldn't wait to bring the collection to market", mirrored Joe Marziotto, vice president of branding and licensing at Thread Shop, who oversees the Beatles program.
Together, slowtide and Thread Shop have created the grooviest way to show off your Beatles fandom at the beach this summer, all while honoring the precious resources of our environment.